Found May 12, 2012 on CJ Sports NFL Talk:
Jacob Bell decided he'd had enough. Despite being just 31 years old and having signed a free agent contract to play for the Cincinnati Bengals, just miles south of his alma mater, Miami University, Bell decided to walk away.
As Bell told the Cincinnati Enquirer's Joe Reedy, "Everyone has his price." Bell had already been contemplating his future. When he heard of the suicide of NFL great Junior Seau, he decided he'd paid a big enough price already. He would walk away from millions of dollars in future earnings, but he would walk away… while he could.
Seau's death has brought to the forefront an ongoing debate about the relative safety of the game of football, and to some degree, the ethical viability of sanctioning the weekly violence that some believe permanently damages many of its players.
For all the talk about brain research and concussions though, there remain some salient points that need not be forgotten.
Football is a violent sport, of that there can be no debate. Since its inception, it has been a game of controlled violence. As each year passes, bigger, stronger and faster men engage in full-speed collisions upwards of 130 times every Sunday during the season. That doesn't even account for the collisions that occur in practice.
When two men each weighing north of 200 pounds hit each other while running full speed, no amount of protective equipment, no league imposed rule or fine is going to eliminate the damage done to muscles, bones, joints, and yes, on occasion, the brain.
And while we can debate the prudence in allowing children, who aren't fully grown physically or emotionally ready to make the choice to play freely, to participate in this violence, the men for whom we cheer on Sundays have done so in exchange for minor fortunes. These are grown men who have opted to "pay the price" with their bodies so that they might have access to a financial windfall not available to the public that cheers them.
For the over 100 signatories on a lawsuit claiming negligence on behalf of the NFL for not warning them about the risks involved playing the sport, I say "get lost." While many undoubtedly suffer post career effects that are debilitating, no former player in their right mind can claim in seriousness they were unaware of the risks.
While the brain studies are fairly recent, it's no real epiphany that taking repeated shots to the head are bad for one's long-term health. As for the rest, anyone who has ever shaken hands with former Bengals great Anthony Munoz can see what a decade's worth of trench warfare has done for his fingers.
In fact, I'm confident there are retired players from every franchise who can share with current players the scars, the permanent limps and the other consequences of this risky career.
As for the Seau situation and the discussion surrounding brain injuries, that is worthwhile. But it mustn't take place in a vacuum. There are a multitude of systemic factors that are in play when individuals like Seau decide to take their own lives.
One such factor is the culture of football. Most of the players who reach the NFL have been "great" at the sport their entire lives. That has afforded them a degree of notoriety as well as other "perks" throughout their careers in high school and in college. In short, they've lived privileged lives and existed within a culture that often fails to hold them to the same degree of accountability that is present for the rest of society.
Then, even after a "long" NFL career, the player is faced some time in his mid-thirties with the prospects of no longer being a part of that system. Gone are the routines and the support systems that are present while part of the team. Gone is the sense of purpose and camaraderie. In their place, come the shock of the "real world" complete with personal and family responsibilities. That can produce problems if the player hasn't made plans to cope with this transition.
Another factor is the player's own heredity and "family of origin" issues. With regard to depression, which is the root diagnosis being discussed here, these factors are always a part of any diagnosis. A good number of NFL players come from backgrounds and families that are less than ideal. To pretend that these issues somehow go away because of wealth or one's status as a football player is ludicrous.
I never knew Junior Seau nor his family, so this is by no means a judgment on him or his family. But Seau was one of seven children who grew up poor in Los Angeles. Junior took a track that made him a star in high school, then at USC and finally the NFL. Seau's younger brother, Tony, ended up being incarcerated for his role in a gang shooting and was later shot in the head himself in 2002. Again, not to attempt a family diagnosis, but it would appear that Junior probably carried around some degree of baggage from his childhood. While money and fame can often mask these issues, it doesn't make them disappear.
NFL players aren't coal miners, forced into a toiling existence with the threat of black lung disease or mine collapses. They're not the unskilled laborers of bygone days who lost limbs in machinery or died in explosions in factories. These workers took what little money they could get doing these risky jobs because it was all they could do.
NFL players know what the risk is. Even if one enjoys a concussion-free career, he might have permanent disfigurement or pain in some other part of the body. That's the nature of the game.
And in exchange, they get the chance to get paid millions of dollars. That's the cost of doing business in the NFL.
Be sure to check out other great articles at Sports Media 101.
Original Story:
http://cjsportsnflblog.com/2012/05/nf...
THE BACKYARD
BEST OF MAXIM
RELATED ARTICLES
MONEY MATTERS
Terrell Owens isn't as badly off financially as you may think. He went on the radio and disputed the public perception of his situation.
Getty Images Cincinnati Bengals head coach Marvin Lewis made it clear that rookie wide receiver Mohamed Sanu has a chance at contributing in a big way this coming season and may end up starting. "It thought (Mohamed) Sanu was everything we expected him to be, said Lewis.  "He's going to come in here and play as a rookie and push to start and play time. Marvin (Jones) to me...
When the Cincinnati Bengals signed Vontaze Burfict as an undrafted free agent everyone knew they were taking a gamble. And apparently no one knew that more than Marvin Lewis. Lewis met with Burfict after the draft and shared his comments with the Cincinnati Enquirer: "You weren't in shape your last season at Arizona State. Get rid of the selfishness in your play. Learn how to...
Tight end Orson Charles and safety Tony Dye signed with the Bengals. Charles was a fourth-round pick out of Georgia while Dye was signed as an undrafted rookie out of UCLA. Charles had 94 catches for 1,370 yards and 10 touchdowns in three seasons at Georgia.
Cincinnati Bengals receiver Terrell Owens laughs while warming up prior to his NFL football game against the Cleveland Browns in Cleveland, Ohio October 3, 2010.REUTERS/Aaron Josefczyk (UNITED STATES – Tags: SPORT FOOTBALL) During a recent appearance on Dr. Phil, Allen Wrangers receiver Terrell Owens said that he belw threw most of the $80 million that he earned playing in the...
Terrell Owens insisted Friday he is neither broke, nor finished in the NFL. It was a timely declaration, given the gaggle of irate ex-lovers chasing the fallen football star for child support. The last installment in the Terrell Owens soap opera was played out on Tuesday's "Dr. Phil" show, where he was confronted by the mothers of three of his four children over dwindling...
Quarterback Tony Pike is getting a chance to revive his career with his hometown team. The Cincinnati Bengals invited Pike to participate in their weekend rookie minicamp. Pike grew up in a suburb and helped the University of Cincinnati become a nationally prominent program under Brian Kelly. He broke his left forearm twice while in college, injuries to his non-throwing arm that...
I saved my favorite part of the offense for last. Because we naturally watch the ball, we rarely take a good look at what these guys are doing in live action. But what they do (or don't do) has a lot of bearing on the success (or lack thereof) of a play. The line needed of help at the end of the 2011 season, and the front office made a several moves to do just that. They did not...
Hot News for C Marvin Lewis
Terrell Owens ended up somewhere you don't want to end up earlier this week. He landed on the set of The Dr. Phil Show. The former NFL wide receiver was there in front of a national TV audience, having to revisit his problems, mistakes and all of that other fun stuff as Dr. Phil tried to talk him through things. It was the latest chapter in what's becoming a very sad story...
The draft picks are beginning to make their way into the fold, with four of the ten rookies signed to their first professional deals. More should be joining them soon as the rookie minicamp gets underway this weekend. It is a wonderful thing to see drafts picks — especially the talented haul of picks the Bengals netted this year — quickly and quietly getting their deals done...
Cincinnati Bengals wide receiver Mohamed Sanu, selected in the third round of the 2012 NFL Draft, isn't about to thank anyone for the vacant No. 2 wide receiver position. No. Sanu wants to prove that he belongs, that he's earned his way into the starting lineup as the wide receiver opposite of A.J. Green. "I'm going to have to learn from (the veterans) and earn...
Bengals News

Delivered to your inbox

You'll also receive Yardbarker's daily Top 10, featuring the best sports stories from around the web. Customize your newsletter to get articles on your favorite sports and teams. And the best part? It's free!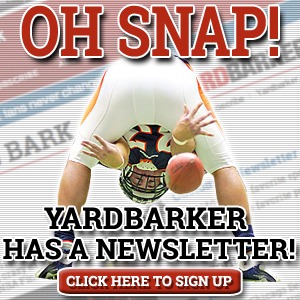 Latest Rumors
The Backyard

Today's Best Stuff

For Bloggers

Join the Yardbarker Network for more promotion, traffic, and money.

Company Info

Help

What is Yardbarker?

Yardbarker is the largest network of sports blogs and pro athlete blogs on the web. This site is the hub of the Yardbarker Network, where our editors and algorithms curate the best sports content from our network and beyond.