Found January 17, 2013 on Fox Sports Arizona:
PLAYERS:
Peyton Manning
,
Eli Manning
,
Justin Smith
,
Randy Moss
,
LaMichael James
,
Michael James
,
Ed Reed
,
Ray Lewis
,
Patrick Willis
,
Pete Carroll
,
Alex Smith
,
Colin Kaepernick
,
Jim Harbaugh
,
Mike Ditka
,
Jim Schwartz
,
John Harbaugh
,
Cam Cameron
,
Jim Caldwell
,
Tony Gonzalez
,
Matt Ryan
,
Mike Smith
,
Randall Cunningham
,
Tom Brady
,
Shane Vereen
,
Wes Welker
,
Josh Mcdaniels
,
Danny Woodhead
,
Rob Gronkowski
,
Stevan Ridley
,
Michael Hoomanawanui
,
Torrey Smith
,
Aqib Talib
,
Champ Bailey
,
Jacoby Jones
,
Anquan Boldin
,
Otto Graham
,
Jay Cutler
TEAMS:
New York Giants
,
San Francisco 49ers
,
Baltimore Ravens
,
Seattle Seahawks
,
Detroit Lions
,
Atlanta Falcons
,
Atlanta Braves
,
Atlanta Hawks
,
New England Patriots
,
Denver Broncos
,
Chicago Bears
,
Georgia Bulldogs
Peyton Manning was back in the saddle, looking good in the preseason and donning some sharp new orange threads. Eli Manning was fresh off his second Super Bowl victory in five years, a successful Saturday Night Live hosting gig and throwing the ball better than ever in training camp up in Albany. It was August, the Super Bowl was going to be played in their hometown of New Orleans in February, and it was hard not to at least imagine the madness of a Manning Bowl in the Crescent City. Six months later, were down to the NFLs Final Four, and Peyton and Eli have long been eliminated from the postseason. But Im still going with a brother-against-brother Super Bowl. Yes, I love the road teams on Sunday. Throw the point spreads, the recent history, and the home crowds away. In Harbaughs, I trust. As kids, John, Jim and sister Joani Harbaugh lived under their parents roof in a two-bedroom home in Iowa City, Iowa. Jack Harbaugh, their father and a longtime football coach himself, used to keep spirits high in the house despite some cramped living quarters. More than just occasionally, hed gather his three kids around him and ask them a question. "Who's got it better than us?" Jack would scream with enthusiasm from the drivers seat of his car or the top of the hill in the familys backyard. Jim, John, and Joani would then respond, in unison, with a collective shout of, "No ... body!" It was the family cheer, the Harbaugh clan motto, and its since become a rallying cry for Jims San Francisco 49ers. After wins in the locker room, Harbaugh will gather his players together like his father did with his brother and sister so many years before and ask, Whos got it better than us?! And the 49ers from grizzled veterans like Justin Smith to enigmatic talents like Randy Moss to young rookies like LaMichael James respond in unison, No ... body! A win away from the Super Bowl, there is actually one coach and one team that may have it better than Harbaughs 49ers. Thats his older brother, John, and his Baltimore Ravens. Both teams, bridesmaids but not brides in their respective conference championship games a year ago, return to the big one before the bigger one a year older, a year wiser and far more dangerous on offense than they were in January 2012. Its those offenses, long-considered the weaker of the two units for both teams, that have carried the Ravens and 49ers to where they are this weekend. Make no mistake: The defenses are still legit. But Baltimore and San Francisco did not simply ride Ed Reed and Ray Lewis or Justin Smith and Patrick Willis to conference championship game berths this season. Quite the contrary, in fact. The offenses are leading the way. Its the teams two coaches bold, unapologetic, and quite different from one another who are most responsible for the sudden uptick in offensive productivity. The ballots are in, and the NFLs Coach of the Year award is likely going to be handed to either Bruce Arians or Pete Carroll in a few weeks. But you can make the argument that no two head coaches made tougher midseason decisions than the brothers Harbaugh. Jims 49ers were rolling, 6-2 on the year, when starting quarterback and former first overall draft pick Alex Smith was knocked out of a game against the Rams with a concussion. Second-year man Colin Kaepernick filled in admirably, notching a tie. He then led the Niners to a dominant 32-7 victory over the Bears. Smith was medically cleared to play a few days later. He was good to go. He took the team to the NFC Championship Game a season ago. He played flawlessly in nationally televised wins over the Packers and Lions. But Jim Harbaugh made the move thatd change the teams 2012 trajectory anyway. The same guy whos gotten into it with Mike Ditka, Jim Kelly, Pete Carroll, Jim Schwartz and anyone else whos ever gotten in his way over his three decades involved in the NFL decided to ride the hot hand and stick with Kaepernick. The 49ers narrative was forever altered, right then and there, and following Kaepernicks record-breaking performance Saturday night against the Packers in the divisional round, its difficult to remember that the decision was widely panned by fans and pundits alike. Hell, go back and check your Twitter timeline a few minutes after Kaepernick threw a first-quarter pick-six last week. The second-guessers, the armchair quarterbacks and the backseat coaches all came out of their social media caves to reconfirm their earlier proclamations. Kaepernick wasnt ready. He was the wrong choice. Sure enough, by the end of the first half, those same doubters were hurrying back to their Twitter feeds to delete and erase all the evidence. A lesser coach doesnt have the courage to make that move in Week 12. A lesser man doesnt even consider it. But the Kaepernick-over-Smith decision wasnt even the boldest or toughest one made by a Harbaugh brother this season. Prior to Week 15, already well into the month of December and just two weeks before the holidays, John Harbaugh fired his longtime friend and offensive coordinator Cam Cameron. Cold? Sure. But it was necessary, and for Ravens fans, Harbaughs holiday-time decision has led to wonderful fruits in the new year. With Jim Caldwell now calling the plays, Joe Flaccos won three of his last four games (he barely played against the Bengals in Week 17) and the offense has looked like a well-oiled machine. Under Cameron, fair or unfair, it was a sputtering mess. So here we are, a year later, and the Harbaughs crushed by heartbreaking losses in their respective championship games 12 months ago are each a win away from facing one another in the Super Bowl. But these arent the same teams we saw in the AFC and NFC championship games in 2012. Theyre better. Theyre hungrier. Theyre more potent offensively. Theyre also being run by better bolder head coaches. If you were craving for a brother-against-brother Super Bowl in New Orleans back in August, I think youre going to get your wish. The last name just isnt what you expected. Whos got it better than the Harbaugh brothers? Well, Ravens and 49ers fans do. Their teams are in awfully good hands. Divisional round record: 2-2 (Baltimore and New England picks were right; Green Bay and Seattle picks were wrong) 2012 playoffs record: 5-3 Cheat Sheet trivia question of the week: Last week, Colin Kaepernick joined two other quarterbacks as the only NFL QBs to pass for two and run for two touchdowns in one playoff game. Who were those other quarterbacks? NFC CHAMPIONSHIP GAME San Francisco at Atlanta: I was happy for Tony Gonzalez, one of the truly great guys in the sport, for getting the first playoff win of his 16-year NFL career last week. But I was even happier for all of the diehard Falcons fans I know who treated the victory like some sort of collective spit in my face. By Monday morning, my email inbox was stuffed with numerous "I told you so" dispatches along with several things and words I can't put in this column. Ive been ragging on the Falcons and their mediocre quarterback, their boring head coach and their nonexistent national fanbase for the past three years. Part of that ribbing has been tongue-in-cheek (I actually think Matt Ryan is fantastic), part of it has been real (I didnt think Id ever see the day when Mike Smith would outcoach Pete Caroll in a big game) and part of it has been pretty accurate (Im fairly certain the Falcons fan base cares about NASCAR, the Georgia Bulldogs, the Atlanta Braves, the Atlanta Hawks, hot dogs at The Varsity, and Buffalo wings at the Taco Mac in the Virginia Highlands more than it cares about its Falcons). Anyway, no surprise here I think the Falcons' dream season ends Sunday. Colin Kaepernick has been compared to Randall Cunningham this week, but Randall Cunningham never had a playoff performance like the one the 49ers quarterback put on last weekend. Atlantas got the home field, all the momentum, and the all-important nobody respects us thing going all things I usually love in a big game like this but San Francisco has the kid, the coach and the D. It's a huge game, and I'm picking against the Falcons. Some things never change. The pick: 49ers 38, Falcons 23 AFC CHAMPIONSHIP GAME Baltimore and New England: The guy I was most impressed with in last weeks Patriots dismantling of the Texans wasnt Tom Brady or Shane Vereen or even Wes Welker. It was Josh McDaniels. As both Brady and Vereen revealed after the win, the original offensive gameplan was built heavily around contributions from Danny Woodhead and Rob Gronkowski. When both players went down with first-quarter injuries, McDaniels didnt panic or run for the hills. He reacted and adjusted. He went to Vereen and Stevan Ridley even more than was originally expected and identified mismatches where the Patriots could exploit the Texans' overmatched linebackers. A guy to watch this week? The dude they call The Hoo-man." Michael Hoomanawanui, a third-year tight end who only caught five balls this season, will play a prominent role in Sundays AFC championship game. Hoomanawanui was on the field for 50 of the Patriots 66 offensive plays against the Texans and is expected to see even more work against the Ravens. New Englands firing on all cylinders right now, and the shaky first-half efforts against San Francisco and Jacksonville in consecutive weeks seem like they occurred forever ago. But I like the Ravens on Sunday. Ive been riding the Ray Lewis Express since it announced it was leaving the station, and Im not getting off now. Ray Lewis factor aside (and yes, if you've been in that locker room, you know that's a real thing and not the media creation some have suggested), I also think the Ravens match up better with the Patriots than the Broncos, the Texans or even the 49ers did. Torrey Smith presents the type of deep threat that gives New England's defensive backfield fits. In the locker room Sunday night, I asked Patriots cornerback Aqib Talib if he watched the Ravens-Broncos game on Saturday. He said he did and took note of Smiths handiwork. I grew up watching and modeling my game after Champ Bailey, Talib said. And (he) gave Champ Bailey a very tough time. If you're giving Champ a hard time, you're doing something right. In addition to Smith, Jacoby Jones and Anquan Boldin could present problems for the New England secondary. Toss in a pass rush that got to Peyton Manning surprisingly often last week and I like this matchup for Baltimore. We know for certain that the Ravens wont be scared or intimidated by the bright lights and the Foxboro mystique. Unlike the Texans with all their swagger and false bravado the Ravens have actually won big games like this. Theyve been through the battles. Theyve lost some; theyve won some. Either way, theyve played in them. They've been there. The cannons in Foxboro arent going to psyche them out. They're as loose as can be. Double-digit underdogs for the second straight week, they've got nothing to lose. All they've got to do is play their brand of football. Poke holes in my reasoning all you want. I took the Ravens last week against the Broncos; you all called me a fool. Ive also taken the Giants in not one but two Super Bowls against the Patriots in the past five years, and youve all called me a fool those times, too. I don't pick against New England often, but when I do, I tend to have a pretty fair success rate. And Im cool with being called a fool. Im also cool with picking the Ravens to win the AFC. The pick: Ravens 34, Patriots 30 Cheat Sheet trivia answer of the week: In addition to Kaepernick, Otto Graham and Jay Cutler are the only other quarterbacks in NFL history to run for two touchdowns and throw two touchdowns in a playoff game.
Original Story:
http://www.foxsportsarizona.com/01/17...
THE BACKYARD
BEST OF MAXIM
RELATED ARTICLES
Steve Wyche of NFL.com reports the underdog Ravens defense believed future Hall of Fame Broncos quarterback Peyton Manning was incapable of throwing downfield with any distance or velocity during Baltimore's 38-35 victory in 13-degree weather on Saturday night at the … Continue reading →
When Peyton Manning channeled his inner Brett Favre and threw across the coverage against Baltimore, he broke the cardinal rule of quarterbacks — never throw across coverage. Earlier in the season, Peyton threw a touchdown against the Carolina Panthers, breaking the "No. 1 rule you never do." In the video you can hear Peyton tell teammate Brandon Stokley, "That's what...
Peyton Manning figured one good Papa deserved another. Manning's father, Archie, is joining his son as a Papa John's pitchman, spearheading the pizza chain's coin-flip promotion at the Super Bowl in the family's hometown of New Orleans. While he was sitting out last season with his neck injury, Peyton Manning starred in a Papa John's Super Bowl commercial with...
Peyton Manning's new position coach is Greg Knapp, a veteran of nearly two decades in the NFL. A day after promoting quarterbacks coach Adam Gase, 34, to offensive coordinator, Broncos coach John Fox added some experience to his staff in Knapp, an 18-year veteran of the NFL. Knapp, 49, was the Raiders' offensive coordinator last season, a position he also held from 2007...
The Denver Broncos' off-season started earlier than expected in the frigid Mile High air after their heart-breaking loss to the Baltimore Ravens in the AFC Divisional Playoffs.The evaluation process starts immediately as John Fox and John Elway attempt to ensure the Broncos stay on track as Super Bowl contenders.Hoping to keep that roster intact so that they can develop together...
Green Bay Packer quarterback Aaron Rodgers has decided to drop out of this year's Pro Bowl due to numerous nagging injuries. The New York Giants have announced that Eli Manning will replace Rodgers on the NFC roster. QB Eli Manning will be replacing Packers QB Aaron Rodgers in this years Pro Bowl — New York Giants (@Giants) January 15, 2013   Need NFL Tickets? var _CI =...
The Denver Broncos announced Friday that Greg Knapp was hired as the team's quarterbacks coach. Knapp was fired as the Oakland Raiders' offensive coordinator after the regular season. It was his second stint with the Raiders. Now, Knapp will get to work with quarterback Peyton Manning. The job opened up when Adam Gase was promoted to offensive coordinator after Mike...
The Denver Broncos promoted quarterbacks coach Adam Gase to replace Mike McCoy as offensive coordinator. Gase joined the Broncos in 2009 as wide receivers coach. He spent the last two seasons coaching the quarterbacks. McCoy left Denver to become head coach for the San Diego Chargers. Coach John Fox said continuity was important for the Broncos, who were ranked fourth in the NFL...
Here we go again, for the third time in four seasons, the Patriots and the Ravens meet in the NFL playoffs and for the second consecutive year, a Super Bowl trip is on the line. With the Colts losing Peyton Manning and entering a (so far successful) rebuilding phase, the magic of that rivalry has been diminished and the Ravens have stepped up as the best out of division foe for the...
Veteran fantasy football drafters know about risk and reward. They know that waiting on a quarterback is a risk, as you let premier talents like Tom Brady and Drew Brees slip off the board. They know that drafting Peyton Manning, two years, one team change and at least four neck surgeries removed from his last NFL action, represented a huge risk, albeit one with potentially great...
(Photo: Steve Nehf/The Denver Post) After the Denver Broncos promoted quarterbacks coach Adam Gase to offensive coordinator on Thursday morning, Gase told reports he wants Denver's offense to put the "pedal to the metal" with quarterback Peyton Manning in 2013. Obviously, that is something fans in Denver love to hear.  Not only does it excite the fans, but also a player that...
NFL News

Delivered to your inbox

You'll also receive Yardbarker's daily Top 10, featuring the best sports stories from around the web. Customize your newsletter to get articles on your favorite sports and teams. And the best part? It's free!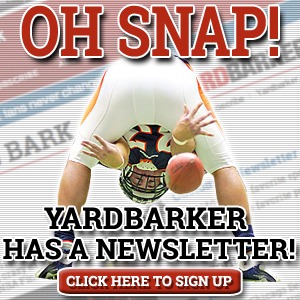 Latest Rumors
The Backyard

Today's Best Stuff

For Bloggers

Join the Yardbarker Network for more promotion, traffic, and money.

Company Info

Help

What is Yardbarker?

Yardbarker is the largest network of sports blogs and pro athlete blogs on the web. This site is the hub of the Yardbarker Network, where our editors and algorithms curate the best sports content from our network and beyond.