Found September 25, 2012 on Diehardsport:
PLAYERS:
T.J. Lang
,
Tom Crabtree
,
Nick Collins
,
Reggie Bush
,
Chris Kluwe
,
Roddy White
,
Michael Wilbon
,
Bill Simmons
,
Troy Aikman
,
Adam Schefter
,
Chris Mortensen
,
Trent Dilfer
TEAMS:
Green Bay Packers
,
Miami Dolphins
,
Minnesota Vikings
,
Atlanta Falcons
Got ****** by the refs.. Embarrassing. Thanks nfl— TJ Lang (@TJLang70) September 25, 2012
**** it NFL.. Fine me and use the money to pay the regular refs.— TJ Lang (@TJLang70) September 25, 2012
That was ********. This is getting ridiculous! The NFL needs to get the refs back bfr we strike and they make no money!— josh sitton (@jsitton71) September 25, 2012
The nfl needs to come to gb and apologize to us for ******* us! These refs r bums!— josh sitton (@jsitton71) September 25, 2012
Golden tate is full of **** too. Saying he clearly caught that is embarrassing!******* jokers!— josh sitton (@jsitton71) September 25, 2012
13th man beat us tonight.— Tom Crabtree (@TCrabtree83) September 25, 2012
Seattle u can't feel good about tht win… Because y'all really lost… The refs give y'all the game…— Nick Collins (@nickthepick36) September 25, 2012
U can't even be truly happy as a player to win in such a cheating fashion. Sum funky wins u take but this ain't them kind. Pay the real refs— Desmond bishop (@Desbishop55) September 25, 2012
Honestly, It's not about winning or losing here, it's the integrity of this game we love to play/watch. Hate 2 question it! Pack still good!— Desmond bishop (@Desbishop55) September 25, 2012
BREAKING -JaMarcus Russell eyeing return to NFL after discovering games can be won by throwing interceptions. yfrog.com/oevljedtj" Lolol— Desmond bishop (@Desbishop55) September 25, 2012
It wasn't just all Packer's players though, other NFL players had plenty to say as well.
Refs single handedly blew this one…— Reggie Bush (@reggie_bush) September 25, 2012
Yeeeee! Score 1 for the Good Guys. Way to Go Stripes! Always good seeing a fellow WR get credit for a TD…….ON A INTERCEPTION. Yesss— Stevie Johnson (@StevieJohnson13) September 25, 2012
Just saw that catch. **** just got real for Roger and the replacements.— Chris Kluwe (@ChrisWarcraft) September 25, 2012
This is all I ask of the refs. Read the rule book. Its all you have to do all week. At least know the damn rules and how to implement them.— Nick Sundberg (@NickSundberg) September 25, 2012
Roger has got some explaining to do tomorrow lol #pleasepaytherefs— Roddy White (@roddywhiteTV) September 25, 2012
If I was the old refs I would holdout for more money after this lol— Roddy White (@roddywhiteTV) September 25, 2012
Drama. Great for business. Godspeed, Ed Hochuli.— Arian Foster (@ArianFoster) September 25, 2012
The problematic thing is that after the amount of coverage this is getting, the real referees could take Roddy White's advice.  But even more than that, there are plenty of people that are weighing in the situation, making it even worse for the NFL.  Having this happen on Monday Night Football to the Packers was probably in their top three worst case scenarios.  I'm still surprised that Twitter hasn't exploded as a result.
Game wasn't over & there were on field interviews & a mascot on goal line. AWESOME. Packers should have played extra point nude in protest— John Buccigross (@Buccigross) September 25, 2012
What robbery…what a fraud the NFL just perpetrated on the Green Bay Packers…— Michael Wilbon (@RealMikeWilbon) September 25, 2012
Other than Tate pushing Shields to the ground and Jennings making the interception, the refs really nailed it.— Dan Shulman (@DShulman_ESPN) September 25, 2012
And… Here's the officiating apocalypse that was 3 weeks coming.— Bill Simmons (@sportsguy33) September 25, 2012
$50 million. $100 million. Open your checkbook tomorrow, Mr. Goodell.— darren rovell (@darrenrovell) September 25, 2012
I believe we have reached the proverbial tipping point.— Rich Eisen (@richeisen) September 25, 2012
These games are a joke.— Troy Aikman (@TroyAikman) September 25, 2012
Ref who signaled TD does JUCO football and basketball in California. One who didn't has reffed Big 12, arena and NFL Europe.— Stefan Fatsis (@stefanfatsis) September 25, 2012
And the wonderfully placed shameless plug for the Ryder Cup:
All @nfl fans watch the Ryder Cup this week, we got no refs. #USA— bubba watson (@bubbawatson) September 25, 2012
Oh man — Adam Schefter got text from an NFL exec who wants League to go to NHL War Room format — all controversial TDs review by League HQ— Greg Wyshynski (@wyshynski) September 25, 2012
This would be an absolutely incredible change for the future because of this one play.
If only some of these execs and coaches weren't mandated to keep their mouths publicly shut on officials, you would be enlightened.— Chris Mortensen (@mortreport) September 25, 2012
I am 100% behind the Packers players and the other NFL players on this one.  The officiating has been a complete joke and a black mark on the league.  If you were watching Sportscenter tonight, you would have heard what Trent Dilfer and Steve Young had to say and they were on point.  The league prides itself on the integrity of the game and these officials are destroying it.  They don't know what the rules are, specifically what pass interference is, and it is time for them to go.  They've been reffing Division-2 and Division-3 college games for a reason; these guys couldn't even get Division-1 jobs.  The game is too fast for them to deal with, and they have no confidence in themselves.I'm still having trouble believing what has transpired this weekend, it almost feels like a dream.  It has been truly mind boggling and tomorrow will be even more interesting and entertaining.  ESPN is going to be running an all day special where they do nothing but talk about the play and beat it like a dead horse. Not only that, but we have many different opinion columns for hundreds of thousands of sports writers and bloggers across the country to look forward to.  Everybody should buckle up, because it's going to be a bumpy ride.Image: Otto Greule Jr/Getty Images
Original Story:
http://www.diehardsport.com/2012/09/2...
THE BACKYARD
BEST OF MAXIM
RELATED ARTICLES
The football world found out soon after Monday night's controversial ending to the Packers-Seahawks game that Green Bay guard T.J. Lang was pretty upset. It turns out the rest of his Packers teammates were enraged, too. Lang, who filled Twitter with an expletive-laden rant after the Packers lost to the Seahawks on a controversial last-second call, said the Packers spent their...
You'd be hard-pressed to find someone in the Packers' locker room who wasn't frustrated by Monday night's controversial ending. Perhaps no one was more upset than guard T.J. Lang. Lang immediately hopped on Twitter following the wild conclusion of Monday's game, in which the Packers were robbed of a victory by the NFL's replacement referees. He, like many...
If you want to know what Packers offensive lineman TJ Lang thought about the NFL replacement refs call on that last second Seattle Seahawks Hail Mary on Monday Night Football, here it is: @TJLang70 Got f-ked by the refs...embarrassing (Courtesy of TJ Lang Twitter) 
Two days ago everyone in America was wondering what the catcher from the Sandlot was doing these days. After he unleashed a forceful tweet last night right before 1 a.m. that hilariously ridiculed the horrendous replacement referees in a non-PG-13 way, everyone knows. The truth is that the man above is a guard for the Green Bay Packers, T.J. Lang. After the Packers lost on what...
In case you heard about last night nightmare finish between the Packers and Seahawks, it has the sports universe in a frenzy.The Green Bay Packers lost the Monday Night Football game to the Seattle Seahawks because of a bogus touchdown. People are tired of seeing poor officiating from the replacement refs, including Green Bay Packers offensive lineman T.J. Lang.https://twitter...
The NFL replacement refs have taken quite a bit of criticism after repeatedly showing just how "in over their heads" they are. I personally don't blame them, they're doing the best they can. But I do blame the NFL and Roger Goodell for believing that they could just move on with replacement refs without missing a beat. That is pure arrogance in my opinion. The worst of the...
GREEN BAY, Wis. -- Move aside, Justin Bieber and Floyd Mayweather, there's a new Twitter champion: Green Bay Packers offensive lineman T.J. Lang. Following the Monday night officiating debacle that gave the Seattle Seahawks a victory over the visiting Packers, Lang sent out what would become the most retweeted post in Twitter history."F it NFL.. Fine me and use the money...
The sporting world has been turned upside down following the debacle in Seattle on Monday Night Football in which the Green Bay Packers were robbed of a victory by a botched call made by the NFL's replacement referees. Packers Offensive Lineman, TJ Lang made news Monday night and yesterday morning as people discovered his rather pointed tweets towards the NFL due to their ever...
#BRINGTHEMBACK
Several Green Bay Packers wasted no time taking to social media to blast the refs after Monday's controversial call that handed Seattle a last-second victory.
Several Green Bay Packers players blasted the NFL and its replacement referees on Twitter after the team's controversial Monday night loss to the Seattle Seahawks, but those players will not be fined by the NFL, according to NFL Network's Steve Wyche. Several of the tweets most notably the ones authored by offensive linemen T.J. Lang and Josh Sitton and tight end Jermichael...
((HT: ESPN/NFL/youtube)) Okay... the Seattle Seahawks absolutely mauled, manhandled, and wiped out the Green Bay Packers 14-12... But... the whole thing has blown up in its face... The grenade went off in the Jolly Roger's hands and the biggest profit machine in the biggest sport in America is having enough discussions about the replacement officials are proving once...
Like many other players around the league including TJ Lang, several different Lions players took to Twitter and voice their opinion on the controversial ending that saw the Seahawks beat the Packers 14-12. Haha!!! I kno GB mad… — Joique Bell (@JoiqueBell) September 25, 2012 Woooooooowwww how could you make that callll? #AMAZING — Stephen Tulloch (@stephentulloch) September...
NFL News

Delivered to your inbox

You'll also receive Yardbarker's daily Top 10, featuring the best sports stories from around the web. Customize your newsletter to get articles on your favorite sports and teams. And the best part? It's free!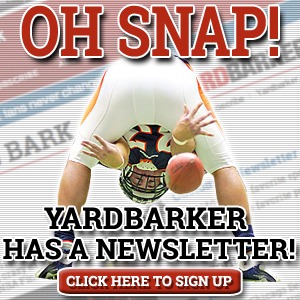 Latest Rumors
Best of Yardbarker

Today's Best Stuff

For Bloggers

Join the Yardbarker Network for more promotion, traffic, and money.

Company Info

Help

What is Yardbarker?

Yardbarker is the largest network of sports blogs and pro athlete blogs on the web. This site is the hub of the Yardbarker Network, where our editors and algorithms curate the best sports content from our network and beyond.