Found January 07, 2012 on Fox Sports:
PLAYERS:
Drew Brees
,
Matthew Stafford
,
Cam Newton
,
Alex Smith
,
Tim Tebow
,
Ben Roethlisberger
,
T.J. Yates
,
Jake Delhomme
,
Andy Dalton
,
Arian Foster
,
Andre Johnson
,
Owen Daniels
,
Joel Dreessen
,
A.J. Green
,
Jerome Simpson
,
Jermaine Gresham
,
Kareem Jackson
,
Marvin Lewis
,
Carson Palmer
,
Wade Phillips
,
Joe Montana
,
Louis Delmas
,
Aaron Berry
,
Gregg Williams
,
Calvin Johnson
,
Mark Ingram
,
Darren Sproles
,
Pierre Thomas
,
Chris Ivory
,
Kevin Smith
,
Lance Moore
,
Jimmy Graham
,
Marques Colston
,
Jim Harbaugh
,
Carl Nicks
,
Robert Meachem
,
Stephen Tulloch
,
Shaun Hill
,
Cliff Avril
,
Tony Scheffler
TEAMS:
New Orleans Saints
,
Detroit Lions
,
Carolina Panthers
,
San Francisco 49ers
,
Denver Broncos
,
Pittsburgh Steelers
,
Houston Texans
,
Cincinnati Bengals
,
Oakland Raiders
,
Green Bay Packers
The Green Bay Packers may be 15-1 and the favorite to repeat as champion, but never in the 45-year history of the Super Bowl has a team that allowed the most yards (6,585) during the regular season advanced to the big game. The Packers, not the Patriots, ended up dead last in defense. The Patriots finished next-to-last. And these guys are supposedly the two best teams in the playoffs. But that's what the NFL is all about these days -- offense, offense and even more offense. The league had three 5,000-yard quarterbacks this season, and two of them -- the new record-holder Drew Brees and Matthew Stafford -- will be facing each other tonight in the Superdome. A total of 10 quarterbacks passed for more than 4,000 yards, including No. 1 pick Cam Newton for the 6-10 Carolina Panthers. At the other end of the spectrum are the San Francisco 49ers, who lost only three games by playing tremendous team defense and running the ball and being judicious with Alex Smith's passing game. The 49ers won eight games scoring 25 points or less this season. They allowed 1,655 yards and 130 points less during the season than the Packers surrendered. Yes, San Francisco did it the old-fashioned way, like teams did 40 years ago. Then there is Denver, a team that squeaked into the AFC playoffs while losing three straight with its quarterback, Tim Tebow, being a 45 percent passer in his last four starts. He committed seven turnovers during the losing streak. Despite all that, some actually give the Broncos a chance on Sunday against the Pittsburgh Steelers simply because Ben Roethlisberger is hobbling on a bad ankle. There could be some wild playoff situations in the next few weeks, because so many of the teams have radical styles like great offense and horrible defense or great defense with a so-so passing game like Baltimore employs. But for the most part, the playoffs should mirror the wild passing and scoring of the regular season. May the best quarterback win, so to speak. Cincinnati at Houston, 4:30 p.m. ET WHAT TO WATCH FOR: This might be an ugly offensive game, considering it's the first time two rookie quarterbacks -- and both are ailing -- have faced each other in the playoffs since the 1970 merger. Houston's T.J. Yates rallied his team for a one-point win in Cincinnati in Week 14, but now he has a separated left shoulder, one that can't absorb a lot of hits. Veteran Jake Delhomme is the backup. His Bengals counterpart, Andy Dalton, was so sick with the flu this week he needed to be hospitalized and missed the bulk of two practices. Both teams want to generate a running game, but the Bengals limited Arian Foster to 41 yards on 15 carries in that December game and are capable of repeating that performance. Foster, though, has scored an NFL-high 30 touchdowns over the last two seasons. If the Bengals can limit Foster, expect Yates to roll out and look for WR Andre Johnson as much as possible. Johnson, who has had hamstring woes all season, is jacked up for the playoffs and the Bengals need to jam him at the line of scrimmage. Yates also has two reliable tight ends in Owen Daniels and Joel Dreessen, who combined for nine TD receptions. The Texans had 44 sacks on the season, so look for them to come with a varied blitz plan in order to rattle Dalton as much as possible and take away his deep ball to A.J. Green. Dalton is very accurate deep, plus he has alternate weapons in Jerome Simpson and Jermaine Gresham. Dalton will attack LCB Kareem Jackson. CZAR'S SCOOP: You can bet that Bengals owner Mike Brown will receive a lot of votes for Executive of the Year after many positive 2011 decisions. First, he kept coach Marvin Lewis, who is in his ninth season and coached the NFL's third-youngest team to the playoffs. After sitting on holdout Carson Palmer, Brown traded him to the Raiders for first and second-round draft choices, plus the draft selections of Green and Dalton have given the franchise two solid building blocks. ... Houston defensive coordinator Wade Phillips will coach from the press box. Phillips, who will be coaching in his 26th playoff game, is still recovering from kidney and gall bladder surgery. This is his second game back. ... This is Houston's first playoff game since Jan. 16, 1994, when the Oilers lost to Kansas City and Joe Montana, who passed for three touchdowns. The Bengals have lost their last three playoff appearances while Houston averaged only 17 points during their three-game losing streak at the end of the season. Detroit at New Orleans, 8 p.m. ET WHAT TO WATCH FOR: The Saints beat the Lions -- who are in the playoffs for the first time since 1999 -- by two touchdowns on Dec. 4, and the only way Detroit can turn the tables is to limit Drew Brees' opportunities and also create some turnovers. Even though Brees has thrown 14 TD passes in his last three starts, he's also been intercepted three times. Detroit's nickel defense should be improved with the return of safety Louis Delmas and CB Aaron Berry, and that means the defense will have the same starting roster Saturday as it had in Week 1. No defensive coordinator blitzes more than Gregg Williams (51 percent on all drop backs), but he only blitzed Matthew Stafford 40 percent of the time and his defense collected two sacks and an interception. Stafford can expect more of the same because the Saints are worried about WR Calvin Johnson, who rested his sore Achilles' again this week. But Johnson did have 244 receiving yards against the Packers with the same injury. Despite the loss of former Heisman winner Mark Ingram, the Saints still have a potent running attack in multi-faceted Darren Sproles, Pierre Thomas and Chris Ivory. The Saints have averaged 4.9 yards a carry, while no NFL team ran less than the Lions this season. This is why Stafford prefers a two tight-end look with RB Kevin Smith and two receivers. Despite the absence of WR Lance Moore, Brees still has his main weapons -- Sproles and TE Jimmy Graham -- plus Marques Colston to stretch the field. It's imperative for the Lions not to miss any tackles in order to prevent big gains. Graham and Sproles combined for 187 receptions and caught 18 of Brees' 46 touchdown passes. CZAR'S SCOOP: One thing to remember is that Stafford threw nine of his 14 interceptions when he was dealing with a broken index finger and wearing a glove on this throwing hand. ... San Francisco head coach Jim Harbaugh upset some of the Lions when he said on a radio show that his team was spending a "greater share" of their preparation work on the Saints for next Saturday's divisional playoff game. Besides, if the Lions win, they'll be traveling to Green Bay. ... The Saints will have a busy offseason. Besides getting Brees to agree to a long-term contract, All-Pro guard Carl Nicks -- who played for $2.61 million this season -- and receivers Colston and Robert Meachem are unrestricted free agents. Nicks and Colston will have big value on the open market. The Lions want to re-sign LB Stephen Tulloch and backup quarterback Shaun Hill, but pass rusher Cliff Avril, who led the Lions in sacks with 11, will command big money on the open market. ... Lions RB Kevin Smith and TE Tony Scheffler collided during separate passing drills during Wednesday's practice and Smith was particularly dazed.
Original Story:
http://msn.foxsports.com/nfl/story/NF...
THE BACKYARD
BEST OF MAXIM
RELATED ARTICLES
Cincinnati Bengals wide receiver A.J. Green is talented in more than just football. Bengals quarterback, Andy Dalton, and his main pass catcher, A.J. Green, sat down with NBC's Alex Flanagan prior to their first playoff game appearance against the Houston Texans. Green was very confident in his juggling skills, even bragging about how he used to perform during half time shows...
From Joe Reedy: Andre Johnson has been with the Texans since their second year in the league and is the one person who can appreciate Houston's first playoff appearance since the Oilers played made it in 1993. Johnson is a five-time Pro Bowl selection but has been bothered most of the season with a hamstring injury. He played in a career-low seven games and had only 33 catches...
The Houston Texans might be the Cinderella team of the AFC playoff bracket, but if this weekend was supposed to be the ball, the Bengals are the party crashers that just might stay all night. No matter how good AJ Green was supposed to be, no one expected the Bengals to be here. Not after kicking out their top three playmakers of 2010 and starting over with young, unproven replacements...
PASS OFFENSE (D+) Tying season highs in sacks allowed (four) and interceptions (three) in a playoff game is not a good thing. Andy Dalton started off well and then things unraveled in the second half. A.J. Green had five receptions in the loss but only one in the second half. Jermaine Gresham had five receptions for 46 yards but none in the first half. Of the three Dalton interceptions...
Cincinnati Bengals (9-7) at Houston Texans (10-6) | Saturday | 4:30 p.m. Before the season, not many thought either team would make the playoffs. The Bengals were probably the bigger surprise of the two, but frankly both teams have played great football this season. The Cincinnati surge was led by the rookie combo of quarterback Andy Dalton and receiver A.J. Green. Both have been...
The Bengals' Andy Dalton threw for 3,398 yards this season, and, with receiver A.J. Green, the two became the first rookie teammates to put up a 3,000-yard passing season and a 1,000-yard receiving season.
Our friends at Bovada, formerly BoDog, have posted odds on the Bengals playoff progress and Saturday's game: 2012 NFL Playoffs – Cincinnati Bengals Playoff Progress Eliminated in AFC Wild Card Round 2/3 Eliminated in AFC Divisional Round 8/5 Eliminated in AFC Championship Game 10/1 Super Bowl Runner Up ...
The NFL playoffs are upon us. Our Kansas City Chiefs will be watching from their couches with the rest of us. A disappointment? Maybe. If you were one of the few, like me, who picked the Chiefs to win 10 games and represent the AFC West in the playoffs for the second consecutive season, then yes, 2011 was a disappointment. However, if you were part of the masses who picked the...
NFL News

Delivered to your inbox

You'll also receive Yardbarker's daily Top 10, featuring the best sports stories from around the web. Customize your newsletter to get articles on your favorite sports and teams. And the best part? It's free!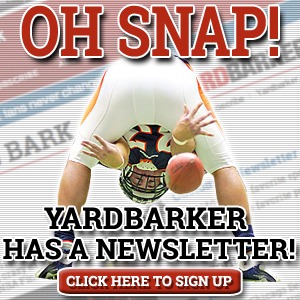 Latest Rumors
The Backyard

Today's Best Stuff

For Bloggers

Join the Yardbarker Network for more promotion, traffic, and money.

Company Info

Help

What is Yardbarker?

Yardbarker is the largest network of sports blogs and pro athlete blogs on the web. This site is the hub of the Yardbarker Network, where our editors and algorithms curate the best sports content from our network and beyond.