This season, Drew Brees needs to do it again. I'm not talking about setting records in passing, which he did by throwing for an NFL-record 5,476 yards on a record 468 pass completions. None of that comes into play in terms of what I'm talking about. Since coming to the New Orleans Saints he's been, statiscally, the best quarterback in the NFL. He's also been one of the greatest ambassadors for a city and sport any athlete in any sport has ever been. That, more than anything else, is what the Saints invested in when they gave him a brand new five-year, $100 million dollar contract. Don't mistake what I'm saying: the Saints "bounty-gate" isn't hurricane Katrina. What "bounty-gate" did was leave a void in the coaching staff, defense, and executive management of a franchise that over the last six seasons has run just about as smoothly as any in football. What it also did was make the Saints afterthoughts in the NFC South and give another unfortunate and unnecessary black-eye to the franchise that helped revive a city that desperately needed revival. The Saints couldn't afford to let that all go by the wayside because of the actions (or in-actions depending on the personnel) of a few. Which is why no matter the cost, no matter how much they might have convinced themselves Drew Brees wasn't worth big time, franchise quarterback money at age 33 they had to have him back at all costs. Without him they're not contenders, they have no identity and everything that was so right about the situation in New Orleans since 2006 would have disappeared. The rebirth of a city that was revived by its teams own revival, would have vanished. The city of New Orleans would have nothing to look forward to every fall and the one thing that has recently brought the city together would be non-existent. Now, with Drew Brees in the fold I have a stark warning for those currently overlooking this team as a threat in the improved NFC.   Stop it right now. Tampa Bay isn't there yet and I won't be convinced because of a new coach plucked from the college ranks. I've seen enough of those to know how this movie ends. Cam Newton and Ryan Kalil have all the bravado yet lack the track record. Especially when you consider that same Panthers team lost to the Saints in their last meeting by 28 points. The Falcons are formidable, but have yet to prove they can stop anything in the air on a consistent basis.This division isn't up for grabs; no matter how many times I try to convince myself that it is. It wont be anytime soon either, not until another team steps up and proves they can match the Saints on offense punch-for-punch. Not only match it, but maybe just keep Brees and that powerful offense (which isn't suspended) under control. At that point, then I might think about thinking about someone challenging them. Until that moment they are the defending NFC South champions and are completely capable of defending said title. This is, of course, because of number nine behind center. 62 wins in six seasons is no fluke. It's a testament to building around a
quarterback and re-inventing yourself from a franchise known as one of the worst in professional sports to a juggernaut on the bayou. His economic impact on the franchise and the city can't be understated. There's a reason that stadium has become the advantage it has the last few years and it isn't the po' boy's, as delicious as they might be. Brees also contributes majorly through numerous charities which in turn shows it is no coincidence that numerous businesses feel comfortable setting up shop again post-Katrina. So Drew Brees needs to be there again. Not just behind center, but in front of the camera saying all the right things, win or lose, until player-after-player comes back from suspension. He needs to be there in huddles and on the sideline giving guidance to a team that lost it at an inopportune time. He needs to be there as a familiar face that natives of New Orleans can look to and feel comfortable knowing that their team, no matter what, is in good hands as long as he's on the field leading that familiar pre-game chant. Winning cures as many ills as good behavior and rest assured Brees and company will do both. I would say that's worth $100 million dollars, but that would still be an unfair assessment of this mans real value to New Orleans, the Saints and the National Football League.
Original Story:
http://theeastsideperspective.com/201...
MORE FROM YARDBARKER
NFL News

Delivered to your inbox

You'll also receive Yardbarker's daily Top 10, featuring the best sports stories from around the web. Customize your newsletter to get articles on your favorite sports and teams. And the best part? It's free!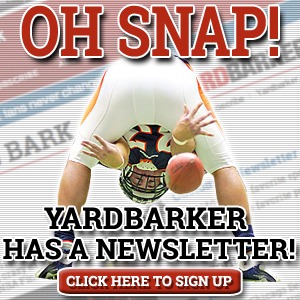 Latest Rumors
Best of Yardbarker

Today's Best Stuff

For Bloggers

Join the Yardbarker Network for more promotion, traffic, and money.

Company Info

Help

What is Yardbarker?

Yardbarker is the largest network of sports blogs and pro athlete blogs on the web. This site is the hub of the Yardbarker Network, where our editors and algorithms curate the best sports content from our network and beyond.