Found July 23, 2012 on CJ Sports NFL Talk:
PLAYERS:
Dirk Koetter
,
Chris Redman
,
Wilson Parker
,
Michael Turner
,
Julio Jones
,
Roddy White
,
Tony Gonzalez
,
Eric Weems
,
Harry Douglas
,
Matt Bryant
,
Josh Gordon
,
Carnell Williams
,
John Parker Wilson
TEAMS:
Atlanta Falcons
,
Baylor Bears
Previewing the
NFL
,  from A to Z
Atlanta Falcons logo (Photo credit: Wikipedia)
Georgia, Ooh Georgia.  This has become the official team song of the Atlanta Falcons.  For the last five years the Falcons have been on our minds, well during the regular season that is.  Four of the last five years they have impressed us during the regular season and made the playoffs, then in the playoffs they have fell flat on their faces.  I have never seen a team that has had so much talent that couldn't win a single playoff game.  Guess what, this year isn't looking any better. (10-6 = yes, winning it all = no)
The Falcons moved quickly to land offensive coordinator Dirk Koetter.  Koetter has decided to run a variation of vertical power offense and tweak, not completely alter, the playbook.  Koetter has also indicated the Matt Ryan-led, no-huddle attack will still be a big part of their offense.
Quarteback
What else can you say about Matty Ice?  Top ten QB, threw for a franchise record 4, 177 yards, threw for 29 TDs, and has one of the deadliest group of receivers.  What else is there?  Oh yea, how he turns to into a big block of ice in the playoffs.  With a lack of any depth at the quarterback position, lets hope that the beefing up in the off-season will keep him healthy all season long.  Chris Redman and John Parker Wilson?  Really?  Don't worry, Ryan will complete the season, pass for more than 4,500 yards, and will throw for more than 30 TDs.
Running Backs 
Well unless the Atlanta Falcons have the fountain of youth in their back yard, things will only slow down at the running back position.  Michael Turner led the NFC last season with 1,340 yards.  He's a thickly built bell cow with good power, strength and vision, but elusiveness and acceleration have never been a strength in his game.  As he begins football for the first time in his 30s, we are going to see a drop in production.  No worries, the passing game will become such an important part of this teams game plan that they will only need about 950 yards from him this season.
Receivers
Hands down top five receiving corps.  How does one quarterback get so lucky to have Julio Jones, Roddy White, and the reliable Tony Gonzalez on one team?  Sprinkle in a little Douglas and Meier and you have receiving corps that is deadly.  We will see the Falcons with two receivers that have more than 1,000 yards this season.  Now that Julio Jones is in his second season, healthy, and knows his role, this offense is going to be a scoring machine.  Julio Jones and Roddy White had last year to gel, this year Ryan will take advantage of that.
Defense
With a  new defense coordinator, Mike Nolan, maybe the Atlanta Falcons can actually bring a defensive presence.  In the past, the Atlamta Falcons defense has been their biggest weakness.  The biggest concern going into this season is the linebacker position.  The productive, dependable leader, Chris Lofton had played just about every snap for the Falcons at middle linebacker since he entered the league in 2008.  Lofton departed in free agency after Atlanta signed MLB Lofa Tatupu.  Atlanta's big solution to fix their weakness at defense is to bring in a 29-year-old Tatupu?  A three-time Pro Bowler who spent last season out of the league after having surgery on BOTH knees.  Even though they also added CB Asante Samuels, unless they start making so bigger moves on the defensive side of the ball, they will never go any farther than they have going the last couple years.  Like I tell everyone, you can't out score everyone.  Just ask New England and Green Bay, they proved that last year.
Special Teams
Atlanta's special-teams ace, Eric Weems, signed with the Bears during free agency, leaving a void in their kickoff and punt returner position.  The duties will probably be handed over to Harry Douglas, who hasn't handled returns since his rookie season in 2008.  PK Matt Bryant's 88.6 percent accuracy on field goals since joining  the Falcons in 2009 is second in the league over that span of time.  He has become clutch and will be a key reason for another great regular season.
Winning seasons and playoff berths are not enough to make the Falcons content anymore.  It's a sign of the tremendous progress the franchise has made over the past four seasons, but the pressure is on to take the next step.  With all the Pro Bowl caliber players this team has, there is no excuse for them not to be winning playoff games.  Things haven't changed enough for me to think this year will be any different.  More dramatic coaching changes will be made after this season in hopes to get over this hump.
Related articles
The post NFL Preview – Atlanta Falcons Edition appeared first on 110SportzTalk.
Original Story:
http://110sportztalk.com/nfl/nfl-prev...
THE BACKYARD
BEST OF MAXIM
RELATED ARTICLES
Lofa Tatupu is a 3-time Pro-Bowler, making it in 2005, 2006, and 2007. However, his career was derailed by injuries to the point where he was completely out of football last year. Still only heading into his age 30 season, the Falcons took a chance on him this offseason as a two down run stuffer, to compliment 2011 3rd round pick Akeem Dent. However, it appears those plans have been...
A couple of days ago we learned that Lofa Tatupu had suffered a pectoral injury. Now we find out that he will be out for the season. Obviously, this is bad news as fans were looking forward to seeing what Tatupu had left in the tank and if he could seize the middle linebacker job that was left vacant when Curtis Lofton decided to study witchcraft and bounty hunting instead of playing...
Offense The Falcons have made the playoffs in each of the last 2 seasons, but have not won a single playoff game. Matt Ryan, in fact, has not won a playoff game in his career, despite making the playoffs in 3 out of his 4 seasons in the NFL. For what it's worth, I think too much is being made of Ryan's inability to win a playoff game. Peyton Manning started 0-3 in his career...
Atlanta Falcons' Lofa Tatupu is out for the 2012 NFL season after tearing his pectoral muscle last week (Credit: AP Photo/David Goldman) The worst case scenario for Atlanta Falcons linebacker Lofa Tatupu has come to fruition. Falcons coach Mike Smith announced Tuesday that the torn pectoral muscle Lofa Tatupu suffered last week will sideline him for the entirety of the 2012 season...
The Atlanta Falcons' defense took a significant blow on Tuesday when head coach Mike Smith announced that linebacker Lofa Tatupu will miss the entire season witha torn pectoral muscle. "As you know, Lofa suffered a pectoral injury last week," Smith said on the Falcons website. "After testing, it was determined that he would require a procedure to repair the injury...
The Falcons will have arguably the most amount of competition for roles on special teams in seemingly a long while this summer. The team is two-deep at all three specialist spots, and both return spots are completely open to competition. It is likely that the incumbents at all three specialist spots will retain their jobs with Matt Bryant at kicker, Matt Bosher at punter, and...
The Atlanta Falcons have re-signed veteran linebacker Mike Peterson to address their need for depth. The 6-foot-1, 226-pounder played in all but one game of the Falcons, starting five games before being placed on injured reserve with a triceps injury that needed surgery to repair hte damage. Peterson, 36, recorded 27 tackles with one interception and two pass deflections.
Getty Images According to ESPN's Adam Schefter, Atlanta Falcons linebacker Lofa Tatupu will miss the entire 2012 season with a torn pectoral muscle.  The injury was sustained while working out last week. This could be the end of Tatupu's career.  He decided not to play in 2011 and rest his body after being cut by the Seahawks.
Linebacker Mike Peterson re-signed with the Falcons. The 36-year-old had 27 tackles in 15 games last season, and has 1,611 career tackles in 13 NFL seasons. Atlanta moved to bring Peterson back after Lofa Tatupu suffered a recent pectoral injury.
Tatupu Injury Could Alter Falcons Plans There is some pretty significant news coming out of Atlanta on Saturday. Falcons coach Mike Smith told the Atlanta Journal-Constitution that middle linebacker Lofa Tatupu recently suffered a pectoral injury and, at very least, will miss the start of training camp. Dent might have a leg up on the starting MLB spot   Falcons Waive LB Matt...
NFL News

Delivered to your inbox

You'll also receive Yardbarker's daily Top 10, featuring the best sports stories from around the web. Customize your newsletter to get articles on your favorite sports and teams. And the best part? It's free!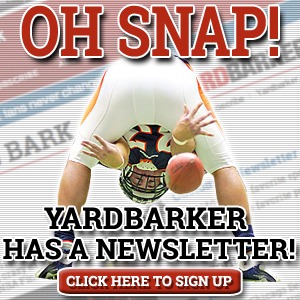 Latest Rumors
Best of Yardbarker

Today's Best Stuff

For Bloggers

Join the Yardbarker Network for more promotion, traffic, and money.

Company Info

Help

What is Yardbarker?

Yardbarker is the largest network of sports blogs and pro athlete blogs on the web. This site is the hub of the Yardbarker Network, where our editors and algorithms curate the best sports content from our network and beyond.