NFL Roundup: Jay Cutler wasted a perfectly good sendoff photo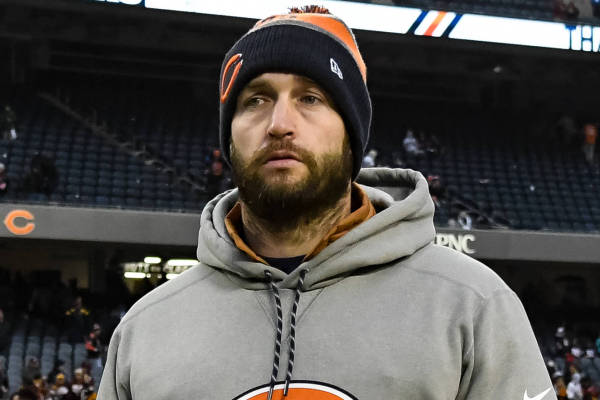 Jay Cutler should have saved the beach photo for actual retirement. 
David Banks/Getty Images
Roughly a month before his 34th birthday and presently employed by exactly zero football teams, Jay Cutler was photographed bare-assed by his wife, who included a quote from a former teammate about how the sea sets you free.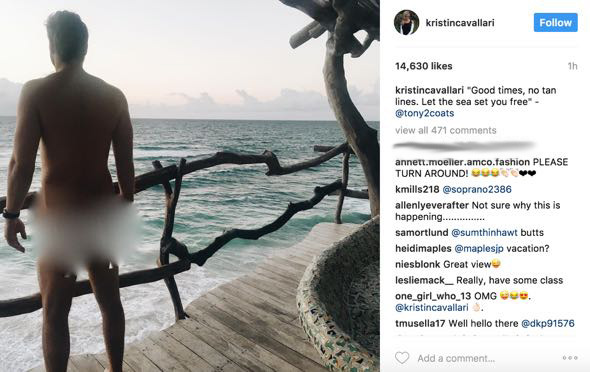 Kristin Cavallari/Instagram
Interpreting this post as an expression of disinterest in playing is irresponsible, especially when it comes to Cutler, whose general setting is some gradation of aloof. It is certainly possible for Cutler to be on vacation and publicly share a image of himself mostly naked except for a watch and still wish to play in the NFL. Slightly bizarre, sure, but not an indication of retirement.
That said, if Cutler is, in fact, still interested in playing and does happen to be signed by a team in 2017, it's truly a shame that he didn't save this stunt for his actual retirement. What would be better, and more Cutty, than going out via a picture of his backside taken by his wife, attached to a half-assed attempt at profundity? The ultimate don't care move from the ultimate don't care quarterback. It would be up there with Marshawn Lynch tweeting his goodbye during the Super Bowl, Jared Allen posting that video of him literally riding off into the distance on horseback, or Kyle Orton just leaving his locker room and announcing his retirement without bothering to tell anyone.
I'm all for enjoying a vacation and being a little reckless with your online presentation, but have a little foresight about how you're leaving for the future. I can understand if Cutler still thinks he can play, but there's no way he actually expects his career to end on a positive note. This would have been the best possibility. Ah well, even if it's a squandered opportunity, it's still good for a laugh now.
RIP going under the hood
The NFL approved centralized review during its annual ownership meetings, forever doing away with officials going under the hood to review plays. Instead, refs will use tablets to communicate with league officials to decide whether or not Dez caught it. Rest assured, this will still somehow end up making the Microsoft Surface look bad, because that's the nature of their partnership with the NFL. Whether it's Aaron Rodgers throwing on in disgust or Bill Belichick slamming it on the ground, the Surface gains nothing from being the official tablet of the NFL beyond having a role in a few various GIFs.
Nothing is a bad thing that takes any amount of responsibility out of the hands of Jeff Triplette, yet I will say that I will miss the visual of referees going under the hood. Partially it's because I anticipate the befuddled look of an official swiping their finger on a tablet will not instill confidence even if it means someone in league headquarters is helping them out. Seeing a ref crawl into a tent to make a call always seems to carry the sense of the occult, like he was going to consult with an oracle who would divine the ruling, however wrong it usually was.
Also, if the NFL is going to save any of those hoods for Canton, it has to be the one from the Tuck Rule game. It's Walt Coleman's best chance to get into the Hall of Fame unless there's an exhibit on who screwed up Deflategate.
Arrest champion Pacman rides on, probably
Imagine, when Adam Jones got arrested for the 10th time back in January, people actually thought it might spell the end for Pacman's career. Au contraire, Marvin Lewis and Pacman will actually still be Bengals when the team transitions from football team to post-apocalyptic nitro-car faction. And so, while Pacman might still get a few game suspension from Goodell, Bengals brass has made it clear they'd still love him back for another year of never calling fair catch on punts.
Suffice it to say, Pacman is touched. And he should be. Earning Mike Brown's loyalty means being kind of good for a little while to ensure you be middling for as long as you desire. That first part is kind of tricky, but then you're set.
Nothing about the Raiders is good but Marquette King
The only thing that isn't distressing about the Raiders move to Las Vegas is imagining what a amazingly tawdry spectacle a Super Bowl in Las Vegas will be like. Most likely, we'll only have to wait five years or so to find out. As soon as that stadium is built, the league will award a Super Bowl to the market, just as they will with the new stadium in Los Angeles. That's how San Francisco and its disaster field hosted one a few years back.
Knowing what we know about the stadium hustle spoils the one fun element of this move, because Super Bowls are what the league dangles to get markets to pony up exorbitant sums for the stadium that lures a team. Being suckered into what Vegas can do for the Super Bowl is to play the game that ends in the public spending $750 million to give the NFL another venue of limited extended use.
Anyway, here's Marquette King punting a birthday cake, which is wholesome and pure, aside from the knotty issue of wasted food.
MORE FROM YARDBARKER:
QUIZ: Name every prominent quarterback in the history of the Chicago Bears
While there are obscure quarterbacks who threw passes for the Chicago Bears, the QBs featured in this quiz were the 'top passer' for the team that year, according to the number of yards passing. We have identified 31 (with some repeats), how many of them can you name?
Clue: Years active
MORE FROM YARDBARKER
NFL News

Delivered to your inbox

You'll also receive Yardbarker's daily Top 10, featuring the best sports stories from around the web. Customize your newsletter to get articles on your favorite sports and teams. And the best part? It's free!