If the handwriting was not on the wall before the NFL's Silly Season began, it is now engraved and cemented in: Tim Tebow is not in the future plans for the Denver Broncos. So where might his future play out? The clock is ticking on Tim Tebow's time in Denver, whether the Broncos land Peyton Manning or not. (Photo by Jeffrey Beall via Wikimedia Commons) What Will Become Of Tim Tebow In Denver? Even as Tebow led the Broncos to the AFC West Championship and a first round win in the NFL Playoffs, there were hints that John Elway was hedging his future bets. And even if the Broncos ultimately strike out in their quest to land Peyton Manning, the team will still at some point find a different option, whether it be trying to land Matt Flynn or someone in the 2013 Free Agent/Draft market. Elway should just do Tebow a favor and trade him now. Tebow will take the high road, and if the Jacksonville Jaguars front office has any common sense they should jump all over this. I brought up the possibility of this domino effect in my column last week, noting the Broncos as a top candidate to land Manning and subsequently trade Tebow. If you believe everything coming out of the media, Denver and Arizona have emerged as the top two landing spots for Manning, with the Miami Dolphins still in the mix. Houston is mentioned as a remote possibility while the San Francisco 49ers had indicated no official interest. I also would not rule out the possibility of the latter two teams playing poker and ultimately making a late bid for #18. And San Diego Chargers GM A.J. Smith got in a nice volley directed at the Manning family on Monday, no doubt still harboring sour grapes over the Eli Manning fiasco eight years ago. For the same reasons Eli spurned the Chargers in the days leading up to the 2004 NFL Draft is why I feel the Dolphins are not prime contenders for Peyton Manning now: not the best front office in the world. But back to Tim Tebow… Is Tebow Destined To End Up In Jacksonville? On the surface, a trade to the Jaguars makes perfect sense. No matter what the Jaguars do during the off-season (short of landing Manning themselves, which is not happening), they will not be contenders. Jacksonville also has also been playing in front of far less than capacity crowds in recent years. At the very worst, Tebow easily fills the second need and sells tickets on Florida's First Coast. Tebow will also have a much longer leash in Jacksonville than in Denver or any other NFL franchise in which he may land. There is a fly in the ointment though. Jaguars GM Gene Smith is reportedly still solidly in the corner of Blaine Gabbert, who he spent the tenth overall pick in the 2011 Draft for. Maybe Gabbert does improve markedly in his second season, and at 6'5" 233 he has the measurables, but he also does not have an abundance of offensive weapons around him. I do not see the Jaguars making noise in the AFC in 2012. New Jaguars owner Shad Khan wants to fill the stadium and no doubt sees Tebow as a one-time marketing opportunity he cannot pass up on. It may come down to a power play between owner versus GM, and I see Tebow wearing teal by the time training camp rolls around. If Not Jacksonville, How About "Northern Exposure"? Assuming Denver is ready to move on from Tebow, as it appears, then if the Jaguars pass on him Tebow's options become somewhat limited. He basically becomes sloppy seconds for the teams that will not get Manning and also strike out on Matt Flynn. Seattle seems like somewhat of a decent fit, and perhaps Cleveland or Buffalo would be players. And then there is the very 'worst case scenario' for Tebow – which actually I do not think would be all that bad. A generation ago there was someone named Doug Flutie who was basically in the same boat as Tebow now – a college legend that was having a hard time convincing NFL teams that his skill set would carry over to the next level long-term. After getting brief trials with the Chicago Bears and New England Patriots, Flutie wound up landing in the Canadian Football League, and he wound up being the face of that league for most of the 1990's as he refined his game. In 1998, the Buffalo Bills decided to give Flutie a shot, and he wound up starting and had the best season of his career, earning a Pro Bowl appearance. He would go on to play seven more seasons in the NFL. This is not a knock on Tebow, but I think Canada would be perfect for him. The rules of the Canadian game with the wider field and the one-yard neutral zone would be tailor made for him, and he would also get a ton of opportunities to pass the ball and improve his throwing motion on-the-job. His presence would also be a godsend to the CFL, and the league would explode in popularity and sell tickets in that league. And unlike Ricky Williams' exile in the CFL a few years back, Tebow would also serve as an ambassador for the Canadian product and also land endorsements north of the border. It doesn't even have to be a long-term commitment – if Blaine Gabbert ultimately flames out, Tebow could then land with the Jaguars (or any other NFL team) in 2013 or '14. March Madness In The NFL As far as John Elway is concerned – he should just say say publicly Tebow is not the man. It's a business, and Elway has treated football as a business ever since he held the Baltimore Colts hostage before the 1983 NFL Draft which forced his trade, and eventual legacy, to Denver. Elway clearly wants a quarterback with a talent like he had, who is capable of bringing Denver a championship. Look for the hysteria to continue, starting with Manning's eventual signing, and the carousal continuing with Matt Flynn and Tim Tebow, not to mention the Washington Redskins trade for the #2 overall pick and the Indianapolis Colts needing to decide whether Andrew Luck or Robert Griffin is better with the first pick. In the past week, the NFL is proving it has its own version of March Madness. It sure beats the locked out debacle of last year.
Original Story:
http://www.midwestsportsfans.com/2012...
PLAYERS:
Tim Tebow
,
Peyton Manning
,
John Elway
,
Eli Manning
,
Blaine Gabbert
,
Doug Flutie
,
Robert Griffin
TEAMS:
Denver Broncos
,
Jacksonville Jaguars
,
Miami Dolphins
,
New York Giants
,
Chicago Bears
,
Buffalo Bills
,
Washington Redskins
,
Indianapolis Colts
,
San Diego Chargers
,
New England Patriots
,
Baylor Bears
MORE FROM YARDBARKER
NFL News

Delivered to your inbox

You'll also receive Yardbarker's daily Top 10, featuring the best sports stories from around the web. Customize your newsletter to get articles on your favorite sports and teams. And the best part? It's free!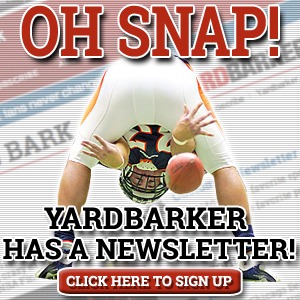 Latest Rumors
Best of Yardbarker

Today's Best Stuff

For Bloggers

Join the Yardbarker Network for more promotion, traffic, and money.

Company Info

Help

What is Yardbarker?

Yardbarker is the largest network of sports blogs and pro athlete blogs on the web. This site is the hub of the Yardbarker Network, where our editors and algorithms curate the best sports content from our network and beyond.