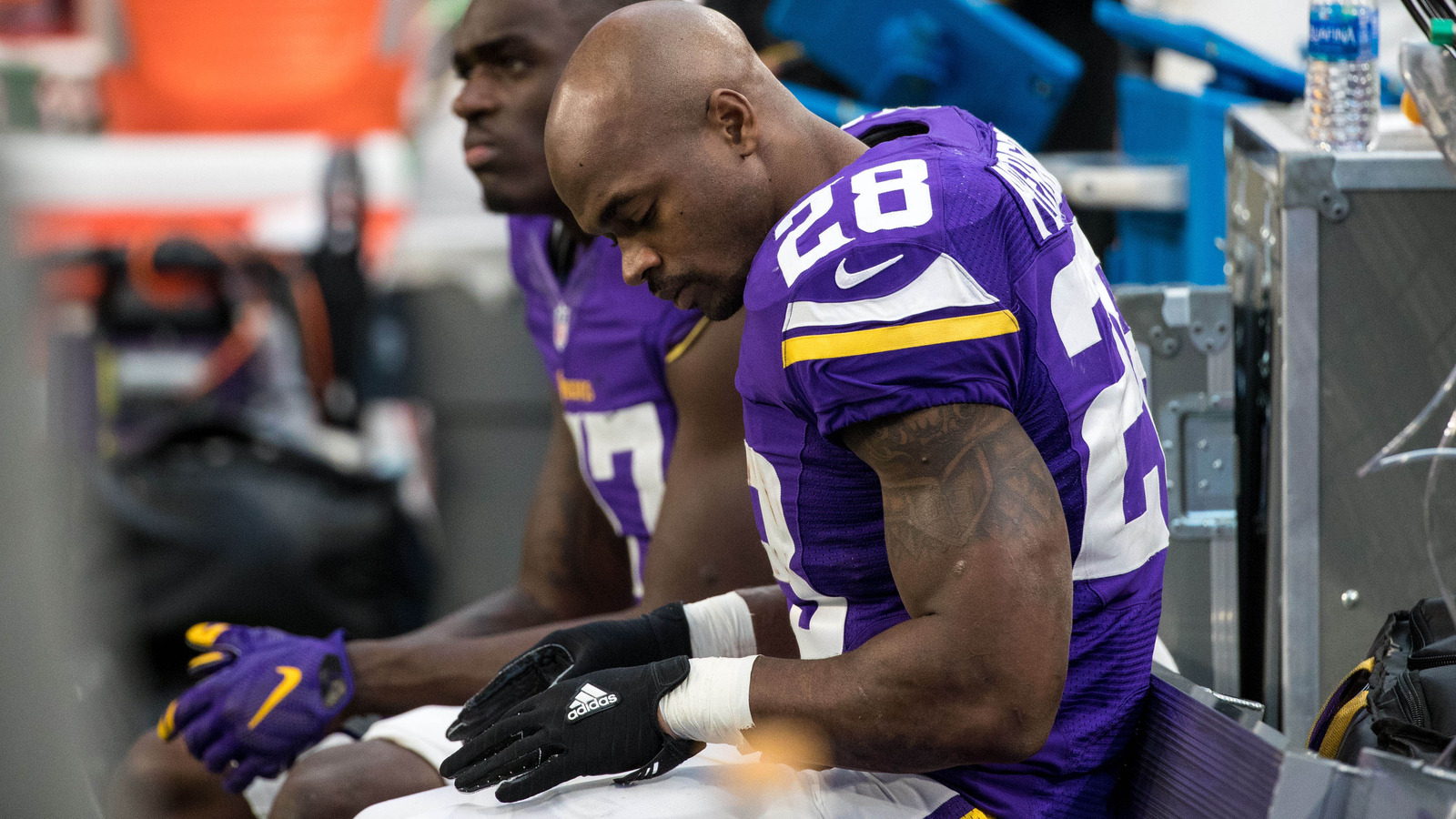 Dec 18, 2016; Minneapolis, MN, USA; Minnesota Vikings running back Adrian Peterson (28) looks on during the fourth quarter against the Indianapolis Colts at U.S. Bank Stadium. The Colts defeated the Vikings 34-6. 
Brace Hemmelgarn-USA TODAY Sports
There was a time when NFL running backs were the most sought-after players in free agency. Now, they've been knocked far down the totem pole, and are more of an afterthought than anything. Teams are looking to acquire quarterbacks, receivers, offensive linemen, and even cornerbacks, before they even thinking of reaching out to a running back.
Look at some of this year's free agents, many of which are having a tough time getting a quality offer. We have Eddie Lacy (who just recently signed with the Seahawks), Adrian Peterson, LeGarrette Blount and Jamaal Charles, just to name a few. All of those guys are still unsigned at this time, aside for Lacy, who got a one-year, $5.5 million deal, which clearly wasn't what he was looking for.
Running backs are the last players looking for one-year deals. Injuries at the position are so common, and they need the extra protection and guaranteed money that comes along with a bigger deal. But teams aren't willing to pay them, given their short shelf life. And that's a big reason we're seeing some of the best running backs on the market failing to strike deals with teams.
We can also chalk some of this up to bad luck. Looking at some of the teams with the most cap room, most of them don't have a need for running backs. The Titans have one of the best backfield tandems in the league, so they're fine. The Browns have the most money to spend, but they're spending money rebuilding their offensive line, and elected to tender an offer to Isaiah Crowell, to save a few bucks. And the 49ers are just fine with Carlos Hyde. A big factor in getting paid is timing, and this year's class of free-agent running backs have run into one of the worst situations since the turn of the century, where teams with money to spend don't have a need for the position, and the draft is full of quality backs.
With that said, the biggest winners will be this year's running back draft class. Teams are looking for backs with less miles on them, guys they can bring in on the cheap, which is the trend this year. There's a lot of talent in the draft, and those guys are gonna get scooped up.
Unfortunately, this year's backfield free agents are the losers, much to the chagrin of them and their agents. We're not saying they're going the way of the dodo, but their stock has dropped to a level we never thought it would reach.
MORE FROM YARDBARKER
NFL News

Delivered to your inbox

You'll also receive Yardbarker's daily Top 10, featuring the best sports stories from around the web. Customize your newsletter to get articles on your favorite sports and teams. And the best part? It's free!