Found August 09, 2012 on Obsessed With Sports:
Every season RDM obsesses on the NFL team win total over/unders. It's one of the more fun bets in all of sports. A single well-placed bet turns an otherwise random team into a must see weekly event. Today we look at the 2012 Miami Dolphins. The number: 6.5 wins Chad Ochocinco's Johnson's addition to the Dolphins literally makes me want to bet the under. It's not just the stench of desperation oozing from the act of the Dolphins signing a wide receiver that is clearly on the back 9 that makes me say this. It's the fact that Miami would sign him, then tell him to be the old "Chad Johnson" that is a bit concerning. Don't fully concentrate on football like you did in New England. Rather, be the social media maven that you were in Cincy. That's what the 'Phins want. The fact that this is tolerated down there isn't surprising. In my opinion, this type of management can only hurt a team. This **** matters. A culture of absurdity doesn't work. I would think this to be a ridiculous statement. However, after watching this first episode of Hard Knocks, I think it might be true. The Dolphins, as an organization, signed Chad Johnson to produce a more interesting season of Hard Knocks. Sounds ******* impossible. Why would a team care to do such a thing? Because in Miami they are just trying desperately to get any asses in those seats in that old P-O-S stadium. Maybe the 'Phins didn't get a viable wide out in Chad Johnson. BUT, they did get a fantastic PR buff. Chad Johnson is essentially the highest paid social media rep in the NFL. So they've got that going for them. Cobweb mode. Are we buying this for a second? Chad didn't have sex from September through January? Really? Nothing? Evelyn Lozada is more demanding than Drew Rosenhaus. Even Rosenhaus gives hand jibbers to under performing players in contract years. And I leave you with this… If only Chad had paused FIFA and picked up New England's playbook last season… I've never rooted against Chad before. However, the fact that Miami thinks letting him run a muck is the way to go makes me have to. It's like Miami believe that letting Chad post pictures of his Louis Vuitton luggage on Instagram is going to take 5 years off his NFL-worn legs. Maybe Johnson is just getting old, huh. Did anyone think of that? It's not that the Patriots ripped his heart and soul out by limiting his ridiculous twitter activity. It's just that he's a 34-year-old player that has played over 150 regular season games. Like even the best battle in Call Of Duty, everything comes to an end. On the bright side, Cobweb mode is the best thing I've heard in awhile. Chad's entire game was in cobweb mode in 2011. With all this other media stuff to entertain him now, I can't see him getting his **** straight on the field. That's why ole Ocho has that twitter account to fall back on. The average pay for a social media manager is a lick over $50k. Johnson's 2012 salary is $925,000. Pick: Under 6.5
Original Story:
http://www.obsessedwithsports.com/201...
THE BACKYARD
BEST OF MAXIM
RELATED ARTICLES
This training camp, the Miami Dolphins have allowed the HBO cameras into their practice facility for unfettered 24-hour access.  Last night, Dolphins fans with access to HBO had an opportunity to get an inside look at what's been going on at Dolphins camp.  "Hard Knocks: Training Camp with the Miami Dolphins" was hyped for over [...]
The Dolphins kickoff the pre-season against in-state rival Tampa Bay in a yearly home and away clash, that is more of an exhibition game than true test for either team. Early pre-season games are not... Come here for the best Miami Dolphins blog on the web. We have all of the most up to date new and opinions on the Dolphins organization for its fans.
@Ochocinco Miami Dolphins wide receiver Chad Johnson is one of the most outspoken NFL players ever.  After allowing the f-bomb to leave his mouth many times during a media session, head coach Joe Philbin asked him to tone things down. Johnson reacted to Philbin's request by saying, "I don't do media anymore." Now Johnson made a statement by changing his Twitter avatar. Check...
Miami's Vontae Davis got a late-night phone call from his grandmother. Adeline Davis had watched the premiere episode of ''Hard Knocks: Training Camp with the Miami Dolphins.'' ''`Get in shape, baby. It's going to be a long season,''' Davis said she told him. ''I said, `I know. I'm working every day.''' Miami...
On Friday evening the Miami Dolphins will embark on a journey together kicking off the 2012 football season.  While this is still preseason, the Dolphins feel they have a lot to prove this year.  Under new head coach Joe Philbin the Dolphins are hoping for a fresh start.  New coaches, new offense, new personnel on [...]
The Miami Dolphins released their first depth chart roster this past week and veteran QB David Garrard was sitting atop the list. Journeyman QB Matt Moore appeared upset with Garrard grabbing the top spot while speaking to reporters after learning of the news. However, it now appears that there could be a new quarterback under center to start the season. According to reports, David...
RB Reggie Bush The franchise tag value for running backs was only 7.7 million in 2012 and if Reggie Bush has another season like he just had, (216 carries for 1086 yards and 6 touchdowns with another 43 catches for 296 yards and another score), he'd be worth that. Heading into his age 28 season in 2013, that would make a lot more sense than giving him a long term deal, especially...
Loquacious wide receiver Chad Johnson was at his best in Cincinnati when he was a boisterous, attention-grabbing Pro Bowl target known as much for his touchdown celebrations and media dealings as his talent on the field. Head coach Joe Philbin issued a direct warning to Johnson on Tuesday, when Johnson told reporters after practice, "I don't do media anymore." Johnson...
The Miami Dolphins were ready to kickoff their preseason tonight….the plan was to have David Garrard as the starting quarterback.  Well, it seems as though those plans have changed.  News started hitting Twitter about 20 minutes ago and then Jay Glazer tweeted this: So David Garrard could miss the Dolphins season opener at the Texans. [...]
Here we go. First Dolphins game in 222 days. Click here to watch the game View shoutbox http://www.dolphinshout.com Come here for the best Miami Dolphins blog on the web. We have all of the most up to date new and opinions on the Dolphins organization for its fans.
MIAMI GARDENS, Fla. Lauren Tannehill bounced up the stairs during the fourth quarter of Friday's pre-season opener between the Miami Dolphins and Tampa Bay Buccaneers. She seemed to be floating on air, and who could blame her? Hours after hearing David Garrard, formerly the Dolphins' starting quarterback, would be sidelined two to four weeks because of knee surgery, Lauren...
Dolphins News

Delivered to your inbox

You'll also receive Yardbarker's daily Top 10, featuring the best sports stories from around the web. Customize your newsletter to get articles on your favorite sports and teams. And the best part? It's free!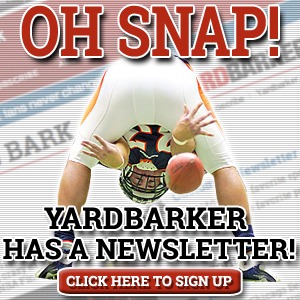 Latest Rumors
Best of Yardbarker

Today's Best Stuff

For Bloggers

Join the Yardbarker Network for more promotion, traffic, and money.

Company Info

Help

What is Yardbarker?

Yardbarker is the largest network of sports blogs and pro athlete blogs on the web. This site is the hub of the Yardbarker Network, where our editors and algorithms curate the best sports content from our network and beyond.