Found May 23, 2013 on Fox Sports Ohio:
PLAYERS:
Tashaun Gipson
,
Pat Shurmur
,
Eric Hagg
,
Johnson Bademosi
,
Jamoris Slaughter
,
Trent Richardson
,
Jordan Cameron
,
David Nelson
,
Brandon Jackson
,
Chris Ogbonnaya
,
Dion Lewis
,
Miguel Maysonet
,
Desmond Bryant
,
Brandon Weeden
,
Travis Benjamin
,
Davone Bess
,
Greg Little
,
Jason Pinkston
,
John Greco
,
Kevin Costner
TEAMS:
Cleveland Browns
,
Notre Dame Fighting Irish
,
Oklahoma State Cowboys
BEREAThere is an often used saying about the difference a year makes and nothing is truer than forsecond-year safety Tashaun Gipson. The undrafted free agent from Wyoming was just trying to catch the eye of former Browns defensivecoordinator Dick Jauron and coach Pat Shurmur at this time in 2012. Fast forward 12 months and Gipson is running with the first team under a new regime in defensivecoordinator Ray Horton and Rob Chudzinski. Its definitely night and day, Gipson said after wrapping up the second week of the Browns OrganizedTeam Activity (OTA) practices. I am coming in here with a whole new mentality (this year). Last year, I was trying to latch on and now Im out there with the starters, he said. I know it willbe a big question to people with a second-year undrafted free agent, but as long as the coaches haveconfidence in me I know I have confidence in myself and my ability and I will leave it in Gods hands. The Browns did not re-sign Usama Young and released Eric Hagg earlier this week, paving the way forGipson. Right now, the safeties believed to be competing for the free safety spot opposite of T.J. Wardare Gipson, Johnson Bademosi and rookie Jamoris Slaughter. As far as that aspect I have no control, Gipson said. The upper level management makes decisionsthey feel are best for the team, but all I can do is go with the flow. It gives me great opportunity, he said. I just want to do my job and am blessed to be in this position. Bademosi is being converted from cornerback to safety after making the team as an undrafted freeagent from Stanford last year. He was a stalwart on special teams in 2012 for the Browns. Ive been pleased with him, Chudzinski said. (Bademosis) taken that role and is also learning a newposition. He looks pretty good at safety. Well keep playing him there and some at corner and see whereit goes from there. Slaughter has yet to practice after tearing his Achilles tendon in the third game last year at Notre Dame. He was drafted in the sixth-round in April and is expected to be ready for training camp. Chudzinski anticipates the safety position to be hotly contested in training camp. (Gipsons) done a nice job and also some of the young guys have been given opportunities, Chudzinskisaid. That will be a very competitive position in training camp when the pads go on and we start to hit. Gipson (5-11, 205) feels it is a blessing in disguise that he was an undrafted free agent, which allowshim to keep his edge. Thats one of the things that Im definitely blessed to be in this situation coming from last year to belabeled as an undrafted guy starting in the secondary, he said. I feel my play will answer any questionsthat need to be answered, but I definitely stay humbled through this whole experience. Gipson says despite overcoming long odds to make the team and then become a starter from Wyoming,he has no doubts he can play at a high level in the NFL. Theres not even a point zero chance I dont belong with the big guys, he said. A young guy likemyself, being just 22 years old, has to have confidence. If you have confidence and can back it up with your ability, it will help me to have a successful year for me. Notebook TRich, Cameron Sidelined: RB Trent Richardson (lower leg muscle strain-shin) and TE Jordan Cameron(groin) sat out of Thursdays practice. Chudzinski said both were held out as precautionary measures, but Chudzinski said Richardson mightnot practice in the upcoming minicamp. (Richardson) might miss minicamp, he said. With Cameron, it is his groin and again, were beingprecautionary. WR David Nelson (knee) and S Jamoris Slaughter (Achilles) did not participate in practice. Never Enough: Chudzinski was asked about bringing back UFA RB Brandon Jackson. Currently, theBrowns stable of backs consists of five backs who have played in the NFL in Trent Richardson, MontarioHardesty, Chris Ogbonnaya, Dion Lewis and Jackson. In addition, they have undrafted rookie free agentMiguel Maysonet. I always felt like you cant have enough good running backs, Chudzinski said. Brandon has beensuccessful in this league and he is an experienced guy. You cant have enough running backs. Lewis was brought over in a trade with the Eagles and is looked at as a possible third down back as wellas a kick returner. Dion has done a nice job, Chudzinksi said. He has shown some skills from what Ive seen and heshows some good pass catching ability. No Desmond: DE Desmond Bryant was absent from OTA practice. Chudzinski said he was dealing with alegal issue. He has a legal matter that hes taking care of, Chudzinski said. It is presumed it is the misdemeanor charge of criminal mischief for allegedly being drunk last Februaryand wandering into a neighbors house in Miami. He had a mug shot taken that went viral on theinternet. Good Progress for Weeden: Last week, QB Brandon Weeden said he had a bad day on the day thatpractice was open to the media. This week, he looked very sharp. He hit WR Travis Benjamin streakingdown the sideline for a 45-yard touchdown and completed passes to WR Davone Bess and Greg Little insetting up a field goal in the two-minute offense. You guys are out here one day, Chudzinski said. Ive seen a progression with Brandon. With thesequarterbacks its not going to be about one day. Its over a course of time. Theyre all doing a good job. Weeden has OK on his Mind: Weeden is from Oklahoma and has relatives in Moore, OK, cite of thedeadly tornado and he plans to go back there this weekend and lend a hand. Weeden played collegefootball at Oklahoma State. Im going back there to work and help out, he said. Ill do anything, whether its getting in the rubbleor whatever, Ill be there to help. Versatile Greco: Last year, when OL Jason Pinkston was lost for the season with a blood clot in his lung,John Greco stepped in and was very productive. He ended up starting 10 games at left guard. Greco was lining up at right guard and Pinkston was at left guard with the first team in team drills. Johns doing a nice job learning a lot of different positions, Chudzinski said. He came in last year anddid a nice job. Hes showed he can handle a lot of different things. Greco is trying to build on the opportunity he received last year to be the starter. Thats my mindset, to play wherever the coaches want me to, he said. Whether it be on the left sideor right side. I want to be ready every week. Draft Day: The film crew for the upcoming movie, Draft Day is around the Browns facility filming. Theyare expected to be shooting video about the movie starring Kevin Costner for the next several weeks. Costner was at the Browns practices earlier in the week, but wasnt seen on Thursday.
Original Story:
http://www.foxsportsohio.com/nfl/clev...
THE BACKYARD
BEST OF MAXIM
RELATED ARTICLES
The Browns today announced that they have signed seventh round pick, offensive linemen Garrett Gilkey. Gilkey was a left tackle at Chadron State University, but has been working at guard for the Browns during OTAs. "The Cleveland Browns today signed offensive lineman Garrett Gilkey to a four-year contract, the team announced. Selected in the seventh round (227th overall) of the...
A Pro Football Talk report surfaced a few hours ago that the Browns will release Thaddeus Lewis. That report was confirmed by several members of the local media. Lewis started one game for the Browns last week, starting against the Steelers in the final week of the season. He wasn't awful, completing 22 of 32 passes for 204 yards, a touchdown and an interception. Lewis has been...
Like him, trust him, or not, Joe Banner has said all the right things so far as CEO of the Cleveland Browns. His Q&A with Clark Judge of CBS yesterday was just more proof of Banner's self-confidence and willingness to espouse the Cleveland Browns as a defining project in his career and life. I can remember a time when an interview like that would have had the Cleveland Browns...
Browns RB Trent Richardson and TE Jordan Cameron did not participate in today's practice. Richardson was held out because of a strained shin muscle. Cameron did not practice because of a pulled groin. RB Trent Richardson (strained shin muscle), TE Jordan Cameron (strained groin) & FS Jamoris Slaughter (Achilles) exercising on side. #Browns — Nate Ulrich (@NateUlrichABJ) May...
One of the last guys on the Browns practice field Thursday admits he's basically a lost guy. With just two days in the books, Miguel Maysonet is playing from behind. An undrafted rookie running back claimed on waivers earlier this week from the Eagles, Maysonet arrived in Cleveland on Tuesday night. He showed up at Browns Headquarters early Wednesday, took a physical and then...
Yesterday just 24 hours after being released by the Philadelphia Eagles, Stony Brook running back Miguel Maysonet was claimed again. This time by the Cleveland Browns. While people say it is a crowded backfield, Maysonet could be a guy that runs a veteran out of town. The dynamic 5'9 power back was a killer in the FCS. He ran all over teams, putting up over 2000 yards on the ground...
The Browns have signed rookie offensive lineman Garrett Gilkey to a four-year contract. Gilkey was selected in the seventh round (No. 227 overall) by the Browns in April's NFL draft. The 6-foot-6, 320-pound Gilkey started 34 games at left tackle for Division II Chadron State. However, the Browns had him lined up at guard during their organized team activity practices. Gilkey...
Brandon Weeden's long weekend will be spent helping his home state recover from devastating tornadoes earlier this week. The Browns quarterback said Thursday he doesn't yet know exactly what he'll be doing, but he knows he's flying home and has volunteered to lend a hand in and around Moore, Okla., where his wife, Melanie, grew up. "There's so much devastation...
The Cleveland Browns have signed wide receiver Tori Gurley to a contract. While terms were not disclosed, odds are it is a one-year deal and nothing is guaranteed. Making himself the NFL pinball, according to RotoWorld this marks the seventh organization that he has attempted to play for in his brief career. Going undrafted in 2011 out of South Carolina, Gurley finds himself in competition...
Trent Richardson had the 6th-worst rushing average by a rookie in NFL history. Should Browns fans be worried? Scott Kacsmar breaks down rookie rushing success in regards to the long-term outlook.
Julio Jones and Chris Owens are in the news. They didn't do anything on or off the field that warrants any negative attention. A 29 year-old Norcross, GA man named Corey Dajohn Moody is a different case altogether. Please click here to read this story The post Man tried to run rent check scam on Julio Jones appeared first on Players View.
BEREA, Ohio (AP) -- Browns quarterback Brandon Weeden is heading home to Oklahoma to help anyway he can in the aftermath of the deadly tornado. Weeden said his wife, Melanie, has family in Moore, Okla., where the tornado killed 24 people and destroyed thousands of homes. Weeden said none of her family members were injured and he's eager to "just to do my part" with...
Browns News

Delivered to your inbox

You'll also receive Yardbarker's daily Top 10, featuring the best sports stories from around the web. Customize your newsletter to get articles on your favorite sports and teams. And the best part? It's free!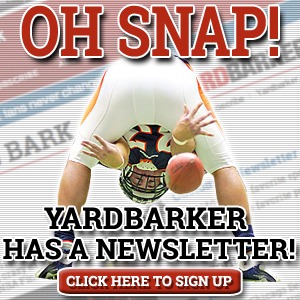 Latest Rumors
The Backyard

Today's Best Stuff

For Bloggers

Join the Yardbarker Network for more promotion, traffic, and money.

Company Info

Help

What is Yardbarker?

Yardbarker is the largest network of sports blogs and pro athlete blogs on the web. This site is the hub of the Yardbarker Network, where our editors and algorithms curate the best sports content from our network and beyond.