Found January 28, 2013 on Fox Sports North:
EDEN PRAIRIE, Minn. While the coaching carousel has been spinning feverishly in the NFL this month, there has been little news with the Minnesota Vikings coaching staff. For a team that has seen its share of turnover in recent years, the silence is probably being enjoyed. Other than interviews for special teams coordinator Mike Priefer and Mike Singletary, the co-linebackers coach and assistant to head coach Leslie Frazier, the quiet was expected after last season's 10-6 record and playoff appearance. January in the NFL is time focused on coaches. Frazier, once seen on the hot seat in Minnesota, has been given a lot of credit for last season's turnaround by general manager Rick Spielman. However, Frazier is still sitting two years into the original contract he signed to be the Vikings' coach in 2011 and is entering the offseason with one year remaining. Many expected an extension for Frazier to be coming. Most thought news of an extension would have been heard by now. "I've had talks with ownership and again until we when there's something to be announced, we'll announce it, but I'll keep that all internal," Spielman said during his season-ending meeting with reporters on Jan. 10. "I know everybody recognizes what Leslie Frazier has done as a football coach here in Minnesota." Still, in the time usually reserved for coaching decisions, there has been no announcement regarding Frazier. Spielman was asked if he's given his endorsement of Frazier to the team's owners, Zygi and Mark Wilf. "I just said Leslie has done an outstanding job," Spielman said. "And again, I don't want to talk specifics, but I know our ownership group will discuss that, and when we have an announcement, we'll go from there." Frazier's deal is current, which takes some of the urgency out of the matter. But Frazier didn't have to wait this long in 2011 when he had finished the final six games of the 2010 season as the interim coach and had given Minnesota reason for a hope with a 3-3 record after replacing the fired Brad Childress. Pleased with the work Frazier had done in keeping the team calm during a tumultuous final six weeks, Frazier signed a three-year contract to become the permanent head coach on Jan. 3, 2011, a day after the season had ended. Frazier's first season in 2011 started with the lockout and ended with a franchise-tying worst 3-13 record in which many wondered if Frazier would get a chance to continue. He had pushed for the ill-fated acquisition of veteran Donovan McNabb. The team dealt with injuries to star running back Adrian Peterson and the secondary crumbled while giving up historical passing marks to opposing quarterbacks. But Spielman and the Wilfs stuck by Frazier and were rewarded. Now, following Minnesota's surprise playoff appearance the result hasn't been a contract extension.Frazier's calm demeanor has helped the Vikings' avoid any lengthy distractions, such as Percy Harvin's trade request in the summer and strange absence from the team at the end of the season. As the season wrapped up, Frazier said he hadn't talked with the Wilf's or his agent and stated, "Things will work out just fine. Not worried at all." "I've been told a number of times from Mark and Zygi and Rick they are pleased with the job we've done this season, a number of times," Frazier said three weeks ago. "I'm very appreciative of their support throughout the year. Very appreciative." Frazier has proven capable of navigating through the ups and downs of a season. Leaders on the team like Peterson have supported Frazier and say he's the type of coach that is built to succeed in the NFL. Veteran linebacker Chad Greenway praised Frazier's composed, consistent message in keeping the players focused. "It is such a long season and there are so many ups and downs that I think if you have a coach that is kind of going with that; maybe he comes in Monday after a loss and he's really down and, this is going to ruin our season' sort of speech and that's not what Leslie is," Greenway said. "Obviously Leslie's the kind of guy, We're still in this thing. We're fighting. We're together. We're all in.' And his approach is perfect, in my mind, for what an NFL coach needs to be." Greenway said Frazier stayed consistent and supportive whether it was during 3-13 last year or 10-6 this season and said the team "never lost him." Frazier still believed in his team, which started the year 4-1, had dipped to 6-6 and lost four out of five games, to win its final four games, three against playoff hopefuls and twice on the road, to earn a playoff spot. "When we went in that dip to where we went down to 6-6 and to finish the season like we did, I mean that's true qualities of a head football coach and a leader," Spielman said, later adding. "As I said during the bye when I talked to you guys, Leslie was doing an outstanding job. And I thought that even showed more when we did have that dip or that setback; that it didn't keep falling. We were able to come out of that rut and get ourselves in the playoffs, especially with the pressure that were in those last four games to have to win those four to get in." Yet, Frazier still waits. Follow Brian Hall on Twitter.
Original Story:
http://www.foxsportsnorth.com/01/28/1...
THE BACKYARD
BEST OF MAXIM
RELATED ARTICLES
LOL, WUT. True story. Adrian Peterson loves orange peanuts, especially when they are for him. Then, he accepts you.  If any of that is confusing, then you need to watch the video after the jump - in it's entirety - and then this picture will become Exhibit A in why Adrian Peterson is the coolest sack of flesh and bones to ever grace the turf.  "An orange...
Donald Driver doesn't want to leave Green Bay, but football is a business and he knows it may be different colors he adorns in 2013. At 38, Driver still feels he can be a very productive receiver despite logging 77 yards and 2 touchdowns in 2012. The Minnesota Viking has a legitimate interest in the veteran, and they also have plenty of room for him to come in and play a key...
AN MVP FOR ME?
Minnesota Vikings running back Adrian Peterson is certain that he's won the NFL MVP award. He's likely battling Peyton Manning for it.
The Minnesota Vikings surprised the NFL world this year by reaching the playoffs. The Vikings did so however on the legs of Adrian Peterson, not on the arm of QB Christian Ponder. The quarterback play in Minnesota heads into the 2013 season with several question marks surrounding the position. One question surrounding the position next year might be, who will be the backup to Christian...
HONOLULU -- Shortly before halftime Sunday Kyle Rudolph cradled a lofted touchdown pass to the corner of the end zone. A couple hours later, Rudolph got his hands on a Pro Bowl MVP trophy. Rudolph highlighted the Minnesota Vikings contingent's night at the NFL's Pro Bowl Sunday, as he hauled in five receptions for 122 yards and one score to earn the game's top individual...
Rule #1 of the internet: Never, ever, trust it or anyone hanging out on it. Especially those participating in message boards and chats. NFL commissioner Roger Goodell missed this memo, as Minnesota Vikings punter Chris Kluwe clowned on him in a Reddit discussion thread. Admit, you've been RickRoll'd. If you deny it, you probably won't admit to getting your butt whooped at least...
Kyle Rudolph wasn't the only Viking that had a good Pro Bowl showing. Several Vikings made key contributions and promoted the theme of the night – that players were giving appropriate effort.
Tight end Kyle Rudolph highlighted a strong Vikings performance at the Pro Bowl. Rudolph had five catches for 122 yards and touchdown to win the MVP award.
Stiff competition doesn't happen too often at the Pro Bowl. But this year, with the two main contenders for the MVP award suiting up for opposite sides, the game has extra intrigue. Adrian Peterson and Peyton Manning both had solid years after coming back from injuries that appeared likely to limit — if not end — their careers. They're now the frontrunners for the league...
Former Eagles quarterback Donovan McNabb is adding a new role to his burgeoning media career.  After joining NFL Network in the fall, McNabb is now linking up with the upstart NBC Sports Radio as their "NFL lead analyst."  McNabb will also be a major part of a daily show that begins in April once the radio network launches full-time programming.  Details via NBC... ...
This time next week, we'll know who won the Super Bowl, and we can rightfully turn our attention to Kentucky Derby prep. So the Pro Bowl was a thing that actually happened yesterday. This may have been the worst game ever. Like a middle school game, actually. One other note on the Pro Bowl. Kyle Rudolph won the Pro Bowl MVP, which was the trophy the Vikings were going for this...
Vikings News

Delivered to your inbox

You'll also receive Yardbarker's daily Top 10, featuring the best sports stories from around the web. Customize your newsletter to get articles on your favorite sports and teams. And the best part? It's free!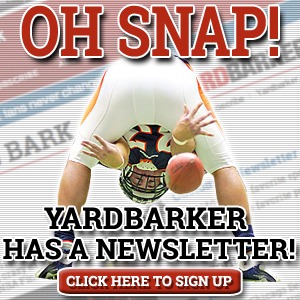 Latest Rumors
The Backyard

Today's Best Stuff

For Bloggers

Join the Yardbarker Network for more promotion, traffic, and money.

Company Info

Help

What is Yardbarker?

Yardbarker is the largest network of sports blogs and pro athlete blogs on the web. This site is the hub of the Yardbarker Network, where our editors and algorithms curate the best sports content from our network and beyond.