Found September 17, 2012 on Fox Sports Southwest:
PLAYERS:
Tony Romo
,
Felix Jones
,
Jason Witten
,
Dez Bryant
,
Sean Lee
,
Golden Tate
,
Russell Wilson
,
Pete Carroll
,
Bruce Carter
,
Marshawn Lynch
,
Jason Garrett
,
Demarcus Ware
,
Marcus Ware
,
Rob Ryan
TEAMS:
Dallas Cowboys
,
Seattle Seahawks
,
Monmouth Hawks
SEATTLE A couple of days ago, as his then-1-0 team prepared for Sunday's roadie at Seattle, Dallas Cowboys owner Jerry Jones tried to explain how to find a balance between the joy of winning and the folly of over-celebrating. So he paraphrased an old Merle Haggard tune. "We're not just drinkin' that sweet Bubble-Up an eatin' that Rainbow Stew!'' Jones sing-songed. Dallas was served neither delicacy in the 27-7 loss to the Seahawks, a game essentially decided when Seattle's special teams scored 10 points in the first five minutes more than the entire Cowboys squad would manage in 60 minutes. "We made way too many mistakes, in every aspect of the game, to win," said quarterback Tony Romo. "Obviously, we did not get off to the start that we wanted coming into what may be the toughest environment to play in the NFL. We stressed that this week, but we didn't execute.'' This team's whipping guy, Felix Jones, earned a million eye rolls when he fumbled away the opening kickoff that led to three easy points. Then Jason Witten dropped the first of his handful of botched pass-catch attempts. Then Dallas allowed a blocked punt for a score. A Dez Bryant drop, a Tony Romo pick, another Witten drop, a fumbled shotgun snap . The better coaching staff overseeing the better talent with the benefit of 10 days to prepare as was the case in Dallas-at-Seattle should translate to victory. Instead, the Cowboys are now busying themselves working to make sure the fact that the breath has been knocked out of them is a permanent state. It proved to be temporary for linebacker Sean Lee, the victim of a vicious and illegal crackback block by Seattle's Golden Tate, a play that drew the wind from Dallas' sail and served as a momentum-swinging point. The Seahawks were up 20-7 early in the fourth quarter when Seattle's rookie QB Russell Wilson ran left from the pocket. As Lee zeroed in on his target, Tate did the same and administered a head-to-head blow to a defenseless player that is this year specifically a violation of the rules. The stadium scoreboard showed the replay on almost continuous reel. Seattle head coach Pete Carroll celebrated to the point of taunting. Tate did the same. "That's part of the deal," said Lee, who eventually re-entered the game after undergoing concussion testing. "He can celebrate all he wants. I bet if we went head-to-head and squared up, he probably wouldn't be celebrating as much. That's part of the deal. It's part of football. Hits like that happen.'' Oddly, the hit on the play that was flagged was a tap on Wilson's back as he was crossing the sideline. Bruce Carter was assessed a 15-yard penalty for that another dubious call and suddenly the play that could've ended the drive instead was allowed to end the game when Marshawn Lynch eventually capped the long possession with a TD. "I was looking for an explanation on why that wasn't called as a defenseless player as that is something the league is trying to guard against and is a pretty good example of what that was," Cowboys coach Jason Garrett said. Blaming the zebras isn't the top issue here, though, and Garrett knows it. The Cowboys' defensive plan was to confuse and contain Wilson, and the plan (which kept DeMarcus Ware from harrassing a Seattle offensive line missing its best player) fell apart after the half, even with Wilson throwing just a total of 20 passes. Also part of coordinator Rob Ryan's intention: Crowd Lynch. Eventually, that dam broke, too, as the Seahawks rushed for 182 yards on 41 carries, including 122 on 26 carries by Lynch. In the second half, Dallas gave up clock-eating touchdown drives of 90 and 88 yards. "If we continue to let that happen, we won't be a very good defense," Lee said. "This is obviously a step back. But finding a way to learn from it and move on is the only way we're going to be the consistent defense that we're looking for." The theme in the locker room? An insistence on the problem being one of "execution'' rather than one of "focus,'' "talent'' or "physicality.'' But, Witten said, "It's unacceptable. You can't have a big win on the road like (at the Giants) and then come back and play as bad as this. That wasn't Cowboys football.'' Yeah, but in a sense, it is Cowboys football. This is a league full of teams that, at their essence, are 8-8 teams trying to get a bounce to go right to break from 8-8. Dallas, at 1-1, is one of those many clubs. And that's why they're not just drinkin' that sweet Bubble-Up an eatin' that Rainbow Stew.
Original Story:
http://www.foxsportssouthwest.com/09/...
THE BACKYARD
BEST OF MAXIM
RELATED ARTICLES
The Dallas Cowboys feel that they have given Felix Jones plenty of chances to succeed. He was handed the starting role as running back and given plenty of opportunities to show that he can be a lead back and receiver out of the backfield. Dallas also even decided to try Jones as a kick returner to show his explosiveness on a regular basis. But after another costly turnover by Jones...
As bad as Felix Jones has looked this season, Dallas Cowboys owner Jerry Jones thinks it's crazy to think about releasing the former first round pick. Owner Jerry Jones defended the running back after a slow training camp, saying it was ridiculous to even consider cutting the former first round pick. Jones said on his radio show on 105.3 FM Tuesday morning that he feels the same...
With Felix Jones struggling to hold on to the football during the Cowboys' loss on Sunday, head coach Jason Garrett made it clear that taking care of the football is very important. "Line 1 in returning the football in the NFL for me is ball security," Garrett said. Garrett admits they're always looking for other guys to step up and return kicks. "Well, we're always looking...
The 27-7 loss to Seattle wasn't Romo's fault, but he will still bear plenty of weight. Jerry Jones didn't have a great weekend. His Arkansas Razorbacks were worse than some Division 1-AA (or whatever they're called now) schools in a 52-0 loss to Alabama on Saturday. On Sunday, former Razorback Felix Jones returned the opening kickoff for the Dallas Cowboys against the Seattle...
Cowboys fumble another one Some may have seen an upset in the offing in the great Northwest. Before Sunday, somewhere a column or blog heading may have read, "Seahawks Beat Cowboys." I doubt it. but maybe. But did anyone see that coming? Did anyone see the Cowboys completely dismantled and destroyed by that bunch? Sure, the Seahawks are a different team at home...
I'm sure like all fans, we are just pissed off beyond belief and with plenty reason. The Cowboys let us down, simple as that. Here we are thinking the Cowboys turned the corner after a great win on the road against the champs, but then they don't even show up in Seattle. So much for thinking the Cowboys were returning to the 90′s, no these are the same ole Cowboys – inconsistent...
The NFL is a funny thing. Some weeks teams click on all cylinders. Everything in the playbook works, the ball bounces the right way, and the team likely enjoys a great deal of success. But then, with no rhyme or reason, there are games like the one we just saw the Dallas Cowboys play this afternoon. Games in which everyone is out of sync, (almost) nothing in the playbook works...
NFL News

Delivered to your inbox

You'll also receive Yardbarker's daily Top 10, featuring the best sports stories from around the web. Customize your newsletter to get articles on your favorite sports and teams. And the best part? It's free!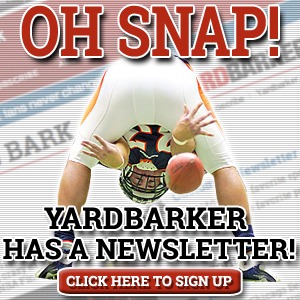 Latest Rumors
The Backyard

Today's Best Stuff

For Bloggers

Join the Yardbarker Network for more promotion, traffic, and money.

Company Info

Help

What is Yardbarker?

Yardbarker is the largest network of sports blogs and pro athlete blogs on the web. This site is the hub of the Yardbarker Network, where our editors and algorithms curate the best sports content from our network and beyond.