Found July 23, 2013 on Fox Sports Ohio:
BEREA-- Offensive coordinator Norv Turner is confident that the players will grasp his offense by the time the Browns open the season on Sept. 8 against the Dolphins at First Energy Stadium. "Thats the challenge," Turner said in a session with the media prior to the start of training camp Tuesday. "Theres a lot of things we cant control, but if we can get the practice time in, our guys can stay healthy, our guys can make the kind of progress they made during OTAs and minicamps, I think we can be ready to be a good offense when the season starts." However, Turner said there are some challenges still ahead in training camp. "But we have a lot of work to do and we have a lot of guys that have to get a lot better in terms of understanding what were doing," he said. "Then the better you get at what youre doing, the faster you play. and thats what our goal is, to be playing at a real high rate of speed, a real high level when the season starts." The success of Turner's offense will be predicated partly by the play of two main cogs in Brandon Weeden and Trent Richardson. The latter missed most of the OTAs and minicamp installation on the field of the system being held out with a lower leg injury.Turner isn't concerned that RIchardson is behind. I think the running back position is a little bit unique," he said. "Those guys rely so much on their physical skills, their natural ability. I think he can overcome the time he missed. Hes sharp. The mental part was no problem. Hell get reps. Hell get his share of reps. The best runners Ive been around, they start off and stay within the system and they let their natural ability do a lot of the damage. Their natural ability is a lot of reason for their success.Turner said he's not concerned with over loading Richardson in training camp. I dont think hell take a beating at all in our training camp practices," he said. "I think Coach and our trainers and our doctors have put together a really good plan for Trent. I think hes going to get as much work as he needs to get ready and then well make sure hes fresh and healthy, but hes going to get his share of the work in this camp like every player. When I started this thing off, you have to put a lot of time in. It takes a lot of work to be ready to play in this league. He needs to go through the same process everyone else does.Turner knows the NFL is becoming more and more a passing league, but if Richardson is the offense's best weapon, he could envision him carrying the ball 300 times, if healthy. Obviously the trend in the league is to not do that, but I think it depends on your team and everyone around it," he said. "If that player is your best player, then I think its probably a good thing to have him in the game and give him the ball. So I would hope Trent would have that many carries. That means hes playing healthy and playing at a pretty high level if we give him the ball that much.It's well documented the success that Turner's system has produced in terms of running backs and he thinks Richardson has the chance to be mentioned among the top running backs. Just watching him and seeing him against us when I came here in October (with the Chargers) and then watching the tape, yeah, hes that type of runner," he said. "Obviously, he was the third pick in the draft. I think he has a lot of great days ahead of him. I always have a problem comparing players because each guy has his own unique style, but I think hes capable of doing great things.Maybe more important to the Browns offensive success will be the play of the quarterback. Weeden is expected to start the season for the second-straight year for the Browns. Turner was asked if he expects Weeden to make a big jump from his rookie season to year two. "To me, its totally based on number one, the guy, and then the situation he was in and so many people get caught up in where a guy is," he said. "A lot of it depends on the situation hes put in, the offensive line, the playmakers around him, how good a defensive football team you have, theres so many things that go into it. "But I think Brandon is fortunate," he said. "Hes had the experience of starting 15 games in this league, thats a plus when you start working with a player who hasnt played a lot. and then I think hes taken to what were doing and I expect him to play at a high level." Turner documented the success of some of the quarterbacks that have played well in his system. "This system is really a quarterback-friendly system and I know guys look to a year and say, well, this guy in this system had this many turnovers or whatever, but I go all the way back to Jim Everett, guys that people forget. We had Gus Frerotte go to the Pro Bowl in 1996, Trent Green had a breakout year in 1998. Brad Johnson took us to a playoff win and threw for 4,000 yards in '99. "I can go on, Alex Smith, weve had a lot of quarterbacks play at an awful high level, and weve had some guys not have great years in this system, because thats part of this league," he said. "But I think the systems proven, I think our players are buying into it and I think our fans will enjoy watching what we do. because we want to be productive, we want to be explosive and we want to score points. and thats obviously why you come to games." Turner's system utilizes the shotgun formation, something that is expected to help Weeden since he played mostly out of the shotgun in college at Oklahoma State. "I think the thing the shotgun has done for some of these guys, and everyone thinks the shotgun is the runners, but its (Peyton) Manning and (Tom) Brady and Philip Rivers," he said. "I think those guys are helped by being in the shotgun because it gets them away from the rush a little bit and this league has become a pressure league, and its such a league thats based on trying to disrupt the quarterback. "Being in the shotgun will help our quarterback," he said. "So, yeah, we want to be in the shotgun a percentage of the time. Then the test for us and the goal for us is to make sure were balanced and that we can run the ball and throw the ball out of the shotgun and well be under center when its appropriate." There was some speculation that Turner was instrumental in helping the front office decide to go with Weeden for a second season. "It starts with Chud," Turner said. "He and Joe (Banner) spent a lot of time together and we looked at a lot of quarterbacks. I think the combination of what we felt about Brandon and then what the options were, the alternatives. and obviously, we helped our quarterback situation a great deal getting Jason and getting Brian. I like our quarterback situation, and Im going to say it again, we have a lot of work to do to get to where we want to be, but I think we can be successful with this group."
Original Story:
http://www.foxsportsohio.com/nfl/clev...
THE BACKYARD
BEST OF MAXIM
RELATED ARTICLES
Offensive coordinator Norv Turner spoke Tuesday morning before the chaos of training camp gets underway. Overall he was pleased with where the team is as camp gets started. "Everything you do in the off season is to get ready to go to camp. I think all of our guys, Brandon (Weeden), all our guys have done a good job preparing to go to camp. I think we've built a good foundation...
Phillip Rivers (Denis Poroy, Associated Press) Last season the San Diego Chargers had one of the worst offenses in the NFL.  Among all 32 NFL teams, they came in 31st with total yards.  Essentially, they couldn't move the ball down the field.  Unfortunately for this offense, they haven't made any radical changes that might suggest the Chargers will be significantly better...
Outside line backer Melvin Ingram, who has an ACL tear, has been placed on the active/PUP list by the San Diego Chargers. He will start the season on the reserve/PUP and has a very outside chance at seeing action this season. Ingram tore his ACL at the OTA's in May. The post San Diego Chargers Place Melvin Ingram On PUP appeared first on FFLockerRoom.
Photo from Chargers.com The San Diego Chargers have added linebacker Melvin Ingram and defensive back Brandon Taylor to the Physically Unable to Perform list, the team announced on twitter Wednesday afternoon. The Chargers placed Melvin Ingram and Brandon Taylor on the PUP list today. #ChargersCamp — San Diego Chargers (@chargers) July 24, 2013 Ingram injured his ACL during OTAs...
With Manti Te'o plus a new coach and general manager, the San Diego Chargers' training camp will have a definite theme: The Rookies. Coach Mike McCoy, hired away from his job as offensive coordinator as the division rival Denver Broncos, opens his first camp with the Bolts with a roster revamped by new GM Tom Telesco, hired away from the Indianapolis Colts. The pair of...
Norv Turner may have lost the head coaching job in San Diego, but his confidence as the offensive coordinator of the Cleveland Browns is unequivocal. More specifically, Turner has unrelenting confidence in second-year running back Trent Richardson. Turner coached one of the greatest backs to carry the ball, LaDainian Tomlinson, for years. Tomlinson rushed for 1,000 yards in all...
LOS ANGELES -- Philip Rivers. LaDainian Tomlinson. Antonio Gates. Shawne Merriman. Eric Weddle. Darren Sproles. Vincent Jackson. Kris Dielman. Takeo Spikes. They all played under head coach Norv Turner for the Chargers during Turner's six-year tenure in San Diego. And despite their talent and that of their Charger teammates, none of them played in a Super Bowl under Turner and...
The Titans bolstered their running back depth on Wednesday signing former Chargers tailback Jackie Battle. Battle (6-2 240) will compete for a depth chart spot behind Chris Johnson and Shonn Greene. Veterans Jalen Parmele and Darius Reynaud are the Titans' other backs. The 29-year-old Battle rushed for 311 yards and three TDs on 72 carries for San Diego in 2012. He also caught...
Browns running back Trent Richardson is a full go in training camp, and is reportedly healthy for the first time in two years. Richardson will need to be healthy, because we might be seeing shades of Emmitt Smith all over again.  The Cleveland Browns hired Norv Turner as offensive coordinator in the off-season, and say what you want about him as a head coach, Norv can call plays...
The Cleveland Browns today added a pair of free agents with camp starting tomorrow. On the heels of Norv Turner's admission Tuesday that the team will carry a traditional fullback, the Browns signed FB Brock Bolen to compete with Owen Marecic. In addition, the team signed LB Justin Cole. To make room, the Browns waived OL Dominic Alford and WR Kennan Davis. Here is the information...
According to the Cleveland Plain Dealer, new Browns offensive coordinator Norv Turner thinks running back Trent Richardson will carry the ball 300 times this season.Fantasy Spin:Turner is the man calling the plays, so he has a direct influence on Richardson's workload. Richardson was banged up during his rookie season and only averaged 3.6 ypc, but he still had 950 rushing yards...
NFL News

Delivered to your inbox

You'll also receive Yardbarker's daily Top 10, featuring the best sports stories from around the web. Customize your newsletter to get articles on your favorite sports and teams. And the best part? It's free!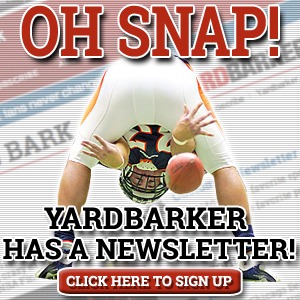 Latest Rumors
The Backyard

Today's Best Stuff

For Bloggers

Join the Yardbarker Network for more promotion, traffic, and money.

Company Info

Help

What is Yardbarker?

Yardbarker is the largest network of sports blogs and pro athlete blogs on the web. This site is the hub of the Yardbarker Network, where our editors and algorithms curate the best sports content from our network and beyond.