Found February 17, 2012 on State of the Texans:
PLAYERS:
Shaun Cody
,
Earl Mitchell
,
Aubrayo Franklin
,
Kelly Gregg
,
Ray Lewis
,
Paul Soliai
,
Antonio Garay
,
Shaun Rogers
,
Howard Green
,
Brandon McKinney
,
Colin Cole
TEAMS:
Houston Texans
,
Kansas City Chiefs
,
Baltimore Ravens
,
Miami Dolphins
,
San Diego Chargers
,
New Orleans Saints
,
Green Bay Packers
,
Seattle Seahawks
With free agency and the NFL Draft in the near future teams will be looking to fill voids in their current roster. With the Houston Texans it seems there may be a growing interest for them to fill positions of need, especially during the 2011 offseason. Precision moves made the Texans a contender, and by adding a free safety and shut down corner the Texans defense made a complete 180 degree turn from previous season. Also, throw in some nice picks in the draft, the Texans had some nice additions.
The question this season is where will the Texans turn to for help and what will they be looking to fix. No team is complete and as an organization it is their sole responsibility to make the team better. As we look on the defensive side there are still a few pieces that really could use an upgrade. One of those positions for the Texans has to be the nose tackle, and getting a player who can "eat up" defenders. It is not a play making position, but inside linebackers in the 3-4 scheme love a guy who can control the line of scrimmage.
Shaun Cody was a surprise to many fans that watch the Texans, and he will be the starting nose tackle going into the 2012 season. He played the run well, but at times, like all players do, he got moved off his spot into linebackers behind him. The bigger reason the Texans need to look at nose tackle is the backup Earl Mitchell. We are not saying cut Mitchell at all, we are saying move Mitchell to a 5 technique which looks like his more natural position. Mitchell checks in at about 290 lbs. and for a nose tackle that is light, and Mitchell has some nice footwork and can get after it when called upon to. He is a better pass rush option from the nose, but he had issues holding the point of attack in the running game.
Cody and Mitchell are important pieces to the defensive line and with defensive end Tim Bluman as a potential free agent, Mitchell could easily transition to Bulman's spot as a 5 technique. With that move it would free up for the Texans to find Cody some help and leave the backup nose tackle position as a priority to fill this offseason. This player could be a rookie or free agent, but there are plenty of options out there in this upcoming offseason. In the draft, there is Dontari Poe (Memphis) and Almeda Ta'Amu (Washington) who look like the only true options for  a 3-4 nose tackle and both could be hot commodities by draft day. Plus there are some interesting free agents on the market, see below:
Aubrayo Franklin (NO) – NT 6'1″ 317 lbs. 31 years old
Franklin has always been in a 3-4 system during his 9 year football career. Franklin made a name for himself by being the anchor of the 49ers defense. Signed to a one year deal in New Orleans he started 9 games and only registered 17 tackles.
Kelly Gregg (KC) – NT 6'0″ 320 lbs. 35 years old
After being a cap casualty in 2011, Gregg was a household name to Ravens fans. He played in over 124 games in 10 seasons with the Ravens and was a big piece of Ray Lewis' success, by taking up blockers. Even though his age may be a factor, for the Chiefs in 2011 he started 14 games and accounted for 39 tackles and one sack. He might be available at a discounted rate.
Paul Soliai (MIA) – NT 6'4″ 355 lbs. 28 years old
The Pro Bowl nose tackle, looks like he may be the odd man out in Miami with the Dolphins looking to change their defense to the 3-4 scheme. Soliai was put with the franchise tag in 2010 where he made $12 million dollars, but it looks like the Dolphins are not going to do the same this season. Soliai's price tag will not be cheap, and with a mammoth like him he will find a pay day somewhere in the NFL.
Antonio Garay (SD) – NT 6'4″ 320 lbs. 32 years old
Garay has bounced around and in his first 5 seasons as a professional Garay on appeared in 16 games with zero starts. When he finally caught on in San Diego, Garay started 28 of the total 32 games he could have appeared in. He has a little more versatility for a nose tackle, in his two seasons as the starting nose tackle for the Chargers, he has 105 total tackles and 8 sacks. Those are some impressive stats for a nose tackle. He will be looking to stay in San Diego, but his price tag could get expensive.
Shaun Rogers (NO) – DT 6'4″ 350 lbs. 32 years old
He turned down a $6 million dollar offer from the Texans this past offseason to jump to the New Orleans Saints in 2010. The Houston native has shown in the past he can take over games, he has been labeled lazy at times, but with him turning down the Texans once before, it might be unlikely the Texans offer him another contract. He only started 4 games for the Saints and only had 22 tackles in 16 appearances, his past two seasons have been disppointments.
Howard Green (GB) – DT 6'2″ 340 lbs 33 years old
Yes the former Houston Texans player was drafted by them in 2002 but never appeared in a game. Green has played for 6 different NFL teams, but has filled in nicely for his current team the Packers. Green won a Super Bowl with the Packers in 2010 and made himself a viable option on the free agent market with his past two season in Green Bay. He seems like he would fill the spot player role, but his choice maybe to stay in Green Bay.
Brandon McKinney (BAL) – DT 6'2″ 345 lbs. 28 years old
One of the younger nose tackle options on the free agency market, McKinney has been a rotational player for the Ravens. Being undrafted, McKinney has battled to stay in the league and with Haloti Ngata and Terrance Cody covering the middle for the Ravens, playing time is scarce for McKinney. He could test the market and find a new home.
Colin Cole (SEA) – DT  6'2″ 328 lbs. 31 years old
Cole has bounced around from the 3-4 and 4-3 system, in Seattle he was in the 4-3. He has had experience as the nose tackle in Green Bay, but he is another option that could make the switch back to that position.
There are plenty of options for the Texans out there, either in the draft or free agency. Our gut is thinking this is the year the Texans get that all "elusive" nose tackle that Texans fans have been waiting for. Our preference is to get the younger and cheaper option in the draft, but if they choose to bring one-off of free agency wire that would be a nice consolation prize.
Original Story:
http://www.stateofthetexans.com/?p=3145
THE BACKYARD
BEST OF MAXIM
RELATED ARTICLES
The saga surrounding that innocent Matt Leinart beach house party last weekend just got interesting thanks to our source who expanded on what happened last Saturday night in Newport Beach. As you read yesterday, Lynsi London tweeted that Leinart had people over after a night at Sharkeez. She mentioned in the tweet that he's an #assman. Now we learn, according to London, that there...
Expected to be one of the most sought after free agents in this year's market, OLB/DE Mario Williams told reporters on Thursday that money is not the only thing he's interested in. Mario Williams could easily become the highest paid defensive player in NFL history next month, but it appears he is sending out signals that he'd like to remain with the Houston Texans...
It the last podcast of the season Mike and Pat are joined by a fan favorite, TX Cleaver. With the absence of "Bubbles", the guys pick up the pieces and talk about "almost everything" Texans. With the Super Bowl in the books, the trio gives thoughts on the game and start the discussion of potential moves the Texans might make, especially with the free agency around the corner...
At age 27 Mario Williams has 53 career sacks. Despite the fact he played in just 5 games last season, no current player in the NFL as young as Williams has collected as many sacks. At the time of his injury in 2011, only three players had more sacks since Williams' rookie year in 2006: DeMarcus Ware, Jared Allen and Trent Cole. All of those players are older than Williams. Thus...
The 19-year-old son of NASCAR on Fox studio host Chris Myers has been killed in a car accident.
Time flies in the NFL: The Houston Texans' very first game, a Sunday night win over the Cowboys, feels like a fresh memory to me. And yet the Texans sent out a reminder today that they're celebrating their 10th anniversary this year. The Texans' announcement noted that the players will wear a patch on their…
Houston Chronicle beat reporter John McClain discusses the state of the Houston Texans. Mario Williams is set to be the prize of the 2012 free agent class. Could the Peyton Manning circus be coming to Houston? And can we expect any changes with the Hall of Fame selections.
We've written a lot about whether the Texans will place the franchise tag on restricted free agent Arian Foster. John McClain of the Houston Chronicle doesn't believe it will happen, in large part because the Texans would match any offer sheet Foster signs elsewhere. (And because the Texans need the cap room.) Foster's agent Mike…
The 19-year-old son of NASCAR on Fox studio host Chris Myers has been killed in a car accident.
Ravens RB Ray Rice and Texans counterpart Arian Foster will likely both end up with a franchise tag this season, but the two players appear to have different outlooks on how the next month should play out.
We're still a ways off from the Free Agency Period kicking in, but this weekend I saw something that could help new General Manager Phil Emery in his first offseason at the helm of da Bears. One of the wrinkles in last year's new CBA allows for teams to carry over their remaining cap space from one year to the next; we'll call it the Cap Carryover Clause, or triple C...
NFL News

Delivered to your inbox

You'll also receive Yardbarker's daily Top 10, featuring the best sports stories from around the web. Customize your newsletter to get articles on your favorite sports and teams. And the best part? It's free!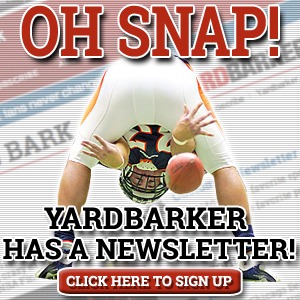 Latest Rumors
Best of Yardbarker

Today's Best Stuff

For Bloggers

Join the Yardbarker Network for more promotion, traffic, and money.

Company Info

Help

What is Yardbarker?

Yardbarker is the largest network of sports blogs and pro athlete blogs on the web. This site is the hub of the Yardbarker Network, where our editors and algorithms curate the best sports content from our network and beyond.