Found November 16, 2011 on Legend of Cecilio Guante:
Time Keeps on Ticking, Ticking, Ticking...Is This the Future?

Let me just get it off my chest. I'm starting to get more than a little frustrated with Mark Sanchez. Tomorrow night in Denver will do little to sway me one way or the other. However, I've tried to step back of late and really assess my thoughts on the quarterback the Jets selected with the #5 pick in the 2009 NFL draft. The thing is, I'm not quite sure where I'm landing...and therein lies the problem.

Let's start with expectations. Rewind the clock to the spring of 2009. The Jets select Mark Sanchez and give away some to get him. The risk was fine. However, I do find the title of my first post about this new Jet to be particularly ironic in hindsight. "Sanchez is a Jet: Analysis? Gotta Have Faith..." Well, three years later "faith" has been a veritable roller coaster ride. I've declared #6 at hopeless cause and proclaimed he had turned the proverbial corner. I've thought him a star in the making and a dud fit for dumping...often in the span of a few quarters if not a handful of drives. The faith fuel tank has fluctuated to and from every mark on the gauge during Sanchez's three seasons in green-and-white. And it's starting to grate on my nerves.

What's reality? Who f-in knows? Proponents will point to his team's success during those first two seasons and his largely stellar postseason showings. Detractors will focus on the uneven play, mistakes and lack of third-year progression. So, who's right? Probably both camps. And that is what makes him agonizing to watch. All I know for certain (I think) is that Mark Sanchez has the ability to be a successful NFL signal-caller.
There is talent in that body. He can make the throws. He can be mobile. He can lead a team. Star? Not sure. And, no, not every top 10 pick becomes an All-Pro or even a longtime starter in this League. But this is not about assessing the pick or proclaiming boom or bust. This is about what I think of Mark Sanchez right now and what it means for the Jets.

Right. So where the hell am I on this guy? Unfortunately, I'm leaning toward a conclusion that does not give me confidence. A simple realization that Mark Sanchez is very, very average...and, worse, that's all he'll ever be. Yet, there's one thing that holds me back. One element gnaws at my conscience, if for no other reason beyond the fact that it clouds my judgment. Coaching. Here's why.

I watched the 49ers-Giants game last Sunday prior to the Jets evening affair. And, call me crazy, I thought Alex Smith was extremely impressive. In fact, I was blown away. This was a quarterback who I had watched for years look utterly and completely inept. BOLD for emphasis. IN-EPT. The equivalent of a light-hitting minor leaguer trying to bat cleanup in the bigs. Yet, here was the same guy. Completely different. Competent. Confident. Executing. Helping his team win. You can't help but credit Jim Harbaugh for that.
As a Jets fan, it was also impossible to see those performances on Sunday and not wonder. Is Schotty the X Factor? What about Cavanaugh? What happens if you have a talented kid who is failing in school? The spotlight justifiably shines on the student, but is it out of bounds to at least similarly analyze the teacher?
Sanchez has had success. It usually happens in a rather formulaic fashion. Effective run game. Play action. A degree of mobility (roll outs, multiple route options). Utilizing the tight end. High-percentage passes. It's not the prettiest thing you've ever seen, but it works. When those things happen, you see 20-28, 200+ yards, a touchdown or two and no picks. Most importantly, you see wins. Take away ingredients from the recipe, and the results are immensely more unpredictable.

I wish I could say that I trust in the Jets offensive brass and that they're putting Sanchez in position to be consistently successful. I don't. Their weaknesses are only helping amplify Sanchez's deficiencies. Right now, they're stuck with each other. The Broncos have found a way to deal with a QB far more imperfect by putting in a system, albeit an absurd one, that places him and, consequently their team, with the best opportunity to win.

Maybe that's something the Jets look into. Because the Sanchise doesn't quite have the juice to do it on his own. That's not the end of the world, but if Gang Green keeps following the same script it will no doubt help make my Sanchez slack further disappear until it - along with my patience - is completely out of reach.
Original Story:
http://feedproxy.google.com/~r/legend...
THE BACKYARD
BEST OF MAXIM
RELATED ARTICLES
The Jets have played 42 regular-season games since they gave up a king's ransom to take Mark Sanchez with the fifth overall pick in the 2009 draft. Those games have been filled with highs and lows, as is the case with any NFL quarterback. But typically, those are the growing pains of a young quarterback, and they come with signs of maturity, as well. Sanchez's growth spurt...
Let's start with something comforting Despite a recent rough patch of games, Mark Sanchez still is on the exact same pace that Eli Manning was on to start his career and we see how Eli has turned out. Sanchez is not without blame, he is inconsistent, inaccurate and gets jittery in the pocket. However, I am still of the belief that he has the physical tools and leadership abilities...
Mark Sanchez brushed off the recent criticism from Jets coach Rex Ryan, saying the botched timeout against the Patriots was "a stupid play."
For Mark Sanchez, two AFC championship games in his first two years as a pro hasn't been enough to silence his doubters. Tim Tebow took over a 1-4 Broncos team that is now 4-5 under his leadership. Instead of admiring Denver's re-entry back into the AFC West race since Tebow got behind center, detractors question his ability to throw the football. When the Jets and Broncos take...
DENVER — Mark Sanchez couldn't beat Tim Tebow last night. And that's about all you really need to know about him. Blame him for the loss. He said so himself. "It's just an embarrassing day for me," Sanchez said after the Jets' 17-13 loss to the Broncos last...
QB Problem?  Who says the New York Jets have a QB problem?For head coach Rex Ryan, it's Mark Sanchez or nothing."Shoot, I'm extremely confident," Ryan said  about his quarterback on a conference call, Friday. "I'll go out there … [visit site to read more]Rex Ryan says Jets Sanchez will be QB "as long as I am here" - The Jet Press - The Jet Press - A New York Jets...
Here's New York Jets head coach Rex Ryan and Quarterback Mark Sanchez after the Jets 17-13 loss to the Denver Broncos.<a ... [visit site to read more]New York Jets Postgame Press Conference - The Jet Press - The Jet Press - A New York Jets Fan Site - News, Blogs, Opinion and more.
After a humbling defeat at home to division rival New England in prime time on Sunday, the Jets have ot man up for another AFC matchup on Thursday. Can Mark Sanchez and co rebound?
This analysis is based on watching and re-watching TV footage. As such, it is not always possible to accurately determine everything that was going on. However, every effort has been made to ensure that the information below is as complete and correct as possible. How do you even begin to write about this game? Fortunately, I have some experience in such matters. Here's how...
NFL News

Delivered to your inbox

You'll also receive Yardbarker's daily Top 10, featuring the best sports stories from around the web. Customize your newsletter to get articles on your favorite sports and teams. And the best part? It's free!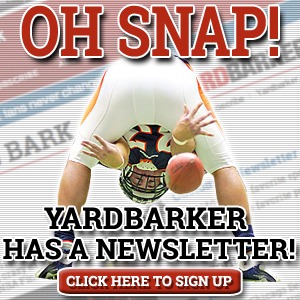 Latest Rumors
The Backyard

Today's Best Stuff

For Bloggers

Join the Yardbarker Network for more promotion, traffic, and money.

Company Info

Help

What is Yardbarker?

Yardbarker is the largest network of sports blogs and pro athlete blogs on the web. This site is the hub of the Yardbarker Network, where our editors and algorithms curate the best sports content from our network and beyond.