Found March 06, 2012 on Sports With Silverman:
And just when the NFL was making strides toward a safer league…   When word started to spread that defensive coordinator Gregg Williams (Currently with the Rams, previously with the Saints, Jaguars, Redskins, and Bills, among others) had been the ring leader for a bounty program in New Orleans, the topic quickly became the most talked about story in sports.  The latest scandal to hit professional football makes the last big scandal, Bill Belichick's "Spygate" of 2007, seem like child's play. Commissioner Roger Goodell has earned a reputation for being heavy-handed when it comes to doling out punishment, and I can't imagine he will change his ways for Williams or the Saints, or anyone else found to be involved.  When the crime is as serious as paying players thousands of dollars to injure members of opposing teams, you would have to believe the punishment will be more than a slap on the wrist or a stern talking-to. Five or ten years ago, this story might not have been quite as big of an issue, but in today's NFL, it's huge.  The NFL of 2012 is a league that discourages any kind of unnecessary contact, and is doing everything possible to protect players, especially quarterbacks.  It is no secret that Goodell does everything in his power to keep his high-profile quarterbacks upright, so that fact that most of the bounty targets have been quarterbacks doesn't bode well for the guilty parties. There is speculation that Saints players may have had extra motivation to knock former Cardinals QB Kurt Warner out of the game in their 2010 playoff matchup (Photo by Ronald Martinez/Getty Images) So what do you think about this situation?  Do you think a player would put a little extra into a tackle or a sack if he knew he had the potential to earn some quick cash?  Could a linebacker's motivation for giving 110% really be an extra thousand bucks? For the last few days, I've been listening to both sides of the argument on various sports talk programs.  I've heard the opinions of former players and coaches, NFL analysts, and guys who have no idea what's going on.  In my personal opinion, I don't think the idea of receiving a (relatively) small amount of cash would change the way a player performs.  I don't think a player would go into a game thinking, "OK, I'm gonna go in there and knock this guy out, because an extra grand sounds pretty sweet."  I'm guessing most of the defensive players in the NFL go into each game with the goal of knocking out opposing players for fun…for pride…for football reasons. Now…while I don't think these bounties would have a huge effect on most players, I could see them at least having a small impact.  Let's say a linebacker is coming around the end on a blitz.  The quarterback is just about to release the ball, and the linebacker has a decision to make…he can either pull up and avoid him (And potentially a penalty and fine, and a suspension if it's James Harrison), or continue at full speed, driving into the QB.  I think it would be somewhat ignorant to think that the idea of extra money wouldn't at least run through a player's head in the split second it takes to make the decision.  My point is that the idea of receiving a little extra 'cash money' (As Wilmer Valderrama would say) can't be ruled out in a situation like that. "You see that crap, Joe? He walked off under his own power. What are we doing out there?" (Photo by US Presswire) As many analysts have pointed out, these kinds of operations have been happening in the NFL for years.  Whether it's based on creating injuries, forcing turnovers, or scoring touchdowns, receiving money for performance isn't anything new.  The major problem with this particular bounty program is the mentality it encourages.  If one player wants to give another player some kind of bonus for delivering a crushing blow, so what?  But when coaches are preaching this to their players…it's completely different.  Football is a violent sport by nature, and players don't need extra incentive for taking out the competition.  Whether or not the bounties meant anything to the defensive players is irrelevant…it's the concept that is concerning. In an age where player safety is the most important issue in the NFL, Gregg Williams picked a bad time to preach violence. Ah well…Saint Gregg doesn't have a good ring to it, anyway.    
Original Story:
http://sportswithsilverman.com/wordpr...
THE BACKYARD
BEST OF MAXIM
RELATED ARTICLES
In the midst of the Gregg Williams "Bounty-Gate" scandal, the NFL Network has decided not to re-air the 2009 NFC Championship Game between the Minnesota Vikings at the New Orleans Saints. The NFL Network has been re-airing "classic" games over the past few days and the re-airing of the 2009 NFC Championship game was supposed to take place on Monday at 3pm EST...
In a national notebook, we have a few updates on Gregg Williams' "bounty" controversy and a draft update on Penn State cornerback D'Anton Lynn.
Rams defensive coordinator Gregg Williams is at the center of a firestorm over his admitted bounty program while with the Saints. It's a good time to expose Williams for what he is: an average coach and symbol of the good ole boy network that dominates NFL sidelines.....
According to ESPN's Chris Mortensen, St. Louis Rams defensive coordinator Gregg Williams will meet with NFL at the league office's in New York City on Monday to discuss bounty gate. So far all indications are that Williams has been cooperating with the NFL as they continue their investigation. The NFL is expected to hand down penalties for those involved, towards the end of the...
Defensive lineman Kedric Golston says Gregg Williams offered cash incentives for certain plays when Williams was the defensive coordinator of the Washington Redskins. Golston said Monday that Williams would reward players for a ''sack or an interception'' or ''a pivotal play.'' But Golston also said: ''I've never seen a player get any...
Then again it would probably have unintended consequences as it did for a Swedish floorball coach who found himself in trouble after using a unique method to coach defense. The unnamed coach of the FBC Engelholm floorball team recently returned from suspension after another floorball coach reported him for employing his "Snygga brudar i försvaret" or "Hot Babes on Defense"...
I didn't want to write anything about the BountyGate coverage knowing I could never give an unbiased, fair assessment of the scandal as a lifelong Saints fan.  I've always been curious what it'd be like to have my team at the center of a scandal big enough it got its own "Gate" attached to it... now I know, it sucks.  This is worse than going through the years...
Spygate has been thrust back into the limelight following the recent revelations regarding the New Orleans Saints' bounty program. But why? Aside from both instances breaking NFL rules, is there really a comparison to be made between the two? The Patriots' Spygate situation involved videotaping defensive coaches' signals, whereas the Saints' bounty program -- spearheaded...
NFL News

Delivered to your inbox

You'll also receive Yardbarker's daily Top 10, featuring the best sports stories from around the web. Customize your newsletter to get articles on your favorite sports and teams. And the best part? It's free!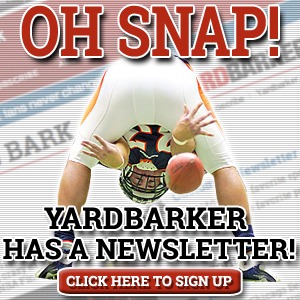 Latest Rumors
Best of Yardbarker

Today's Best Stuff

For Bloggers

Join the Yardbarker Network for more promotion, traffic, and money.

Company Info

Help

What is Yardbarker?

Yardbarker is the largest network of sports blogs and pro athlete blogs on the web. This site is the hub of the Yardbarker Network, where our editors and algorithms curate the best sports content from our network and beyond.