Found April 04, 2012 on State of the Texans:
…honestly my whole career I been overlooked so it wasn't nothing new for me. -Lestar Jean, Houston Texans, Wide Receiver #18
  At the start of the Houston Texans 2011 training camp, the team brought in a young group of undrafted wide receivers to compete for the active roster. As camp progressed, there was one that was consistently making plays and turning heads of coaches and veterans on the field. That wide receiver was Lestar Jean, an undrafted free agent from Florida Atlantic, and with the nickname of "Big Play" he made his presence felt as a rookie in camp. At 6'3″ and 213 lbs., Jean is not a small target and more importantly is a vertical threat that can stretch defenses with ease. Coming out of FAU, Jean was consistently double teamed but he made his chances count. In his Senior season at FAU, Jean posted 64 catches for 988 yards and 8 touchdowns. Looking like he had a good chance of making the Texans' active roster, Jean injured his shoulder in preseason and was put on injured reserve for the entire 2011 season. With a new season upon us, Jean has been back in his home state of Florida gearing up for the 2012 season and a chance to be one of the wide receivers for Matt Schaub to throw to. Like he says every day on his Twitter timeline, Jean is L.I.C.I (Locked in clocked in) and ready to make his mark for the Texans in 2012.       First of all how is your off time going for you, have you done anything to relax? I'm just working out (in Florida) really not any off time for me because I have to come back and prove that I belong with the team. It's just a blessing to be a part of the Texans.   Can you give us a little background on how you ended up playing for Florida Atlantic? I walked in one day to the FAU office with my film and the coaches were there on Christmas break. They met with me, watched the film, and gave me a chance very similar to the Texans.   Coming out of Florida Atlantic, who was your biggest influence there? All my coaches. They were great coaches as well as people.  They taught me how to be more of a productive citizen in the world and a better football player.   Were you disappointed you did not get drafted, and what was it like to get that call from the Texans to come to camp? Yeah, I was definitely disappointed that I wasn't drafted because I worked hard for it, but it was a blessing to get invited to the Texans camp. I'm just happy somebody gave me a chance.   You had an impressive camp and there was a buzz surrounding you, what was your mentality going into camp as a rookie? Just try as hard as I can and don't get cut, because not too many people get this type of opportunity and honestly my whole career I been overlooked so it wasn't nothing new for me.   You have a big game against the Jets with two impressive catches, talk about that whole experience of that game. I don't call a two catch game impressive honestly, but it was just a blessing to play in an NFL game. That has been my dream my whole life and it finally happened.  Thank God for that.   You have a shoulder injury that lands you on injured reserve, how is the shoulder and what was that time for you like? Honestly it was very depressing because who wants to get injured and this was the first time in my life getting hurt. It was hard to see the team have such a great year and I just know I could have been part of it.   What did you learn the most from the team's run deep into the playoffs? Just got to see what hard work can get because the guys worked really hard for that.   What players on the team have taught you the most since coming to Houston? Jacoby Jones and Kevin Walter no doubt. Jacoby and Kevin showed me how to be a professional. They helped show me to take time out and catch before practice, told me how to study the playbook and answered any and every question that I had.   Are there any parts of your game you think you need to improve? Yeah, I need to improve every part of my game. To play at a high level in this elite game you have to work extremely hard every day.   How excited are you to get another opportunity to prove you belong with the Texans? Man I'm so excited to show that I belong on the Texans and that I belong in the NFL. If I can get that chance it will be a true blessing.   The new year is upon us, what is your goal going into the 2012 camp? My goals this year is to do whatever it takes to make the team, and help the team win games because at the end of the day it's all about the Texans.   You can follow Lestar Jean on Twitter and visit his website, and let him know we are behind him 100%.   You can follow Patrick on Twitter, he is the Editor of State of the Texans, and is a draft analyst on Sideline Scouting
Original Story:
http://www.stateofthetexans.com/?p=3763
THE BACKYARD
BEST OF MAXIM
RELATED ARTICLES
With the Houston Texans making some tough decisions, the NFL waits for nobody and the Texans are adjusting on the fly. After a magical 2011 season which brought the franchise's first division title, playoff appearance and win, the Texans appeared ready for a big 2012 season with a deep roster. With the cap issues that hit the Texans, a once deep roster has to fill the voids left...
On Thursday, the Houston Texans announced the resigning of free agent safety Quintin Demps to a contract.  The terms of the contract were not released. Demps provided some stability to the Texans' defense in 2011 after starter Danieal Manning went down with a leg injury that sidelined him. Demps was released after training camp but was resigned in week 8 and made an immediate...
In much anticipation of the Texans new uniforms Nike released their new look for the 2012 season today.                                               You can see Nike's release on the Texans new uniforms.  
Texans owner Bob McNair said the combination of salary cap limitations as well as a plan to retain several key players in the future explains most of the club's moves this season, including the shedding of a couple of established veterans. Beyond losing Mario Williams to the Buffalo Bills, the Texans traded linebacker DeMeco Ryans and cut tackle Eric Winston. Guard Mike Brisiel...
The Houston Texans have re-signed free agent safety Quintin Demps. The 5-foot-11, 206-pound Demps had a career year with Houston last season with 22 tackles, two interceptions and two passes defended in nine games. He also returned five kickoffs for 169 yards (33.8 average), including a 50-yarder against Carolina, the longest by a Texans player last season. The fifth-year veteran...
HOUSTON The Houston Texans have re-signed free agent S Quintin Demps, it was announced today. Terms of the contract were not disclosed. Demps posted career highs of 22 tackles, two interceptions and four passes defensed in nine games with the Texans last season after signing with the team in October. The fifth-year veteran also returned five kickoffs for 169 yards (33.8 average...
This is the first installment of The Claire Bear who will be a contributor here on State of the Texans.   The NFL guesstimates that of the 313+ million people living in America, 90 million of them are "avid female football fans." That's 44% of the total fan base. What is it about the NFL that creates so many "avid" fans of U.S. women? We can point to the adorably bedazzled...
The Houston Texans have re-signed veteran safety Quintin Demps, the team announced. Demps had a career-high 22 tackles, two interceptions and four pass deflections in nine games last season. He also returned five kickoffs for 169 yards for a 33.8 average. He had a team-high 50-yard return against the Carolina Panthers.
The Claire Bear is at it again.   We all want a pair. NEW UNI DAY IS COMING!!! The anticipation was great, the build-up greater, the unveiling? Sort of snooze worthy. Seattle looks like it belongs in the PAC-12, just now with uniforms that will fit right in. The more "traditional" teams i.e., Chicago, Green Bay, Dallas, appear virtually unchanged. Overall, there aren't a...
Texans News

Delivered to your inbox

You'll also receive Yardbarker's daily Top 10, featuring the best sports stories from around the web. Customize your newsletter to get articles on your favorite sports and teams. And the best part? It's free!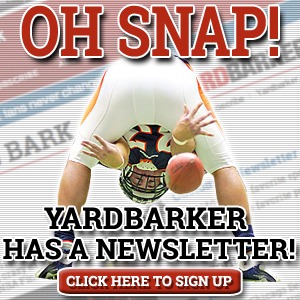 Latest Rumors
Best of Yardbarker

Today's Best Stuff

For Bloggers

Join the Yardbarker Network for more promotion, traffic, and money.

Company Info

Help

What is Yardbarker?

Yardbarker is the largest network of sports blogs and pro athlete blogs on the web. This site is the hub of the Yardbarker Network, where our editors and algorithms curate the best sports content from our network and beyond.