Found November 13, 2012 on Giants Kickoff:
TweetNovember signifies the beginning of many traditions and holidays but for the NY Giants it means a second half collapse is right around the corner. The Giants record is always a good indicator of the inevitable. Once they hit the 6-2 mark you know it's coming! Under Tom Coughlin the team has now been 6-2, 5 times. Two of those five times, they failed to make the playoffs. Under Coughlin they have a record of 53-19 in the first half, compare that to the second half record of 27-39. The month of November is especially brutal for the GMEN under TC, they have a record of 13-21. A Tradition The New York Giants Wish They Didn't Have Over many of those seasons one of the contributors of the debacles is Offensive Coordinator or like I have begun calling him "Field Goal Coordinator" Kevin Killdrive Gilbride. He is by far and away one of the most conservative play callers in the NFL. Kevin Gilbride's motto seems to be when in doubt call a draw play and secure the Field Goal. The Giants are horrendous in the red zone. Maybe it's due to the fact that many times they don't actually throw the ball into the end zone!!! Gilbride will call pass plays short of the end zone or the aforementioned draw play and predictable runs. The run, run, throw game plan needs to change! Defensive Coordinator Perry Fewell doesn't get a pass. In my opinion Steve Spagnuolo was one of the best we have had in many seasons. Fewell is a good coordinator but he isn't Spags! To be fair however, the Giants defense is always banged up and missing key players. It happens every season and really takes a toll on the continuity of the team. Also contributing is the offense who puts the D in difficult positions with turnovers and quick 3 and outs which do not allow the defense to rest. Reasons for Consistent Collapses? It's really hard to pin point one specific reason. I truly belief the play calling especially from Kevin Killdirve Gilbride is a key component. The schedule for the Giants has been more difficult during second halves over the past few seasons. With that said New York just lost against a 3-5 Bengals team with the 20th ranked defense! Mental lapses and lack of discipline seems to be the biggest issue for this team. Some of the boneheaded plays coming from offensive and defensive players are inexcusable. Eli Manning's second interception this week was something you would expect from a rookie not from a Super Bowl MVP with his credentials. As much as I respect and appreciate Ahmad Bradshaw's hard running, sometimes it's a good thing to be smart instead of tough, going down after a first down has been gained is better than not going down and fumbling the football! The Giants second half schedule is TOUGH! They come back from their bye week to face the Green Bay Packers. The Cowboys are now 4-5 and will face the Browns week 11 which will most likely have them at 5-5 . It's very possible by the end of week 12 the Giants will be 6-5 along with the Cowboys, something which seemed impossible 2 weeks back. There is no guarantee that 2 teams will come out of the NFC East so winning the Division is a must. The squandered opportunities against the Eagles and Steelers added with this past weeks performance has to make even the most loyal fans a bit nervous. The Giants continued tradition of losing winnable games (3 this season) and the unavoidable collapse under Tom Coughlin may have come back to bite them in the ass in 2012.
Original Story:
http://giantskickoff.com/2012/11/13/n...
THE BACKYARD
BEST OF MAXIM
RELATED ARTICLES
Giants running back Ahmad Bradshaw will undergo numerous testing before taking a break during the team's bye week, per Ohm Youngmisuk of ESPNNewYork.com. "He'll probably have every test known to man here in the next couple of days," Giants head coach Tom Coughlin said, via Youngmisuk. "We have a big medical day with our players. Today and tomorrow, they will be visiting...
ESPN's Chris Mortensen reported on Monday Night Countdown that New York Giants running back Ahmad Bradshaw was removed from yesterday's game against the Bengals because of a neck injury. "The injury had been undisclosed to this point. Per Mort, Bradshaw has "some issues with his neck" and during the Giants' Week 11 bye will undergo "some exams and MRIs" to detect...
Black Sports Online According to The Big Lead, via Black Sports Online, former New York Giants running back is charging people $1,950 to play flag football, basketball, or kickball with him. This is hilarious, but I guess when you're a former pro football player whose media career went up in flames, you have to find a way to pay for a multi-million dollar apartment in new York...
After starting out on fire by throwing 12 touchdowns to just seven interceptions in the first seven games of the season, quarterback Eli Manning has found himself in a major slump -- perhaps the worst one of his career since his rookie season -- that is now three weeks old. Over the last three games, Manning has not only failed to throw a touchdown pass for the first time in his...
During an appearance on CBS Sports Network's NFL Monday QB show, former Giants quarterback and CBS analyst Phil Simms said that he doesn't believe Eli Manning is an elite quarterback. "No, he is not one of the elites," Simms said in quotes distributed by CBS, via the New York Daily News. "Because when I hear the word elite, I'm thinking about guys that can make unbelievable...
Giants running back Ahmad Bradshaw left Sunday's game with a neck injury, accoring to ESPN's Chris Mortensen.Fantasy Spin:Bradshaw has been dealing with a painful foot injury and now has another issue to worry about. Mortensen said Bradshaw will undergo tests during New York's bye to figure out what's wrong with his neck. Fantasy owners should add Andre Brown, who...
To say that the New York Giants played a bad game on Sunday would be an understatement.  Watching that game, many would think that this was the worst game the Giants have played in recent years. After watching that game, it was hard to tell if the team that was just on the TV was the Giants or if it was a misprint and everyone just watched the Jets. Despite the horrendous game and...
The Cincinnati Bengals (4-5) beat the New York Giants (6-4) 31-13, this past Sunday at Paul Brown Stadium from Cincinnati, OH. What an disaster horrific loss for the Giants this past Sunday against the Bengals on the road. This was the worse loss of the season. There was no focus, passion, sense of urgency and desire at all from Big Blue in ay aspect of the football game. Game...
NFL News

Delivered to your inbox

You'll also receive Yardbarker's daily Top 10, featuring the best sports stories from around the web. Customize your newsletter to get articles on your favorite sports and teams. And the best part? It's free!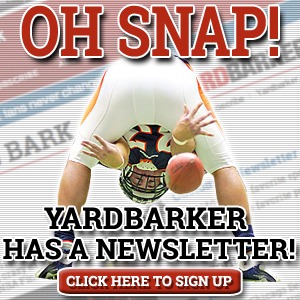 Latest Rumors
The Backyard

Today's Best Stuff

For Bloggers

Join the Yardbarker Network for more promotion, traffic, and money.

Company Info

Help

What is Yardbarker?

Yardbarker is the largest network of sports blogs and pro athlete blogs on the web. This site is the hub of the Yardbarker Network, where our editors and algorithms curate the best sports content from our network and beyond.