Found September 21, 2012 on 60 Max Power O:
When offensive coordinator Greg Knapp was hired this season, he brought with him a zone blocking rushing scheme. Through the first two games, the Raiders have struggled to move the ball on the ground. However, Knapp feels patience is needed to let the players and scheme develop.
"Let's keep things in perspective for a second, here," Knapp said. "We've played two games in the regular season on offense. We've had two different centers and a right tackle that played half a game last week. We need some patience. You can't develop a scheme in two weeks in a regular season. Especially when last week we faced the number three rush defense from 2011, and the week before, they held the number two rush offense in the league to 2.4 yards per carry in the Houston Texans. That was a good team we faced last week. The scheme will be fine, it just takes some time."
Against the Miami Dolphins the Raiders only mustered 23 yards rushing on 14 attempts. The previous week against the San Diego Chargers, Oakland rushed 20 times for 45 yards. Explosive running back Darren McFadden has 54 rushing yards in two games this season. This Sunday the Raiders will face another very difficult defense to run against in the Pittsburgh Steelers.
"It's like we tell the players – we want success right away, but we have to also understand that it takes a little time to develop," Knapp said. "I feel very confident that we'll be fine. I say that because we had some success in the preseason running the ball effectively. We had success in the first half of the San Diego game running the ball. We just didn't last week. I even mentioned last week to you guys, going into the game, that this was a good run defense. I didn't say this part, but our best chance to win last week, I thought, was to throw the ball. Each week is going to be a week-to-week comparison. I won't say it to you this week on what we think is best to win, that's part of the strategy."
Knapp boasts an impressive resume when it comes to the effect the zone blocking scheme has on the team's rushing offense. When he was with the Falcons from 2004-2006, they had the number one run rushing rank in the league, averaging near 170 yards per game. Running back Warrick Dunn rushed for 1,106, 1,416, and 1,140 in his three years with Knapp running the zone blocking scheme. With the Raiders in 2007, Knapp instituted the zone scheme and Justin Fargas ran for his only career thousand yard season, finishing the year with 1,009 yards rushing. In Seattle, Justin Forsett averaged 5.4 yards per carry on 114 rushing attempts. Finally in Houston, Arian Foster led the NFL in rushing with 1,616 yards in 2010 under Knapp's zone blocking scheme. In 2011, Foster followed with 1,224 yards.
"At four different places, Atlanta, here, Seattle, and then in Houston it was already in play; there was a different running back, five different linemen, and a different coach," Knapp said. "It depends on that group of players. We're a little bit younger right now on the O-line than I have been at other places, so it takes a little bit longer for them to learn the nuances. A lot of the experience goes on Sundays, so much on game days. When you think about it, we've faced one defense for the last six months, our own. Now we're playing different teams. So you're going to have some learning parts that go through game experience to help develop the offense."
Be sure to check out other great articles at Sports Media 101.
Original Story:
http://www.60maxpowero.com/patriots/c...
THE BACKYARD
BEST OF MAXIM
RELATED ARTICLES
The Raiders' goal of getting off to a running start in the 2012 season has hit a brick wall through two games. Throughout training camp, coach Dennis Allen made no secret of his desire for the Raiders to be a run-first team, hiring Greg Knapp to install a West Coast style offense with play-action and bootlegs that are designed to complement a zone scheme running game. Two games...
The Wednesday practice participation injury report for the Oakland Raiders is now in and it shows that tackle Khalif Barnes (groin), cornerback Shawntae Spencer (foot), cornerback Coye Francies (concussion) and linebacker Rolando McClain (ankle/concussion) did not practice. Spencer is expected to miss the game Sunday against the Pittsburgh Steelers, while McClain has still not been...
I called the Raiders overrated before the season and said they were one of the worst teams in the league and an ugly 35-13 loss to the Dolphins is making that look pretty good. The new regime has a lot of promise, but they inherited a mess, an 8 win team (with a Pythagorean Expectation of 6 wins for stat nerds) that was above the cap and didn't have very many draft picks. Whether...
The Friday injury report for the Oakland Raiders is now out and it shows that tackle Khalif Barnes (groin) and cornerback Shawntae Spencer (foot) both sat out on Friday as expected and are listed as out for the game Sunday against the Pittsburgh Steelers. Second-year tackle Willie Smith reportedly has taken the majority of reps in place of Barnes during practice with Tony Bergstrom...
Oakland Raiders (0-2) at Pittsburgh Steelers (1-1) Before the season, I made a list of underrated and overrated teams, with the intent of betting them (or against them) until the odds makers caught up and I was proven wrong. This approach has worked well for me because I'm 10-4-2 ATS on games involving those teams. One thing I was dead on about was that the Raiders would be one...
The last time that the Pittsburgh Steelers faced the Oakland Raiders they handled them easily at Heinz Field. The 35-3 win was not without incident though as Raiders defensive end Richard Seymour was ejected for an open-handed punch to the face of quarterback Ben Roethlisberger just seconds after he threw a 22-yard touchdown pass to wide receiver Emmanuel Sanders with just under...
The Pittsburgh Steelers take on the Oakland Raiders Sunday on the road and below is a preview breakdown of the game from an offensive, defensive and special teams perspective. Steelers On Offense: On Sunday the Steelers will play a Raiders defense that is down their two starting corners. That means Joselio Hanson and Pat Lee are expected to start and that free safety Michael Huff...
When the Pittsburgh Steelers face the Oakland Raiders on Sunday they will face the new zone blocking scheme that offensive coordinator Greg Knapp has implemented for this season. While the Raiders, and more specifically running back Darren McFadden, are still in the early stages of being accustomed to it, the Steelers defense has struggled recently against defending it. We...
The NFL's Oakland Raiders have teamed with Overstock.com to generate fan engagement during home games at Raiders' Overstock.com Coliseum (or "O.co", as Overstock has termed it) during the 2012-13 season. The company has created numerous themed football games to hopefully generate fan interest and ticket sales. Overstock signed a six-year deal in partnership with...
Season 3, Episode 19 of The Terrible Podcast is up and co-host David Todd I start by looking at the injury report for both the Pittsburgh Steelers and the Oakland Raiders as they prepare to do battle Sunday in Oakland. Friday practice is a key day for tight end Heath Miller in our opinion as he his battling a rib problem. We move on to talk more about snap counts and personnel...
Raiders News

Delivered to your inbox

You'll also receive Yardbarker's daily Top 10, featuring the best sports stories from around the web. Customize your newsletter to get articles on your favorite sports and teams. And the best part? It's free!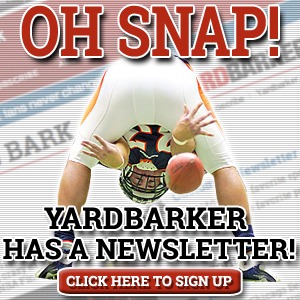 Latest Rumors
Best of Yardbarker

Today's Best Stuff

For Bloggers

Join the Yardbarker Network for more promotion, traffic, and money.

Company Info

Help

What is Yardbarker?

Yardbarker is the largest network of sports blogs and pro athlete blogs on the web. This site is the hub of the Yardbarker Network, where our editors and algorithms curate the best sports content from our network and beyond.