Found September 02, 2012 on The Sports Headquarters:
PLAYERS:
Mike Shanahan
,
Trent Williams
,
Kory Lichtensteiger
,
Will Montgomery
,
Chris Chester
,
Tyler Polumbus
,
Roy Helu
,
Evan Royster
,
Tim Hightower
,
Ryan Torain
,
Alfred Morris
,
Rex Grossman
,
John Beck
,
Cam Newton
,
Pierre Garcon
,
Santana Moss
,
Leonard Hankerson
,
Josh Morgan
,
Chris Cooley
,
Fred Davis
,
Niles Paul
,
Robert Griffin III
TEAMS:
Washington Redskins
,
Denver Broncos
,
Carolina Panthers
,
Baltimore Ravens
,
Houston Texans
,
Pittsburgh Panthers
The Redskins decided to try to end their playoff drought this year so they moved up in the Draft and took Robert Griffin III who, Coach Mike Shanahan, hopes can lead them to the promised land.  Griffin is a Heisman trophy winner but the crux of the matter is whether the ex Baylor QB can adapt to the pro style game?  He has certain intangibles that translate to the pro game but he the Redskins need to develop his pocket presence.  In the NFC East, for the past few years there have been two contenders…Giants and Eagles, the Cowboys and Redskins have been relegated to the bottom of the division.  Both bottom tier franchises know that the window to win was closing so they made a few changes.  I'm not so sure that either did enough.  I will be a prognosticator and state that the Redskins have more upside than the Cowboys so if they don't pass them this year, it will be soon.  Tasked with protecting the franchise Quarterback is LT Trent Williams, LG Kory Lichtensteiger, C Will Montgomery, RG Chris Chester and RT Tyler Polumbus.
Left Tackle Trent Williams was a 1st round draft choice of the Skins in 2010.  He was suspended the last 4 games for  violating the leagues substance abuse policy but will be back and hopefully solidifying the O-Line.  He has the right balance of footwork, power, and finesse to dominate but he hasn't put it all to use at one time.  He allowed only 3 sacks last year after allowing 11.5 as a rookie.
Left Guard Kory Lichtensteiger was a 4th round selection of the Denver Broncos in 2008.  He has had stints with the Broncos and Vikings before arriving in Washington.  He suffered a season ending ACL tear last year during the 5th game but is expected to be back to full strength to start the year.  He is one of the best run blocking Guards in the NFL and will be counted on to provide some balance to the O-Line.  He also has the versatility to play Center or both Guard positions if needed.
Center Will Montgomery was a 7th round Draft choice of the Carolina Panthers back in 2006.  He spent time with both the Panthers and Jets before coming to the Skins.   He is another extremely good run blocker who would be at home at either the Guard or Center positions.  In the previous two seasons, he has only allowed 2 sacks while being penalized only 5 times.  Along with Lictensteiger and Chester they form one of the best run blocking heart of the line units in the game today.
Right Guard Chris Chester was a 2nd round selection of the Baltimore Ravens in 2006.  He was property of the Ravens until arriving in Washington in 2011.  In 2008, the Ravens decided to try him at Tight End but he eventually went back to the Offensive Line.  He has Tight End athleticism but needs to play tougher at the point of contact.  He has only incurred 4 penalties and given up 5 sacks in the previous two seasons.
Right Tackle Tyler Polumbus was an undrafted Free Agent scooped up by Denver in 2008.  He has carved out a pretty decent career as a Flex Tackle.  He has played in Denver, Detroit, Seattle and now Washington.  He has great height for the position at 6'8.  He has been effective in spot duty for the teams he has played with and was only expected to provide depth for the Redskins until he showed he can be a starter late last year.
Now to analyze the numbers…..
The Redskins ranked 1oth in Total Run Blocking allowing Roy Helu, Evan Royster, Tim Hightower and Ryan Torain to run for 4.19 yards per carry which was below the NFL average of 4.31.  They were stopped at/or behind the line of scrimmage on 20% of their attempts which was below the NFL average of 19%.  They achieved first downs on 3rd/4th down runs 62% of the time which was equal to the NFL average.  They ran the ball 365 times in 2011 and I would expect that number to be about the same.  The RB's had their least success running behind the LT position as they only averaged 3.64 yards per carry.  They had much more success running behind the Center/Guards combo as they galloped for a 4.58 yards per carry average which ranked 2nd in the NFL.  From a Fantasy perspective, sigh……..Will it be newly drafted Alfred Morris starting Week 1, and then Evan Royster getting the bulk of the carries in Weeks 2 and 7, Roy Helu grabbing Week 3, 9 and 14????  Who knows in the most frustrating Fantasy backfield situation?  Take note of the fact that Coach Shanahan has already decided who will be the opening day starter but he won't tell us.  To the casual Football watcher, this is not really a big deal, but for the hardcore Fantasy Owner, we need to know.  Blast you and your Shanahanigans, Mike.  To make some semblance of sense I just avoid the entire crew of RB's but I'm sure there are many of you trying to crack the right clam.  Newly Drafted Alfred Morris showed he can be a brilliant RB in the last few weeks but he is virtually untested against number 1 defenses.  He is not worth a early or mid round draft spot.  Roy Helu, has injury concerns and is worth a mid to late round flier to stash on your bench.  Royster also has injury concern but he is probably the best option of the three and that is not saying much.  If you are smart, you will take all three of these guys no earlier than round 10.
Washington ranked 15th in the NFL in Pass Protection in 2011 allowing Rex Grossman and John Beck to be sacked on 6.4% of their dropbacks which is better than the NFL average of 6.7%. That is a testament to the O-Line because neither of these guys were quick or good decision makers (take note Shanahan!)  What amazes me is that 4/5 of this Offensive Line is made up of other teams castoffs.  They may not be the biggest or the fastest but they carry the lunch pail to work every day and do their job well.  This year Robert Griffin will go through some growing pains but he will get some decent Offensive Line play that will give him an extra second to make a play.  From a Fantasy perspective, Griffin is a backup until proven otherwise.  Don't kid yourself and ask for Cam Newton numbers because that is highly unlikely. Griffin will be a CAPABLE backup though so make sure that you get him.  If you play Long Term Keeper leagues, stash him away with pride.  The receiving corps got a minor upgrade with the signing of Pierre Garcon who comes over from Indianapolis.  Garcon has downfield speed and has decent hands but has had concentration drops at inopportune times.  He is still the best option on the team and should be drafted in round 6 or 7.  Santana Moss has been a boom or bust guy for the past few years.  He could have 6 catches for 135 or have 1 catch for 15 yards.  He is 33 years old and is not worth a starting spot in your lineups.  Leonard Hankerson is the most intriguing guy who will catch the ball.  He provides the ability to grab tough throws all over the field and will be a guy to take from the waiver wire if need be.  Josh Morgan came over from the 49ers but he is a depth guy.  At Tight End, Chris Cooley was released so now it is the Fred Davis show.  Davis is a talented guy but if he slips up with another positive drug test he could be banned from the league indefinitely.  He is worth a TE 1 slot on your roster, so target him around round 8 or so.  His backup Niles Paul may factor into the plan a bit but will not have much Fantasy relevancy.
Thanks to www.footballoutsiders.com for the statistics
Contact me at:  fantasyfootballwriter@gmail.com or on Twitter at TSHQ FantasyFootball
Original Story:
http://feedproxy.google.com/~r/TheSpo...
THE BACKYARD
BEST OF MAXIM
RELATED ARTICLES
The NFL just saw its final 53-man roster cuts for the 2012 season and as with every year there are several players in the wake of this carnage that many fans respond to with one simple word, "Really?!" We may hold certain places in our hearts for that undrafted free agent who flashed moments of brilliance at the college level or maybe it's the veteran who has been with the...
The Redskins announced the addition of eight players to their practice squad: wide receiver Emmanuel Arceneaux, running back Antwon Bailey, offensive tackle, Tom Compton, linebacker Darryl Gamble, fullback Robert Hughes, tight end Deangelo Peterson, defensive lineman Jason Shirley and defensive end Doug Worthington. Running back Tristan Davis and fullback Dorson Boyce were also...
AP According to Mike Jones of The Washington Post, the Redskins have listed Evan Royster as their week one starter at running back.  Josh Morgan will also start over Leonard Hankerson at wide receiver. #Redskins release Week 1 depth chart. WR Josh Morgan over Hankerson, and RB Evan Royster over Helu and Morris. — Mike Jones (@MikeJonesWaPo) September 3, 2012 Of course the depth...
Will Roy Helu be the "secret" starting running back for the Redskins when they open their season next Sunday? (Credit: AP Photo) Mike Shanahan led teams have always been known for productive running backs, often securing 1,000 yard backs. During his tenure in Denver, Shanahan's team produced 1,000 yard rushers out of the likes of Olandis Gary, Reuben Droughns, Clinton Portis...
It made sense that the Washington Redskins would pluck a defensive back, Crezdon Butler, to fill the 53rd spot on the final roster. Butler filled the slot that S Tanard Jackson would have had he not been suspended indefinitely for violation of the league's substance abuse policy. Jackson made some noise this offseason as the most competent free safety, a potential contributor...
Former NFLer, movie and film star Terry Crews, most notably 'Julius' on Everybody Hates Chris, has a new video out for Old Spice, featuring his muscles, some drums and a pretty clever idea:  
On Friday as NFL teams were clamoring to make their final roster decisions in order to reach the league imposed 53-man minimum, the Washington Redskins and Miami Dolphins were reportedly in discussions regarding a trade. Several South Florida news outlets were reporting that the Redskins were interested in Dolphins RB Steve Slaton and Miami was interested in Washington WR Anthony...
As the dawn of another exciting NFL season is at hand, hope is alive in 32 clubhouses across the country.Hope, however, is more than just alive for teams with top 5 draft picks, looking for immediate return on their investment and a quick reversal of fortunes. The Washington Redskins indeed fall squarely into this category, having grabbed Heisman Trophy winner Robert Griffin III...
NFL News

Delivered to your inbox

You'll also receive Yardbarker's daily Top 10, featuring the best sports stories from around the web. Customize your newsletter to get articles on your favorite sports and teams. And the best part? It's free!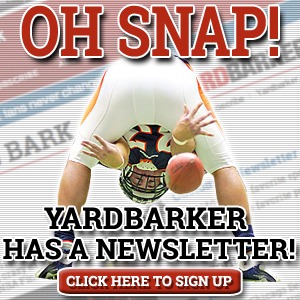 Latest Rumors
The Backyard

Today's Best Stuff

For Bloggers

Join the Yardbarker Network for more promotion, traffic, and money.

Company Info

Help

What is Yardbarker?

Yardbarker is the largest network of sports blogs and pro athlete blogs on the web. This site is the hub of the Yardbarker Network, where our editors and algorithms curate the best sports content from our network and beyond.