On Kaepernick, Peter King is once again the NFL's useful fool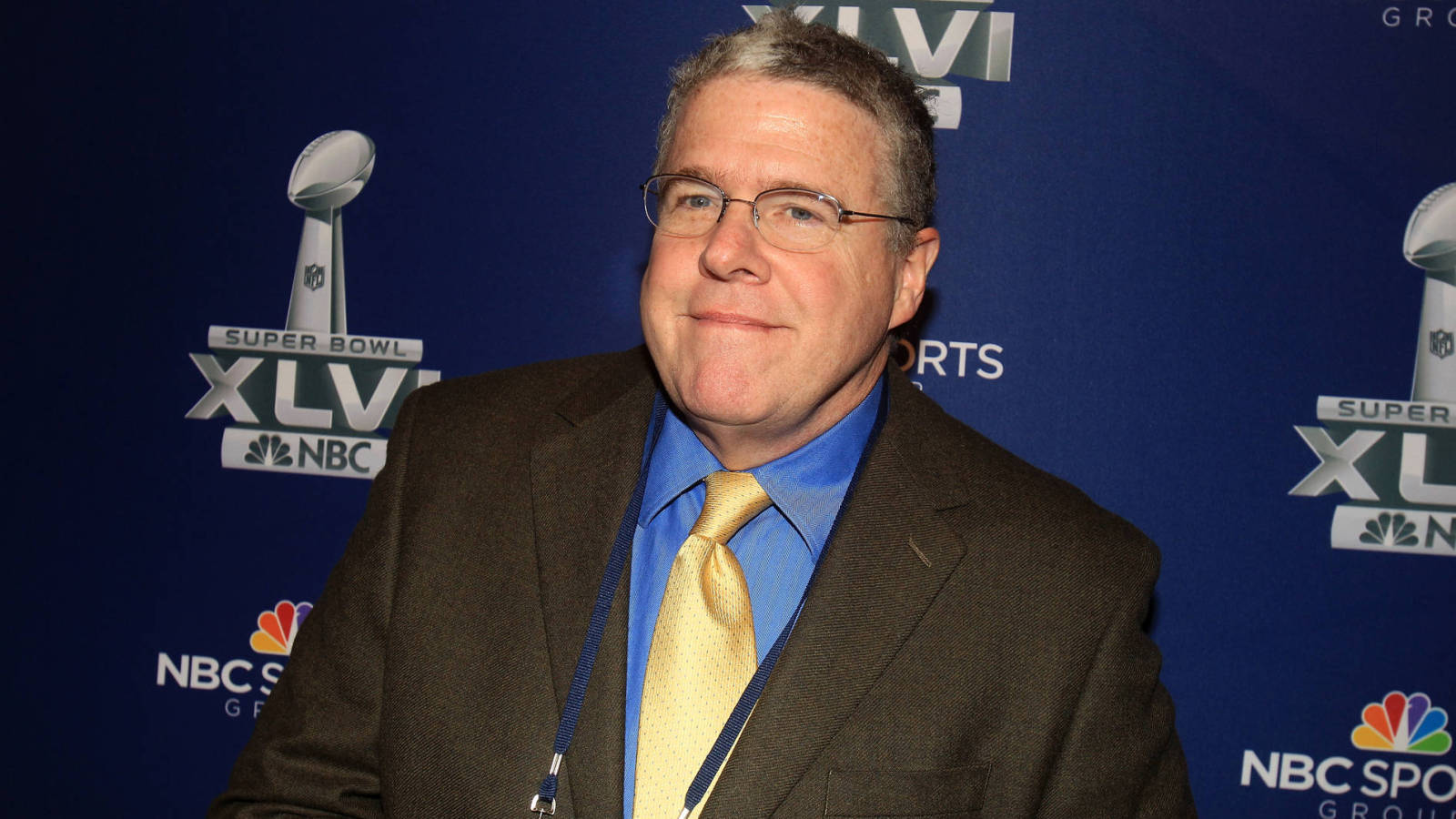 Scott Halleran/Getty Images
A point of contention throughout the NFL off-season has been whether Colin Kaepernick is being blackballed by the world of professional football over his national anthem protest, which the quarterback has already admitted he will no longer continue past the 2016 season. As the months pass and no job for Kaepernick materializes, the league knows it has yet another PR nightmare on its hands. That's fertile ground for deceitful spin, which access reporters are always willing to promulgate without bothering to put a name to it. And few access reporters are more obedient and less diligent than Peter King.
Kaepernick garnered little to no interest at the outset of free agency. At the time, it was fair to preach patience to those who knee-jerkingly concluded Kap was ostracized over his political stance. It was a fair thing to assume, based on some of the enmity Kap received following his protest, but it was a complex enough situation to merit some time. While Kap had an improved 2016 season compared to the prior two years, it wasn't quite great enough to make the case that Kaepernick should definitely be some team's presumptive starter going into the 2017 season. Yes, Mike Glennon got $19 million guaranteed from the Bears. The fact that Chicago ended up drafting Mitch Trubisky in the first round showed that Glennon was not meant to be a future franchise quarterback. He is instead a rather expensive warm-up act, while Kaepernick presumably would want to go somewhere with a chance to permanently win the job.
Perhaps Kap would be willing to settle for a backup job. There are plenty of those, enough that Mark Sanchez got another one this offseason. That said, it made sense for teams to wait until after the draft to see whether they could snag a rookie who could vie for that position. When the draft came and went, and then several more weeks passed, and Kaepernick still wasn't getting offers, it became exceedingly difficult to deny that something is up.
Meanwhile, what has Kap been doing during all this? Mostly public works for people in need. A day after the 2016 regular season ended, he was out donating clothing and bedding to homeless shelters. Most recently, he was in giving out men's suits at a parole office in Queens for those searching for a job now that they're out of prison. This, along with donating $1 million of his 2016 salary to community organizations, proves his protest about racial and economic inequality is more than paying lip service or building a brand.
So if detractors can't prove that Kaepernick is being selfish in some way, perhaps they can take another angle: perhaps, they can claim, Kap is so committed to the cause of helping others that he doesn't want to play football at all anymore. That would certainly be a convenient narrative for the NFL, since it doesn't appear that any teams are in a rush to employ him. This Monday, Peter King attributed that theory to a few anonymous members of the 49ers front office.
I spent a long draft weekend with the Niners in California, and there are those in the building who think Kaepernick might actually rather do social justice work full-time than play quarterback. He emerges in New York City occasionally for noble cause work, last week donating 100 men's suits to a parole office in Queens, so recipients, recently out of prison, would look more presentable when going on job interviews. I haven't talked to Kaepernick, so I have no idea what his gut is telling him about what to do with his life. But it's crazy that a quarterback who four years ago was coming off a Super Bowl appearance and looked to be a long-term answer has no team now and no hot NFL prospects that anyone can see. If I were a pro scout or a GM with a starting or backup quarterback need, I'd be on a plane to New York to have lunch with Kaepernick to ask him where he sees his life going.
Given how badly King has been burned by anonymous NFL sources in the recent past, one might think he would make at least a half-hearted attempt to get Kaepernick's thoughts on the matter. Nope. Just a shrug and admission that he couldn't even bother to try. Peter has arguably the most impressive rolodex of any NFL insider. Would it really be that difficult to ask for a quote?
It was nearly three years ago that King had the most embarrassing moment of his journalism career when he reported that one of the reasons Ray Rice initially received a suspension of fewer than four games for punching his then-fiancee Janay Rice was because Janay had, according to an anonymous NFL source, given an impassioned plea on Ray's behalf to the NFL for clemency. That was later revealed to be untrue, and King had to recant his reporting, having never bothered to check with Janay herself. Members of other professions would suffer career consequences for blunders of that magnitude, but unless it's part of an ESPN cost-cutting measure, it's rare to see any sort of turnover in the NFL access reporter field.
Meanwhile, other members of the media, those who have actually thought to speak with Kaepernick, have a hard time believing the man has no desire to play football. Quite the contrary, in fact.
Having spoken to Kaepernick, I can say - in contradiction to anonymous NFL claims made to Peter King - he has not "moved on" from football

— Dave Zirin (@EdgeofSports) May 9, 2017
"Anonymous NFL sources" say this to cover up for a transparent political blackballing that is getting more & more embarrassing & obvious.

— Dave Zirin (@EdgeofSports) May 9, 2017
Kaepernick is working out every day, sharp as hell, waiting for a camp invite. Everyone knows that this is getting absurd. 16 TDs 4 INTs

— Dave Zirin (@EdgeofSports) May 9, 2017
They use Kaep's presence at Know Your Rights camp on Sat. to justify claim he's moved on. Brady was at KY Derby on Sat. Is he now a jockey?

— Dave Zirin (@EdgeofSports) May 9, 2017
It's not as though there still aren't vacancies to be filled. In particular, the New York Jets are a team that could use Kaepernick. They're a year removed from a 10-win season. 2017 is likely a make-or-break year for head coach Todd Bowles. Poor quarterback play wasn't the only issue in 2016 but there's enough talent on the roster that a marked improvement in that department could have the Jets in the mix for a Wild Card berth in 2017, and perhaps save Bowles' job. So why no interest in Kaepernick when the most the team has done to address the position in the off-season is to bring on journeyman Josh McCown to join two young passers in which seemingly no one has any faith? Well, it might have something to do with the fact that owner Woody Johnson is a major donor to conservative politicians (including Donald Trump), many of whom traded on bashing Kaepernick this past fall to appeal to voters and supporters.
Last year, many conservatives claimed that the league allowing Kaepernick's protest to continue was a reason they watched less of the NFL, though the viewership numbers never quite bore that out. Should Kap not be on a roster come September, it'll be the opposite end of the political spectrum citing him as another reason for them to watch less, or not at all. Expect it's fair to wonder, since the culture of football is already more tied to conservatism, if the liberal boycott won't be more sincere.
PLAYERS:
Peter King
,
Colin Kaepernick
,
Mike Glennon
,
Mitch Trubisky
,
Mark Sanchez
,
Ray Rice
,
Todd Bowles
,
Josh McCown
,
Woody Johnson
,
Donald Trump
TEAMS:
San Francisco 49ers
,
Chicago Bears
,
New York Jets
,
Cleveland Browns
MORE FROM YARDBARKER:
QUIZ: Name every 49ers starting quarterback since Steve Young
The San Francisco 49ers have started 13 different quarterbacks at various points since Steve Young's retirement in 1999. How many can you name?
Clue: Years active
MORE FROM YARDBARKER
NFL News

Delivered to your inbox

You'll also receive Yardbarker's daily Top 10, featuring the best sports stories from around the web. Customize your newsletter to get articles on your favorite sports and teams. And the best part? It's free!