Found March 22, 2012 on With Leather:
"And this is the sound mah private plane makes... DERRRRRRRRP." This might be my favorite story of the year so far. A Colorado man and Navy veteran passed away on Monday, and above all else he prided himself as a huge Denver Broncos fan. That's important to note, because he went out with the coolest obituary opening I've ever read. James H. "Jim" Driver, 78, of Eagle, Colo., formerly of Columbia, passed away Monday, March 19, 2012, at South Hampton Place in Columbia after a brief illness. An avid Broncos fan, he abhorred Manning and evidently wanted out before a deal was done. (Via The Columbia Daily Tribune) Reading the rest of his obituary, Driver sounds like a pretty cool guy. He married a girl from St. Louis, lived in Florida and owned a pizza shop. He also donated his spare time to teaching kids how to ice skate – not my bag, but I like teaching kids how to curse – and helping animal shelters. It's like he outlined the life I want to live, only to leave out the part a...
Original Story:
http://feedproxy.google.com/~r/uproxx...
THE BACKYARD
BEST OF MAXIM
RELATED ARTICLES
Tebow-Mania has come to an end now that future 1st ballot Hall of Famer Peyton Manning has agreed to join John Elway's Denver Broncos. From a football standpoint this was a questionable move for Manning who spurned two teams that are much better in San Francisco and Tennessee. With that said Manning is heading to a winnable division and is joining a team that will allow him to...
One team's trash could be another team's Tebow-mania. The Denver Broncos front office never fully embraced the Tim Tebow phenomenon. Vice president of football operations John Elway thought he could find a better quarterback, and then did precisely that, by landing free-agent megastar Peyton Manning. Now, it's Tebow's time to go. Denver's asking price for the...
On the day that the Denver Broncos celebrated the arrival of Peyton Manning, all of the photos of Tim Tebow— that once lined the halls of the team's facility— were taken down, according to The Associated Press. The outright removal of the indelible images of Tebow running, scoring and rallying the troops were removed from the walls and could be a subtle hint of things to...
Peyton Manning (L) is in while Tim Tebow (R) is out!The Denver Broncos officially landed future Hall of Fame inductee Petyon Manning on Tuesday by reaching an agreement on a five-year, $96 million contract with the beloved signal-caller that they hope puts the franchise back into perennial Super Bowl title contention.The Broncos will now look to move blossoming young quarterback...
According to Lindsay Jones of the Denver Post, the Broncos are working hard to get a deal done with Brodrick Bunkley, in order to bring back for next season. Bunkley had 43 tackles last season, in his first year with the Broncos.  He played for the Eagles for the first five years of his career.
That's what all the news outlets are reporting, that the Denver Broncos just traded Tebow to the New York Jets. What's interesting to me about that is that a few Jets fans, including my die-hard Jets fan brother, picked Tebow and the Broncs as their team to root for in the playoffs since the Jets didn't make it.This move, though, doesn't make any sense to me unless...
Spencer Larsen has signed a two-year deal with the New England Patriots.  Larsen, formerly of the Denver Broncos, is a fullback and linebacker, who also plays special teams.  He once started a game on special teams, at fullback and linebacker for the Broncos.  Pretty safe to say he is a Bill Belichick type of player. The Mesa AZ native went to the University of Arizona and...
Before all you Jets fans out there go and purchase your new Tim Tebow jerseys, you might want to wait for the deal for the Broncos QB to actually be finalized. Whoops ... too late. (Photo: terezowens.com) It seems that the trade between the Jets and Broncos that would send Tebow (and a 7th round pick) to New York in exchange for a 4th and 6th round pick has hit a snag. And despite...
The reason why the Jets' acquisition of Tim Tebow is one that will ruin their franchise goes beyond the fact that Tebow's completion percentage in 2011 was 46.5% and his throwing motion is absolutely terrible.  The insane media circus that will take place every minute while he is in New York will be the issue; the fact that his leadership won't cure locker room ills, despite...
Something as simple as a trade for a backup Runslinger isn't too much for the Jets to screw up. This is the Jets we're talking about, after all. So even though we've had a day of fun envisioning the craziness of Tim Tebow and Rex Ryan coexisting, the trade could be in jeopardy because the Jets are balking at a clause that would require them to pay $5 million-plus back to the...
Peyton Manning T-Shirt Unless you were living in a van down by the river, you probably already know that Peyton Manning has signed with the Denver Broncos. The move will displace Tim Tebow as the starting QB in the Mile High City. We know that Broncos President John Elway said in his Edward G. Robinson voice, "Where's your Messiah Now, Tebow!" Holding up his golden calf in...
Broncos trade Tim Tebow to Jets for draft picks.
Broncos News

Delivered to your inbox

You'll also receive Yardbarker's daily Top 10, featuring the best sports stories from around the web. Customize your newsletter to get articles on your favorite sports and teams. And the best part? It's free!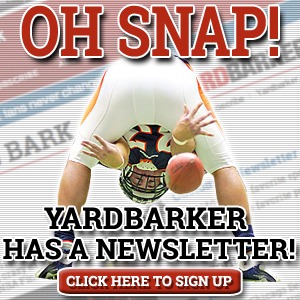 Latest Rumors
The Backyard

Today's Best Stuff

For Bloggers

Join the Yardbarker Network for more promotion, traffic, and money.

Company Info

Help

What is Yardbarker?

Yardbarker is the largest network of sports blogs and pro athlete blogs on the web. This site is the hub of the Yardbarker Network, where our editors and algorithms curate the best sports content from our network and beyond.