Found April 16, 2012 on State of the Texans:
"When I received the call from my agent about the Texans having interest in me, I was elated."
- Javarris Williams, Houston Texans, Runningback #40
It is not often you get to come back and play for your hometown team as is the case of Houston Texans running back Javarris Williams.  The Richmond native is living that dream as we speak. The former Foster High School star running back went to Tennessee State University where he started 3 years for the Tigers and had 3 consecutive 1,000 yard seasons and set a TSU rushing record as a freshman with 872 rushing yards. Also, Williams received his degree in Computer Business Systems in December, 2008.
After a successful tenure for the Tigers, Williams was drafted by the Kansas City Chiefs in the 7th round (212th overall) of the 2009 NFL draft. Williams was inactive for the majority of the season until Chiefs runningback Kolby Smith went down with a season ending knee injury. Williams saw limited action with the Chiefs that season with 4 games appeared in and had 6 rushing attempts. Since that time, Williams has spent time with the Seattle Seahawks (2010-2011) before ending up here in Houston.
Williams was brought in during the beginning of the 2011 training camp after Arian Foster and Ben Tate were slowed by hamstring injuries. Williams impressed early in camp and saw some action in preseason, but ultimately was released prior to the season start. With faith that things would work out, Williams' phone was ringing after week 6 for a return with his hometown team. Since that time, Williams has been on the practice squad and is ready for the start of the 2012 season to show he belongs with the Texans.
First of all, how is your offseason going and what have you been up to?
My offseason has gone well. I went back on a couple of trips but my main focus of course was getting my mind right for the season. Training almost started immediately for me. Super early I know but I don't want to leave any stone unturned in the process of being ready.
Being a 7th round pick out of Tennessee State, how tough has it been for you to make your mark?  
Being drafted out of TSU (Tennesse State University) was a great accomplishment but I have come to learn that where you played college football almost has no bearings on how people see you. Talent always has its way of showing itself. Don't get me wrong, going to a bigger school I may have received more attention yet my mindset about football proved strong enough to get me where I am today.
Being from Richmond, how nice is it to be playing for your hometown team?  
When I received the call from my agent about the Texans having interest in me, I was elated. My first thoughts were of my family and friends being able to watch me play and support me in my journey. This was one of the biggest steps in my life and I was blessed to be in Houston to make that step.
It was an odd year for you last season.  You were cut after preseason and brought back during the season. What was you thought process during that time?
I was told early on it would be an uphill battle to make the team coming into camp. I never let that hinder my preparation or my grind out there on the field. It actually was fuel to my fire to be a part of a very talented team. When I was cut it shook me, but simply going off the position I was in and the playing time I received, I just hoped I made a good enough impression on the coaches. During the time I was an unsigned free agent, I had a few workouts and trained daily. My confidence in my ability to play this game was never shook. I always believed in myself and that God didn't bring me here to not bring me through this process.
You were on the practice squad all of the 2011 season.  What is your main focus being a part of the practice squad?  
Being on the practice squad was again fuel to my fire. I enjoyed helping the Team get prepared wherever I could. That also told me the coaches seen enough in me to bring me back in and maybe contribute to the roster. A major focus of mine was to make at least 3 plays a day where the coaches would have to pay a little more attention to me.
Are there any teammates who have really helped you develop as a player?
I'm the type of guy that observes everyone's game. Coming in, Lawrence Vickers was a major contributor to me getting comfortable in the offense and just with other teammates. Being around him, Foster, Tate and Ward, I learned how to and how not to act in situations. Competition in general with other guys and the defense helped me understand the team mentality and molded me into a guy the coaches wanted to see out there. DeMeco Ryans and I had competition everyday and I consider him to be a great football mind. I would strive to beat him everyday (laughing), that also made me better going against the best defense in the NFL.
Any teammates that you keep in touch with during the offseason?  
Again, Lawrence Vickers who is no longer a part of this organization is a guy I keep in contact with. Him being a Houston native made it easier to be around and hang with.  Derrick Ward also is a cool guy to hang around with.  I contact some other guys via text just to say whats up but that's about it.
I know last season was a magical season.  What was it like being a part of the Texans in 2011?
That atmosphere around the locker room and the city was electrifying. Houston has the best fans in the NFL. The team had a certain swagger about themselves and a belief that we could do anything we put our minds to. The way we approached practices, film studies, and games was like no other team I have been around. It's like the guys played bigger and wanted to be the guy that made the play. When every guy on the field thinks like that, it's a magical thing.
New year and opportunity, what is your mind-set going into camp?
My mindset this year going into camp is to just make plays offensively and special team wise. You always hear that there is always room for a guy that makes plays. He can't be denied. I want to be that guy to make things happen. Train hard and come into this camp in the best shape of my life and go at it 100% daily in the classroom, weight room, and most of all on the field of play.
What areas do you think you need to work on the most heading into 2012?
Becoming more patient as a back and work on open field speed. I will talk with my position coach (Chick Harris) and ask him what he wants to see out of me.
What are your goals as a player to be on the active squad next season?
To contribute any way I can. Provide depth in the backfield and strive to be a dominate factor on special teams.
A special thanks goes out to Javarris and you can follow him on Twitter and show him your support for this upcoming season.
You can follow Patrick on Twitter.  He is the Editor of State of the Texans and is a draft analyst on Sideline Scouting
Original Story:
http://www.stateofthetexans.com/?p=4000
THE BACKYARD
BEST OF MAXIM
RELATED ARTICLES
Texans quarterback Matt Schaub said Sunday that he has no doubt his injured foot will be completely healed and he will be ready to take full part in practices once training camp begins late in the summer. Schaub is continuing his recovery from a Lisfranc injury he suffered last November. "I had some hardware taken out (of the foot) recently," said Schaub. "That was...
The Texans will play a franchise-record five games on national television in 2012, including on Thanksgiving Day for the first time in team history. The NFL released team schedules Tuesday evening and the Texans will be prominently featured, with two Sunday night games, two Monday night games and a Thanksgiving match-up at the Detroit Lions. For the fourth consecutive season the...
Around 1,000 people tried out to become one of the 35 cheerleaders for the Houston Texans over the weekend, and there was something unique about one of the candidates: Dixon Hernandez tried out for the team despite being the only male in attendance. Hernandez is a young man from Houston and he decided to give it a shot. "I was like, 'why not try out, and just go for it and...
Bradie James' time with the Cowboys came to an end last week when the inside linebacker signed with the Houston Texans. The 31-year-old spoke with media members in Houston recently, and his departure from the Cowboys was one of the topics discussed. "They call it the business of the game now," James said. "We're not in high school and we're not in college...
With several players that contributed significantly over the past few years now gone, the Texans began their annual off-season training program Monday at Reliant Stadium. Mario Williams, DeMeco Ryans and Eric Winston, among others have moved on to other teams and names like Daryl Sharpton, Rashad Butler and the newly acquired Bradie James will now move into primary roles. Williams...
This is all for fun and gives a decent insight on what could happen in a War Room for a NFL Team. Yes, there is numerous hours that go into what NFL teams do and this is in no way to show up the hard work those NFL teams do to make their respective teams better. Here is our fun with the upcoming draft. We will keep this updated as the draft progresses.     Sitting on Twitter...
• Dude tries out to be Houston Texans cheerleader • Hulk Hogan now a Flyers fan? Guess they paid him • Horniest Cameraman Of The NHL Playoffs • Ian Eagle destroying Mike Fratello on live TV • You have to see where Kelsey Grammer got a tat • The Girls Of Coachella: So cool, so hip • Hottest Varekova You'll See All Week: Veronica! • Greatest Obituary In History Of...
NFL News

Delivered to your inbox

You'll also receive Yardbarker's daily Top 10, featuring the best sports stories from around the web. Customize your newsletter to get articles on your favorite sports and teams. And the best part? It's free!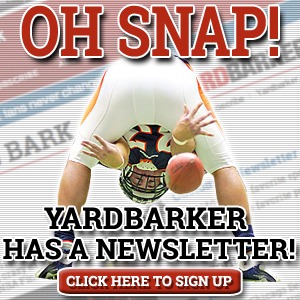 Latest Rumors
The Backyard

Today's Best Stuff

For Bloggers

Join the Yardbarker Network for more promotion, traffic, and money.

Company Info

Help

What is Yardbarker?

Yardbarker is the largest network of sports blogs and pro athlete blogs on the web. This site is the hub of the Yardbarker Network, where our editors and algorithms curate the best sports content from our network and beyond.