Found August 14, 2012 on Fox Sports Florida:
PLAYERS:
Dan Orlovsky
,
Peyton Manning
,
Josh Freeman
,
Tiquan Underwood
,
Josh Johnson
,
Randy Edsall
,
Jeff Garcia
,
Joey Harrington
,
Rex Grossman
,
Matt Schaub
TEAMS:
Detroit Lions
,
Indianapolis Colts
,
Tampa Bay Buccaneers
,
Houston Texans
,
Washington Redskins
,
Connecticut Huskies
TAMPA, Fla. In a funny way, Dan Orlovsky may boast the perfect resume as the new No. 2 quarterback for the Tampa Bay Buccaneers. Scroll down his list occupational experiences to 2008 and youll notice the distinct historical connection he shares with the Bucs. Orlovsky was a backup on the woeful Detroit Lions club that became the NFLs first 0-16 team linking him, at least in spirit, to the expansion Tampa Bay franchise of 1976 that went 0-14, the most losses in a winless season until Detroit came along. Now scroll up to last year when the eighth-year pro was a member of the Indianapolis Colts, a team that unraveled with Peyton Manning sidelined by a season-long neck injury. The 1-15 Colts lost their first 13 games of the year, while the 4-12 Bucs were en route to losing their final 10. The truth is, Orlovskys ability to handle adversity massive adversity, at that is one of the attributes that no doubt appealed to the Bucs when they signed him in March to play a supporting role to quarterback Josh Freeman. The 6-foot-5, 230-pound passer from the University of Connecticut knows what its like to handle the challenges that accompany losing. And he also knows how to win, having played an understudy role on the explosive offense of the Houston Texans in 2009 and 2010. Ive definitely had some unique situations and adversity and been through some tough stretches and practices, which happens a lot in this league, he said. There are very few teams that go for long stretches of success. And so I think its a good thing that Ive been able to learn how to be the guy when its good and how to be the guy when its bad. So yeah, Ive had my fair share of difficult situations, and Ive always tried to learn from them. Add it all up and Orlovsky appears to be an ideal mentor for Freeman. Coming off a season in which his performance plummeted, the face of the Bucs franchise could benefit both from being pushed a bit in practice and guided by the insights of a capable veteran whos experienced the highs and lows of the game. Anyone who watched Tampa Bays 20-7 victory over Miami Friday night in the exhibition opener at Dolphins Stadium witnessed a few of those highs: Orlovsky followed Freeman and completed all eight of his passes for 91 yards, including a 44-yard bomb to free agent wideout Tiquan Underwood to set up a touchdown. Ive been dealing with some good players and good coaches and hopefully (I can) just come in and kind of impart that on Josh, he said. Id kind of be the person that comes in behind him I dont want to say teaches him but (shows him) anything Ive learned along the way to allow him to continue to grow as a pro, continue to grow as this teams quarterback. Orlovsky is a different kind of understudy than the most recent No. 2, Josh Johnson. He gave the Bucs an option as a threat to run on set plays, but he wasnt proven as a player who could take the reins of the offense. His brief, rocky run as starter in 2009 demonstrated that. Schiano stated Monday that the 28-year-old Orlovsky is exactly what the Bucs need in a backup. He is a veteran, no doubt, Schiano said following practice. A true pro. He prepares like that. Hes great for our quarterback room. I would have confidence in him if we had to put him in a game. Hes very, very sure of what hes doing, very confident running the show. Im really glad we have him here. Furthermore, Schiano stressed that Orlovsky got rave reviews everywhere else he played as a hard worker with a team-first mindset. I know the guys that Dan has backed up really enjoyed having him there with them because he works like hes the starter, and he works to help the starter prepare to win games, he said. Hes a team guy, and my history with Dan goes all the way back to when he was at Connecticut and he was a quarterback against us (at Rutgers) and (Huskies coach) Randy Edsall used to tell me stories about his work ethic that were above and beyond. He hasnt changed. Orlovsky hasnt always operated outside the quarterback spotlight. At Connecticuts Shelton High, he threw for 2,489 yards and a jaw-dropping 58 touchdowns to lead the school to a 12-0 record and the state championship, earning All-American honors. At UConn, he earned the starting job as a sophomore and as a junior ranked seventh in the nation in passing, with 3,485 yards and 33 touchdowns. After a less spectacular senior year, Orlovsky was drafted in the fifth round (145th overall) of the 2005 draft by the Lions, backing up Jeff Garcia and Joey Harrington among others, and not taking a regular-season snap in 2006 or 2007. He made his first career start in a 12-10 loss to the Vikings in October 2008, the losing margin resulting from a play in which he accidentally stepped out of the back of the end zone for a safety. In 2009, Orlovsky signed with the Texans. He lost out to Rex Grossman for the backup job that year before becoming No. 2 behind Matt Schaub in 2010. Then he signed with Colts for the 2011 season as the teams fortunes sank without Manning to direct the offense. Still, Orlovsky kept learning all he could. And after taking over for Curtis Painter on Nov. 30, he completed 31 of 37 passes for 353 yards and two touchdowns in a 31-24 loss to New England on Dec. 4. Three weeks later, he was at the helm when the Colts won their first game of the season, ending the unpleasant possibility of playing on yet another 0-16 club. Along the way, Orlovsky has learned to accept life as a backup, though it doesnt change the way he competes or practices. I dont feel like Ive ever accepted it as far as the complacency aspect of it, he said. But I understand it and I kind of embrace that this is where Im at. Since I was a kid Ive always worked hard, so being the 2 or the 1 has never changed my work ethic, and I dont think it ever will. But I definitely have embraced my role, and the fact that I have to be ready to play with limited reps; that I need to be on it mentally; that I kind of need to be a pick-me-up energy guy; that I sometimes need to be Joshs set of eyes, a guy who can impart some knowledge to him without trying to make it sound like Im a-know-it- all. Its a unique dynamic. And one of the great things is that weve started to establish a really good friendship. When it comes to being a good No. 2, all of that puts Orlovsky right at the top.
Original Story:
http://www.foxsportsflorida.com/08/14...
THE BACKYARD
BEST OF MAXIM
RELATED ARTICLES
Vincent Jackson is excited to be playing in Tampa Bay, which is lovely because I'm sure the fans are happy to have him. Jackson signed a five-year contract worth slightly over $55 million over the offseason, so it is hardly surprising that he has only positive things to say as he begins his new journey with the Buccaneers. That being said, there's a very fine line between being...
FLAG DAY
New Tampa Bay Buccaneers head coach Greg Schiano believes that if a team is the least penalized in the league, the players aren't trying hard enough.
There's a lot of crummy quarterbacks in the NFL. And while Josh Freeman might not be one of them, he's certainly not as good as his teammate, Vincent Jackson, believes. In fact, Jackson's confidence is downright laughable. Jackson, who is entering his first season in Tampa Bay, spoke highly of his new Buccaneers squad on Monday, but it's his comment regarding Freeman...
With a new head coach, The Tampa Bay Buccaneers look like a team not to be reckoned with. Greg Schiano has jumped on this year after being in college ball for years. After being stuck at 4-12 last year, there needed to be a change. From the sideline talk, Schiano seems to be taking the [...]
We get it. Vincent Jackson is happy to be out of San Diego and with the up and coming Tampa Bay Buccaneers. But that happiness doesn't give him the license to make outlandish statements about his new quarterback. We've been down this road once, but that time it was with Ravens quarterback Joe Flacco. And as absurd as it was for Flacco to state that he's the best quarterback...
Vincent Jackson was signed to be a No. 1 receiver, something the Tampa Bay Buccaneers have rarely had in nearly four decades in the NFL. Jackson, who proved a deep threat in seven seasons with the San Diego Chargers, is the only proven veteran on a young receiving corps that will look to him for leadership and touchdowns. The Bucs plan to line him up in several different spots...
Apparently Greg Schiano hasn't seen enough speed or playmaking in the return game during training camp because he is looking for an upgrade. As first reported by PewterReport.com, the Tampa Bay Buccaneers are interested in signing Olympic sprinter and former Florida Gators RB/WR Jeff Demps. Demps just got back from London where he helped the U.S. win a silver medal in the...
After Vincent Jackson inked a $55 million deal with the Buccaneers this offseason, he instantly became the team's top receiver, and shiny new toy for quarterback Josh Freeman. Jackson, formerly of the Chargers, was tasked with transitioning from Philip Rivers, a perennial Pro Bowler, to Freeman, who most would agree is still a work in progress. V-Jax disagrees — and that's...
The NFL can be a cruel business for players on the fringes of a roster, and nobody knows it better than Tampa Bay Buccaneers wide receiver Tiquan Underwood. Underwood spent most of the 2011 season and postseason - including Super Bowl week - with the New England Patriots, but coach Bill Belichick released him the night before the big game. ''It was tough,'' Underwood...
AP Photo According to Gil Arcia of The Bay Cave, the Tampa Bay Buccaneers are close to signing former Florida running back and Olympic silver medalist Jeff Demps. "To confirm on an earlier report from Scott Reynolds of PewterReport.com, a source with knowledge of the two sides confirmed with TheBayCave.com that the signing is imminent and the Bucs are not just interested, but are...
NFL News

Delivered to your inbox

You'll also receive Yardbarker's daily Top 10, featuring the best sports stories from around the web. Customize your newsletter to get articles on your favorite sports and teams. And the best part? It's free!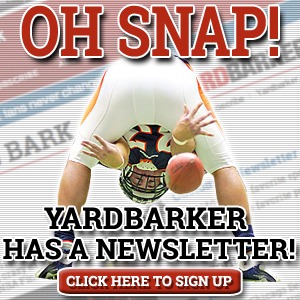 Latest Rumors
The Backyard

Today's Best Stuff

For Bloggers

Join the Yardbarker Network for more promotion, traffic, and money.

Company Info

Help

What is Yardbarker?

Yardbarker is the largest network of sports blogs and pro athlete blogs on the web. This site is the hub of the Yardbarker Network, where our editors and algorithms curate the best sports content from our network and beyond.