Found December 22, 2011 on Fox Sports Kansas City:
PLAYERS:
Kyle Orton
,
Matt Cassel
,
Todd Haley
,
Tyler Palko
,
Romeo Crennel
,
Tim Tebow
,
Jason Campbell
,
Carson Palmer
,
Hue Jackson
TEAMS:
Kansas City Chiefs
,
Denver Broncos
,
Oakland Raiders
KANSAS CITY, Mo. It's common practice across the NFL to bring the starting quarterback to the podium for a weekly news conference. It often beats the alternative: A bunch of reporters and cameramen crowded around his locker. Kyle Orton's never been a podium-type guy. The Kansas City quarterback would rather hang out in the locker room while someone else gets the spotlight, which turns out to be an awfully good metaphor for the way he approaches the game. "The quarterback gets so much of the credit and so much of the blame," Orton said. "You play long enough at this position, it's tough to play well really good unless the guys around you are playing good, and they're not getting the credit, the quarterback is, and that's hard to see." Orton has had a hard time avoiding the spotlight this week. In his first game as the Chiefs' starting quarterback, Orton set a career high by completing 74.2 percent of his passes (23 of 31) for 299 yards in a 19-14 upset victory over previously unbeaten Green Bay. He averaged 9.65 yards per attempt, his most in more than two years. It was the kind of performance that caught everybody by surprise, considering Orton arrived in Kansas City shortly before Thanksgiving after he was cast aside by Denver and picked up off waivers following a season-ending injury to Chiefs starter Matt Cassel. Orton had only played one snap for the Chiefs, a few weeks back at Chicago, when he was hit throwing a pass and dislocated the pointer finger on his throwing hand. Part of that was because former coach Todd Haley stuck by Tyler Palko, despite his inability to lead the team to touchdowns. But when Haley was fired and defensive coordinator Romeo Crennel elevated to interim coach, one of the first things he did was declare Orton his starter. He came through against the Packers with one of his finest performances in recent years, his yardage total trailing only a 304-yard effort in the Broncos' season opener and his 104.1 quarterback rating his second best of the season. "The thing I knew about him was he was a pro quarterback, and has played in games in the NFL before, and had a good arm, and those things we knew about him," Crennel said. "But we didn't know how it would play out on game day, and it played out very well." Orton hardly looked like someone who hadn't started a game since Week 5, helping the Chiefs set a season-high for total yardage in one of the biggest upsets of the season. He spread the ball around to 10 receivers, proved calm in the pocket and displayed a boyish enthusiasm when he would complete long passes down the seam, proclaiming after the game that it was "about the most fun I've had on a football field." "I came out of the game feeling pretty good, and the good thing is we did some good things on offense," Orton said. "Hopefully last week was just kind of the starting point and we go from there." The starting point may have come in the nick of time. The Chiefs' playoff condition has gone from critical to serious with their victory over the Packers. They still need to beat Oakland on Saturday and Denver in their season finale, and have the Broncos beat Buffalo this weekend and San Diego lose one of its last two games. If all that transpires, though, Kansas City will win another surprising AFC West title. Orton refuses to look too far down the road, though. He knows that there's a chance a lot will be on the line when the Chiefs play Denver in the final week of the season. He also knows that he'll become a major part of the storyline, along with Broncos quarterback Tim Tebow, the guy who supplanted him as the starter and ultimately led to his release from the team. But for now his focus is squarely on the Raiders, who went through their own quarterback shuffle earlier this season when Jason Campbell went down and Carson Palmer came aboard. Raiders coach Hue Jackson said he's been impressed by the job the Chiefs have done integrating Orton into the offense, though he wasn't necessarily surprised by his success. "They've simplified their offense to give him a chance," Jackson said. "Kyle has a big arm, he can throw it. And they have some big targets to throw it to." Orton has been saddled with a polarizing reputation, the guy everybody loves or loves to hate, with little ground in between. He doesn't understand that, and said that teammates in Chicago, Denver and now Kansas City would probably have a different opinion. One thing is clear: If he can somehow keep winning, fans in Kansas City will only love him. "I'm a pretty quiet guy, love to play football, love to spend time with my teammates and my family and that's pretty much it," he said. "Just never been about the media aspect of the game."
Original Story:
http://www.foxsportskansascity.com/12...
THE BACKYARD
BEST OF MAXIM
RELATED ARTICLES
I'll take that bowl of Kyle Orton crow to go, please. About a month ago, I wrote that signing Kyle Orton to the Chiefs was a mistake. I like to think Orton used my column as a nice piece of bulletin board material. I mean, all he did was lead the Chiefs to a victory over the Green Bay Packers in his first full game. Orton's impressive showing Sunday made the quarterback scenario...
What a cruel twist of fate that the Bears' season all but turned to dust with Caleb Hanie at quarterback Sunday — just after the Chiefs' Kyle Orton engineered an upset victory against the previously unbeaten Packers in Kansas City. And not only did an ex-Bear beat the vaunted Packers, but it was...
It's the most wonderful time of the year. I know that your mind probably drifted to thoughts about the holiday season, but reminders of credit card bills, invading relatives and your hatred of traditional carols sent you spiraling back to your safe, happy place. On Saturday, you'll be able to duck out of festivities with regularity to check on the happenings of your fantasy...
Romeo Crennel might look brilliant now for installing Kyle Orton as the Chiefs quarterback last week, but the truth can now be told. Crennel was more than a little nervous that Orton's starting debut with the team might not go as well as hoped. "To be totally honest, yes," said Crennel, the Chiefs' interim head coach. "He had a finger (injury), hadn't practiced...
I Kyle Orton the One Kansas City?  The Chiefs and their fans definitely hope so.  One thing is for sure, Orton has the Keanu Reeves "I just woke up and
So I'm looking at the Week 17 schedule, the final week of the season, and I'm thinking: NBC has to be eyeballing the Tim Tebow-Kyle Orton matchup for its flex game to primetime on Sunday night, Jan. 1. OK, so you've heard this story before. And once again, much has to fall into place. But it's possible the Broncos' final game, which is currently scheduled to kick off at...
Muir's not sayin', but … The Chiefs didn't just operate more efficiently offensively on the field last week but also off the field. Substitutions were usually accomplished in a timely manner and the play call generally was received by quarterback Kyle Orton with plenty of time left on the clock.
Hot- Start'em if ya Got'emQB – Kyle Orton – If you've made it to the Championship Game in your league with Big Ben or Flacco as your quarterback, then perhaps you need to consider Orton for your title game. In his first game as a starter for K.C. he completed 74% of his passes for 299 yards against the Packers. This week he faces and Oakland defense that allows the...
This past Week 15 was quite a wacky one in the world of the NFL. The 72′ Miami Dolphins uncorked their champagne after the previously undefeated Packers lost to the Kyle Orton led Chiefs and Dan Orlovsky probably downed a couple of adult beverages himself after making sure he wouldn't be part of a second 0-16 team as he led the winless Colts to their first victory of the year...
Whether it's Rex Grossman for Kyle Orton or Craig Krenzel for Jonathan Quinn, a new starting quarterback usually elicits an automatic wave of enthusiasm and hope among Bears fans. But the likelihood that Josh McCown will replace Caleb Hanie for the game against the Packers at Lambeau Field on Sunday...
Whether it's Rex Grossman for Kyle Orton or Craig Krenzel for Jonathan Quinn, a new starting quarterback usually elicits an automatic wave of enthusiasm and hope among Bears fans. But the likelihood that Josh McCown will replace Caleb Hanie for the game against the Packers at Lambeau Field on Sunday...
It's a four-dog night, but we'll start the story off with the one favorite on the card. Hope you find lots of covers under your holiday tree. Chiefs -1.5 vs. Raiders: Arrowhead Stadium is still a difference-making location when the Chiefs are relevant, and the Kyle Orton move restores them. I don't trust Carson Palmer to play a clean game — especially with Tamba Hali...
NFL News

Delivered to your inbox

You'll also receive Yardbarker's daily Top 10, featuring the best sports stories from around the web. Customize your newsletter to get articles on your favorite sports and teams. And the best part? It's free!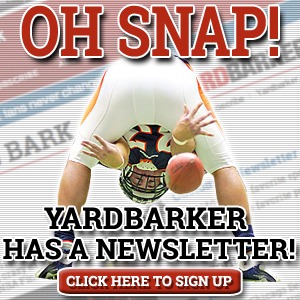 Latest Rumors
The Backyard

Today's Best Stuff

For Bloggers

Join the Yardbarker Network for more promotion, traffic, and money.

Company Info

Help

What is Yardbarker?

Yardbarker is the largest network of sports blogs and pro athlete blogs on the web. This site is the hub of the Yardbarker Network, where our editors and algorithms curate the best sports content from our network and beyond.