Found May 10, 2012 on State of the Texans:
"I'm not the type to go out and boast and brag about my game, I just let my game talk for me only because I know the work and dedication I put into it so I just go out and perform."
 - Mario T. Louis, Houston Texans , Wide Receiver, Grambling State University
Being an Undrafted Free Agent isn't standing in the way of Mario Louis' drive to prove himself and push for that coveted roster spot. Texans faithful know we need help at the WR position, and although we drafted two receivers in the first five picks and two more (including Louis) through UDFA, do not count Louis out. He plays hard on the ball and is always looking to score.
Louis' head coach at Grambling State University, Doug Williams, the notable Redskins QB during the 1987 Super Bowl XXII run, who was MVP of the game and who has been coaching and scouting at the NFL and college levels since 1994, has called Louis "the best NFL prospect he has ever coached." Williams, who was a Jacksonville Jaguars scout during Terrell Owens' coming out party at the Blue-Gray Game in 1996, says of Louis: "Mario is the closest thing to Terrell, from what we've done and what he's capable of doing."  As a senior at Grambling, Louis caught 51 passes for 1129 yards and 18 touchdowns.  At his pro day, The 6'0″, 195 lb. Louis ran a 4.52 second 40-yard dash on a notably slow track.
Louis transferred to Grambling in 2007.  Played some basketball in high school. Played some intramural football after transferring to Grambling. However, upon seeing his raw talent, his teammates and intramural fans suggested he try out for the University's football team and by 2009 he was in.  Louis credits teammates and coaching staff members with his ultra-quick development from no gridiron experience to noteriety that led fans to begin calling him "Super Mario" (yes, Texans fans, you read that right!)
Though it may take quite a bit of on-the-field-proving-himself before Texans fans ever use the nickname "Super Mario" again, it was Louis himself who made the transition from casual player to Grambling super star look simply effortless.  Remaining Grambling WRs are now feeling the pressure to perform in the vacuum left by Louis' departure to Houston. After all, in 2011, Louis accounted for more than half of the Tiger's receiving yards and TDs.
We know the competition will be fierce at this 2012 Houston Texans training camp, but without a doubt there is no counting Mario Louis out.  He is a proven fighter, filled with a modesty belying his natural ability.
First off, Mario, congratulations on coming to Houston. What are you feeling right now?
I'm feeling real anxious and ready to get out there to start learning.  Ready to step foot on the field.
What inspires you to earn your spot into the league and onto the Texans squad?
My inspiration is being able to beat the odds of us so-called "small school" guys who are very much overlooked. Also want to put my school Grambling State back on the map after only having a small number of players in the league.
Who influenced you the most in your life to get to this point?
I can't give credit to one person but my entire family has been so influential to me and understanding our situation as a family just drives me to do whatever to help that situation. Also my son who I wake up every morning for, that's my heart.
What was your road like getting to Grambling State?

My road getting to Grambling was sort of a crazy situation where I was attending the University of New Orleans and some of my best friends pretty much did their own recruiting to get me to come out there just for school, not on any try to play sports type deal. And that's where my football career pretty much began and progressed from.
What did Grambling State University mean to you as a student athlete?
One thing Coach (Doug) Williams always stressed to us as a team is "We're Grambling" and that made me respect and love my school more because he made me realize that this is where I gave my blood sweat and tears on and off the field. Grambling is second to none when I think of any other school.
How did Coach Williams and the staff at Grambling prepare you for this next step?
Head Coach Williams and every coach pretty much mentored me on and off field, really more with me being able to handle myself and family matters and talking to me about keeping myself clean and away from trouble. They also gave me pointers about my onfield work clean things up in my game. (WR) Coach Sammie White did a great deal of that so a lot of that credit is owed to him.
Was there any idea on your part you might land in Houston?
Well, I really didn't have a clear idea about it because plenty of teams contacted me prior to the draft but I can say that the Texans were of the few teams that seemed very interested in me. But I never just thought that that's where I'm going.
Who did you hear from on the Texans staff and what was that call like?
My agent actually called me and told me that the deal was done so the phone went to him or however it went. And I heard from (Texans WR) Coach Larry Kirksey a few days after.  He just said that he was excited to have me come out there but nothing in detail really.
What are your strengths at WR and do you have any areas for improvement?
My strengths are: I play off of reflex, meaning I don't have a predetermined move when playing and I attack the ball very well. I believe I have a nice ability to make plays after the catch because I'm always trying to score. There's always things that can improve for anybody and I'll be the first to say that there's one attribute in my game that doesn't need improvement so my whole game can use improvement because I want to be the best.
Tell us something about yourself that Texans fans need to know to know the real Mario T. Louis.  
To all the Houston Texans fans out there, I'm not the type to go out and boast and brag about my game I just let my game talk for me, only because I know the work and dedication I put into it so I just go out and perform. I'm a very hard worker and my own worst critic because I'm out here to help the Texans succeed and that comes with being the best football player I can possibly be.
You can follow your new Houston Texans wide receiver, Mario T. Louis on Twitter, welcome him to the Texans family and show your support.
You can follow The Claire Bear on Twitter and please do – it's encouraged.

Original Story:
http://www.stateofthetexans.com/?p=4462
THE BACKYARD
BEST OF MAXIM
RELATED ARTICLES
The Sideline Scouting's Brain Filler and Patrick Starr talk one on one with rookie linebacker Shawn Loiseau of the Houston Texans. Loiseau talks about the draft process, coming from Merrimack College, flying in an airplane, the influence of his Father and much more.     You can follow Shawn Loiseau on Twitter and Follow him on Facebook.      Listen to internet radio with...
The Houston Texans have signed veteran free agent quarterback John Beck. Beck spent the last two years with the Washington Redskins. He appeared four games with three starts last season, throwing for 858 yards and two touchdowns with four interceptions. The 30-year-old Beck was with the Ravens in 2009 and the Miami Dolphins the two seasons before that. He started four games for...
According to Mark Berman the Houston Texans have agreed to terms with quarterback John Beck to come in and compete for a spot on the roster. Head Coach Gary Kubiak has been hinting that he was interested in bringing in a veteran to camp to compete with rookie Case Keenum and for another arm during this time. Beck has been in a similar system with the Washington Redskins, so him coming...
In an effort to understand what the Raiders offense will look like, I looked at game film from the Seahawks in 2009, the last time that Raiders OC Greg Knapp served in that capacity before the Raiders.  You can read that article here.The last two seasons 2010 and 2011, Knapp served as the QB coach for the Houston Texans, which has had one of the most dynamic offenses in that time...
The Houston Texans have added a fourth quarterback to their roster, John Beck. Beck was released during the NFL Draft after the team selected Baylor QB Robert Griffin III and then Michigan State QB Kirk Cousins. A career 67.6 rated passer, Beck is now joining his fourth NFL team. Beck has spent time with the Miami Dolphins, Baltimore Ravens and most recently, the Washington Redskins...
OWINGS MILLS, Md. (AP) -- Former Houston Texans wide receiver Jacoby Jones has agreed to terms with the Baltimore Ravens on a two-year contract. Jones was cut by the Texans last week. He caught 31 passes for 512 yards and two touchdowns last season, but he also fumbled twice in Houston's playoff loss to the Ravens. The 27-year-old Jones gives depth to Baltimore's group...
Jacoby Jones helped out the Ravens in the playoffs last season...as a punt returner for the Texans. Wonder if the Ravens are messing with destiny by signing him for 2012 as a wide receiver and return specialist for a 2-year deal worth a reported $7 million ?...Sorry, that's a cynical way to put it. At age 28, Jacoby Jones represents a good value acquisition by the Ravens. He...
Scout.com takes a look at the first FOX Sports Southwest 7-on-7 State Championship qualifying tournament that will be held at Reliant Stadium on May 19-20. There will be two days of action as teams fight to qualify.
Jones is a nice addition for the Ravens. Well it did not take long for former Texans receiver/return specialist Jacoby Jones to find a new home, agreeing to a two-year deal with the Baltimore Ravens yesterday according to ESPN.com. Although, Jones was considered a disappointment in Houston, he should become the Ravens third receiver next season. He may also take over return...
Former Houston Texans WR Jacoby signed a two-year, $7 million deal with the Ravens, according to sources. He joins starters Anquan Boldin and Torrey Smith and can lend a hand on special teams. How's this for irony in the NFL: it was Jones who muffed a punt in the 1st quarter of an AFC divisional game against Baltimore last year. The Ravens recovered at the 2 scored a...
The NFL continued their Top 100 player countdown Wednesday night, revealing players ranked 71-80. Coming off his first Pro Bowl appearance, the Houston Texans' Johnathan Joseph made the list at #73. Having never made the list before, Joseph's first season in Houston saw him emerge as one of the league's premier cover cornerbacks. Joseph finished 2011 with 44 tackles, 4 INTs...
NFL News

Delivered to your inbox

You'll also receive Yardbarker's daily Top 10, featuring the best sports stories from around the web. Customize your newsletter to get articles on your favorite sports and teams. And the best part? It's free!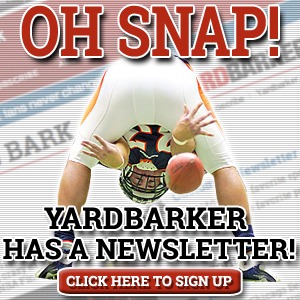 Latest Rumors
The Backyard

Today's Best Stuff

For Bloggers

Join the Yardbarker Network for more promotion, traffic, and money.

Company Info

Help

What is Yardbarker?

Yardbarker is the largest network of sports blogs and pro athlete blogs on the web. This site is the hub of the Yardbarker Network, where our editors and algorithms curate the best sports content from our network and beyond.