Found May 08, 2012 on Fox Sports:
During Week 13 of the 2011 NFL campaign, the Giants and Packers went at it in MetLife Stadium in what ended up being one of the best regular-season games of the entire year. While watching that NFL on FOX game from my couch, I flipped over to CBS to see which game that network was airing in the New York market. Turned out that there was none. Rather, CBS was re-airing a broadcast of something called "The 2011 Deer Valley Celebrity Skifest." Oh. I was ready to change it back immediately, when I saw the list of "celebrities" blobbing along, downhill on the slopes -- "Party of Five" star Scott Wolf, hair-gel guy Paul Mitchell, and ... Terrell Owens. It was an NFL Sunday, 24 teams were still in playoff contention and a possible Hall of Fame receiver was yukking it up on the slopes alongside Hollywood's B-list in some bad version of the old "Superstars" show. I tweeted about it. I wrote, at 5:04 pm EST on Sunday, Dec. 4, "Big NFL Sunday and we've got our first T.O. sighting of the year! He's skiing ... Yes, T.O. has seen better days." On Tuesday afternoon, I sat on that very same couch, flipping the channels with the same remote control, when I saw T.O. on TV yet again. This time, he was seated on a director's chair in front of three women -- three of his kids' mothers -- and Dr. Phil McGraw. Compared to this, the Skifest with Scott Wolf looked like an episode of "Charlie Rose." And yet, I watched. For 60 minutes, I watched. Commercials and all. "Terrell was an All-Star on the field," said a foreboding voiceover before the first commercial break. "But as a dad, some would say ... he's dropped the ball." Dr. Phil, a man whose program I'd never actually seen (outside of Frank Caliendo's dead-on impressions) before Tuesday, then cut to a taped interview with Owens before bringing the former star on stage. In the taped segment, T.O. went into his tired-and-true victim routine, "Within the media, they think I'm a selfish, arrogant, cocky person. My character has been mis-portrayed. The media won't allow me to turn over a new leaf." We're supposed to feel bad for Terrell Owens. We always are. It's been the theme of every reality TV show he's ever done (and there have been a few), every "exclusive" interview he's sat down for, and every magazine feature he's had written on him in the past two years. Every Drew Rosenhaus-planted story on ProFootballTalk, every NFL.com podcast about his NFL workout at a high school in California, and every "Where will T.O. end up?" poll question online -- it's always about T.O.'s bad fortune and what he's doing right "this time." But watching Owens go up against three of his "baby mama's" -- and there's a fourth, somewhere -- in front of a live studio audience, I couldn't feel bad for Terrell Owens. It just wasn't possible. As someone who's seen several strong single mothers break their backs to provide for their sons in homes with absent fathers, I couldn't -- in good conscience -- have any sympathy for a guy who's spent much of his adult life running away from responsibility. Dr. Phil didn't pull any punches, either. After admitting that he's a big T.O. fan on the field, he broke out a stinger, reading aloud an introduction Owens' wrote for a children's book that began: "To my children, may my life serve as an example to you." Yikes. Yet, there was the mother of one of T.O.'s four kids, a woman named Kimber, explaining that in addition to owing thousands of dollars in child-support payments, Owens hasn't called or seen his child in over a year. There have been no Christmas gifts, either. Kimber said that Owens had only "seen" the daughter they had together 12 times in the girl's entire life. One by one, the mothers went down the list of examples of foul parenting that T.O has exhibited over the years. One called him "evil," as a giant gong sound went off in the background. Another of the moms, a woman named Melanie, said T.O. hasn't seen their child because Owens refused to buy the kid's plane ticket to meet up. Owens, almost uncomfortably, just sat and took the hour-long pummeling. He made excuses. He made faces. He even made some salient points. Neither side -- T.O. nor the mothers -- looked particularly dazzling during the 60-minute experience. The lowest point -- and there were several low ones -- came when the mother of T.O.'s oldest child, a woman named Monique, said that Owens made some public appearances with their son, trying to bolster his own image. "He was trying to exploit his kid," she said, as Owens winced at the notion. As the show came to a close, T.O. was oddly reunited with two of his children backstage. The credits were rolling and Owens asked them: "Have you been to Magic Mountain? Maybe I can take you guys to Magic Mountain. You can ride the roller coaster." The whole thing stunk. It was uglier than one of those bad "Laura, Joseph is ... NOT the father!" episodes of "Maury" and less entertaining than the terrible VH1 reality show T.O. had with his two PR handlers (truthfully, he could have probably used them before appearing on this one). I'm not sure what was accomplished for either side, minus the notoriety and face time of being on a syndicated talk show at 3 p.m. on a weekday. I watched the entire thing. I'm not really sure why. It was the same reason you watch an episode of "Hoarders" on a sunny Saturday afternoon, I suppose. It had that car-crash quality. I felt the need to look, though I knew it wasn't pretty. Owens, in my opinion at least, is a Pro Football Hall of Fame wide receiver. I assume he has at least one more season of good football left in him. But after sitting out the entire 2011 season and coming off serious knee surgery, I doubt he'll get another NFL shot. Things aren't going to get any better -- financially or otherwise -- for Terrell Owens. As others were poking fun at him on Twitter, I had no jokes to crack; no quips to deliver. The whole situation was just sad. We, the media, roll in laughter when Antonio Cromartie lists the names of his 10 children on "Hard Knocks." We fill up the snark tank at the Combine when Janoris Jenkins reveals that he had four children with three different women before the age of 22. We make jokes about Travis Henry and his various children from various mothers. From perches way up high, we scoff and we mock. But there are kids involved in all of these situations. There are sons and daughters with fathers whose playing days -- like Owens, like Warren Sapp, like countless others -- won't last forever. Celebrity Skifest. "Dr. Phil." What's next for Terrell Owens? Whatever it is, I'll believe it. I'm just scared to find out.
Original Story:
http://msn.foxsports.com/nfl/story/Te...
THE BACKYARD
BEST OF MAXIM
RELATED ARTICLES
<a href="http://www.mogreet.com/moshare/it/" class="moshare-button-hor" data-channel="wordpress-1.2.8" data-message="Terrell Owens is really scraping the bottom of the money barrel right now. Today he sat down with Dr. Phil on national TV to set the record straight about the bad rap he says he's been getting, especially from the mothers of...
It's easy to be conflicted on Terrell Owens. On one hand, he's a self-destructive, irresponsible, absent father with an addiction to attention -- which is probably what landed him on an episode of "Dr. Phil" that taped Monday and aired Tuesday afternoon. But on the other hand, you have to wonder how much of an impact a difficult upbringing and potential issues...
Terrell Owens is no stranger to television, but the TV appearance he made Tuesday was unlike any he's done before. The six-time NFL Pro Bowl wide receiver wasn't doing pushups in his driveway or eating popcorn after a touchdown. He was on the Dr. Phil show as three women grilled him about caring for his children. Owens and three of the four women with whom he has had kids...
So, I watched T.O.'s appearance on Dr. Phil on Tuesday. And it was just sad. It was sad seeing a man with little maturity and no sense of responsibility in the midst of ruining the lives four innocent children. Four children by four different women. You have to ask questions about the decision-making abilities of all involved, especially baby mamas 3 and 4, but in the end, it's...
Terrell Owens appeared on the Dr. Phil show with three of his four baby mamas. Owens made $80 million during his NFL career but is struggling to pay child support now. [h/t 2 Minute Drill]
In what sounds like the greatest hour of television since "Who Shot J.R.?", Allen Wranglers wide receiver Terrell Owens will make an appearance this week with Dr. Phil.  This is not a joke.  This is not one of those Onion posts where you take two of the most ridiculous things on the planet and bring them together in a sort of, "yea it's funny, but nothing like...
Former Philadelphia Eagles wide receiver Terrell Owens is going to take his child support woes to a professional on Tuesday when he appears on the "Dr. Phil" show. The episode, billed "A Football Star's Daddy Drama," is described as follows on the show's website: Terrell Owens is a six-time NFL pro-bowler and arguably one of the best wide receivers to play the game, but...
Terrell Owens and his 3 baby's mamas appear on Dr. Phil
Forever controversial, future hall-of-fame wide receiver Terrell Owens went into what was likely his most hostile huddle yet: all of his baby's mommas and Dr Phil as his quarterback. They all gathered to work things out and figure out what is best for the four kids. This was for the kids right?
The media is a cruel beast. Just ask Terrell Owens.
NFL News

Delivered to your inbox

You'll also receive Yardbarker's daily Top 10, featuring the best sports stories from around the web. Customize your newsletter to get articles on your favorite sports and teams. And the best part? It's free!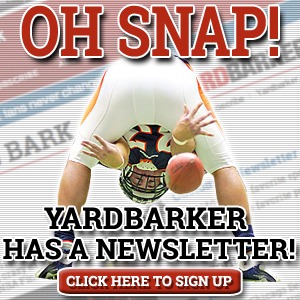 Latest Rumors
The Backyard

Today's Best Stuff

For Bloggers

Join the Yardbarker Network for more promotion, traffic, and money.

Company Info

Help

What is Yardbarker?

Yardbarker is the largest network of sports blogs and pro athlete blogs on the web. This site is the hub of the Yardbarker Network, where our editors and algorithms curate the best sports content from our network and beyond.