Found October 12, 2012 on Fox Sports Wisconsin:
PLAYERS:
Aaron Rodgers
,
Jermichael Finley
,
Cedric Benson
,
Josh Sitton
,
Alex Green
,
James Starks
,
Greg Jennings
,
B.J. Raji
,
J.J. Watt
,
Clay Matthews
,
Gary Kubiak
,
Arian Foster
,
Matt Schaub
TEAMS:
Green Bay Packers
,
Houston Texans
GREEN BAY, Wis. -- It's still early in the season, but the Packers (2-3) are approaching must-win territory. Unfortunately for reigning NFL MVP Aaron Rodgers and his team, they have to try to get back to .500 on the road this Sunday against the undefeated Houston Texans (5-0). Not only has Green Bay already lost more games this season than it did throughout all of last year (playoffs included), but now the on-field struggles have led some players to assign blame elsewhere. The Packers' wide receivers defiantly insisted this week that they're creating separation downfield and are therefore not at fault for the decline in offensive production. The typically unflappable Rodgers defended his downward statistical trend by saying, "There's plenty of guys that wish they had the kind of numbers I have." Tight end Jermichael Finley added to the turmoil by again questioning his chemistry with Rodgers and then seemingly taking a subtle shot at Green Bay's offensive line. "I don't put it all on (Rodgers)," Finley said. "It's his receiving corps, we're dropping balls; it's his linemen not blocking for him. He's got a lot to think about. I would be scared, too, if I was getting hit like that." Rodgers has been sacked 21 times through five games, the second-most in the NFL. Five of those sacks came in the second half in Week 5 against the Colts, though coach Mike McCarthy said "the protection was very good." Rodgers has been guilty at times of holding onto the ball for too long once the pass rush begins to collapse the pocket. ProFootballFocus.com has attributed five of the sacks this season to Rodgers' decision-making to not throw the ball away. McCarthy's play-calling, as well as Rodgers' line-of-scrimmage pre-snap changes, have come into question, too. Following the injury to running back Cedric Benson early in the second quarter last weekend, the Packers strayed from their commitment to a balanced offense. The first seven plays of the second half were all passes, one of which resulted in an interception and three other consecutive throws that forced Green Bay to punt. "The biggest thing for an offensive lineman, you want to be able to run the ball to keep the defense on their heels and keep them guessing," starting right guard Josh Sitton said. "If you're throwing the ball 10 times in a row, it makes their job a little bit easier. It opens up the passing game when you run the ball. You want to be able to play-action pass and things like that." A day after the Packers blew an 18-point halftime lead in Indianapolis, McCarthy attributed some of the problems to bad practice habits that the team had developed. "Our practices, frankly, are not quite what it needs to be, and I think it's shown up on Sundays," McCarthy said. "That was part of my message today, and I have to get that out of them. That's my responsibility." It won't help that Green Bay had to place Benson, its leading rusher, on injured reserve this week. Due to a new NFL rule, it is possible for Benson to return to game action in Week 14, but the Packers now have to turn their running attack over to unproven Alex Green (15 career carries) and injury-prone James Starks, who just recovered from turf toe. Green Bay will also be without two-time Pro Bowl wide receiver Greg Jennings (groin) for the third time this season. It's possible that Finley (shoulder, questionable) and nose tackle B.J. Raji (ankle, questionable) may not be available, either. However, McCarthy isn't going to change anything, no matter how much the circumstances seem to be working against him right now. "You knuckle down in practice and just heighten the urgency and awareness," McCarthy said. "You don't over-react. I'm not a panicker. I think it's a punk mentality, frankly. I think it's a loser mentality. It's time to increase the urgency. We're going down to Houston to win a football game." For the Packers to be successful in that goal, they'll have to stop a Texans team that has been good in nearly every aspect this season. Houston defensive end -- and Wisconsin native -- J.J. Watt has been unstoppable, with 7.5 sacks, eight pass deflections, five tackles-for loss and two fumble recoveries. Watt has arguably been the only defensive player in the NFL with a more impressive five weeks than Green Bay linebacker Clay Matthews. "As a football player, as a man, you want to be the best at what you do," Watt said in a conference call. "To want to be the best and to be the best, you have to believe you're the best. So I think I'm the best at what I do. And you have to think that. The greatest players, the greatest athletes of all time, have had the desire and the drive to do something that's never been done. That's what I'm striving for. "I'm striving to do things that have never been done before." Overall defensively, the Texans rank third in the league in total yards allowed, fourth in points allowed, fifth in interceptions, ninth in forced fumbles and sixth in sacks. "I think the key to our defense and the key to our team, really is everybody's finding a way to make some plays," coach Gary Kubiak said. "We don't count on one or two guys to get it done for us each and every week. We have everybody chipping in and you don't know where the production's going to come from or who's going to make the big play, but they're all expected to do it. That's the way our team is built and that's the way things have been happening." Houston also has terrific balance on offense, calling 183 running plays and passing the ball 152 times. Running back Arian Foster leads the NFL in rushing touchdowns with five and is second in rushing yards. The Texans are ranked 20th in the league in passing yards, but no quarterback has been sacked fewer times than Matt Schaub (three). Schaub is also seventh overall in passer rating with eight touchdown passes and only two interceptions. "I think you've got to be committed to it," Kubiak said of a balanced offense. "It's so easy in this league to, with an injury or two or getting down by 10 in a game or something, to just abandon things and go one way or another. I think our biggest thing is we're committed to running the ball, and it's essential for our football team to have success." Though Houston is unbeaten this season, its yet to face a team as talented as the Packers. The Texans five wins have come against the Dolphins, Jaguars, Broncos, Titans and Jets, teams with a combined record of 9-17. But Green Bay, in significant need of a win, finds itself as an underdog in this game. It's the first time in which the Packers' starters are playing and the team is still not favored to win since their 2010 playoff victory in Atlanta against the Falcons. Green Bay played 24 meaningful games within that span. "We're expecting to go down there and play really well and be in the game and have a chance to win the football game," Rodgers said. "We take a lot of confidence down there, knowing the impact of this game. We know we were 3-3 a couple years ago and we were able to make a run (eventually winning the Super Bowl)." Follow Paul Imig on Twitter
Original Story:
http://www.foxsportswisconsin.com/10/...
THE BACKYARD
BEST OF MAXIM
RELATED ARTICLES
The Green Bay Packers look to get back to their winning ways this weekend in a tough matchup against the undefeated Houston Texans.Both teams are coming off weeks in which they received bad news regarding key players and injuries.Green Bay found out that Cedric Benson will be out a majority of the season and could possibly be out for the entire season.  The Houston Texans found...
According to Tyler Dunne of the Milwaukee Journal Sentinel, Alex Green will get the first crack at the Green Bay Packers' starting running back job while Cedric Benson is out.Packers head coach Mike McCarthy also confirmed that they'll ride the hot hand between both Green and James Starks.
Aaron Rodgers threw two touchdown passes and the Green Bay Packers led the Houston Texans 14-0 after one quarter on Sunday night. Jordy Nelson got past Johnathan Joseph for a 41-yard touchdown reception to put the Packers on top 7-0 early in the quarter. Green Bay had a fourth-and-3 on the play before the touchdown, but rookie DeVier Posey was offside, giving the Packers a first...
DISCOUNT DOUBLE-CHECK
After picking up a huge sack for the Houston Texans, J.J. Watt does what most defenders have done this year, and mocked the "Discount Double Check" or World Title belt celebration that Aaron Rodgers does. This time, the defensive end put his own unique spin on the celebration by throwing the belt away and saluting the crowd.Via: @cjzero
GREEN BAY, Wis. -- There's defiance in their voices -- a sense of frustration that some of the blame is falling on them. The Packers' wide receivers believe they've done their part this season. They've watched the film of the first five games, and it all checks out. They see plenty of separation between themselves and the cornerbacks assigned to cover them. They look...
Our weekly 21-point game preview leads off with the matchup within the matchup: J.J. Watt's excellence in batting down passes against Aaron Rodgers' excellence in avoiding deflections. Plus, Clay Matthews, Duane Brown, Andre Johnson and much, much more in what is guaranteed to be the biggest and best preview in the world.
The Packers head into week 6 (2-3) facing debatably the NFL's best team in the Houston Texans. Last year the Packers only lost once in the regular season and to the shock of many 2-4 might be staring at them right in the face. That being said let's not right off the Packers this week just yet.  Vegas currently have the Packers as 3 point underdogs against the hot Texans...
GREEN BAY, Wis. -- The relationship between Packers quarterback Aaron Rodgers and tight end Jermichael Finley frequently boils down to one word: chemistry. In Finley's mind, chemistry between the two is often directly related to his personal statistics and those of the offense as a whole. With Green Bay's 2-3 record and an offense ranked 21st in the NFL in total yards and...
 Quarterback  Running Back  Wide Receiver  1.  Matt Ryan vs. Oakland  Arian Foster vs. Green Bay  Percy Harvin vs. Washington  2.  Peyton Manning vs. San Diego  LeSean McCoy vs. Detroit  Julio Jones vs. Oakland  3.  Aaron Rodgers vs. Houston  Ray Rice vs. Dallas  Calvin Johnson vs. Philadelphia  4.  Robert Griffin III vs. Minnesota  Trent Richardson vs. … Continue reading »
This isn't going to be an easy win.  On offense, the Patriots have scored more points than any other team in the league, and they're in the top ten in passing and rushing yardage, although it's primarily the threat of their passing attack that's kept their run game effective.  The Seahawks have a top five defensive unit, but if they want to be known as one of the...
NFL News

Delivered to your inbox

You'll also receive Yardbarker's daily Top 10, featuring the best sports stories from around the web. Customize your newsletter to get articles on your favorite sports and teams. And the best part? It's free!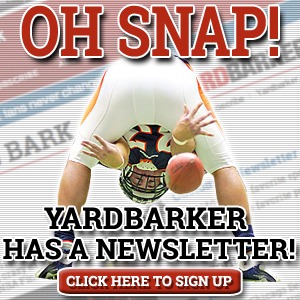 Latest Rumors
The Backyard

Today's Best Stuff

For Bloggers

Join the Yardbarker Network for more promotion, traffic, and money.

Company Info

Help

What is Yardbarker?

Yardbarker is the largest network of sports blogs and pro athlete blogs on the web. This site is the hub of the Yardbarker Network, where our editors and algorithms curate the best sports content from our network and beyond.