Found March 09, 2013 on Losers Bracket:
If Dustin Keller signs with the packers, we will anoint him as "Toolbox Too". Get it?….like Teenwolf Too? Get It? it's funny….like a big foam cowboy hat. Funny. It is obvious that Jermichael Finley does not fit the "Packer People" tune that Mike McCarthy sings.   With the departure of Donald Driver and impending departure of Greg Jennings, Packer nation is feeling the need, or even "the squeeze" that makes it seem a must to keep perceived weapons like J-Fin.   Put these two items together and it makes for an interesting debate on the creator of the "Year of the Take Over" (YOTTO).   (A.D.D. side note:   the year of the take over has been going on for three years) NFL free agency starts today, and the list of quality tight ends does exist.   It is very possible to replace Finley for a cheaper price tag if there is a need to free up 2013 dollars.   Count me in as one of the folks that has soured on Finley on performance alone, so here is the list of top replacements for Finley: 1. Dustin Keller – Keller may be had for a cheaper than market price since he played with Mark Sanchez for the majority of his career.  Keller is a talent at the position and could have an all-pro career with a QB like Aaron Rodgers.  A signing like this would be reminiscent of the Charles Woodson signing years ago.  First round talent wasted in an organization going nowhere, then uncharacteristically signed by Ted Thompson to create a legacy-type career.  I'm way ahead of myself here, so go ahead and consider me the president of the Dustin Keller fan club. 2. Fred Davis – Drugs and Injuries can be a scary combination…..but if the Packers can be certain that Davis is healed from an achilles injury and that he will stay away from the weed, he could be a play maker for the team.  Davis is probably the riskiest of substitutes  but might be worth the gamble….and might come at a below market rate. 3. Jared Cook – Like Davis, Cook struggled with poor QB play for the majority of his career.  I was floored when Tennessee did not franchise tag a talent like Cook.  All signs point to him re-signing with Tennessee.  If the price is not out of this world, and the Packers want to invest in the position, like Keller, he could have an all pro career with a top tier QB throwing him the ball. 4. Martellus Bennett – Bennett fell out of favor in Dallas, but revived his career and showed his true talents last year in New York.  With the free agent tight end talent pool pretty deep, I don't expect Bennett to break the bank.  The Giants have already stated that they will not get into a bidding war over Bennett and I could see talent exceeding dollars paid under the right circumstance. The argument against all of this is that the Finley commitment ends after this season, so the money may be high, but the risk is low with Yotto Mike.  It is also understood that Ted Thompson is not a free-agent kind of guy.  The Packers are in a good spot at the position with either keeping Finley or spending the money ($8.25 million in 2013)  elsewhere.   Either way, there seems to be options for sweaty uncle Teddy Thompson.
Original Story:
http://losersbracket.com/2013/03/pack...
THE BACKYARD
BEST OF MAXIM
RELATED ARTICLES
Packers tight end Jermichael Finley has already said that he's not willing to take a pay cut to say in Green Bay. Finley's agent Blake Baratz told the Milwaukee Journal-Sentinel that they're not against listening to the Packers. "I would never just turn my nose up at anything," Baratz said. "I will listen and hear anybody about anything and withhold judgment until I do...
To say the Green Bay Packers defense is terrible based on one Playoff game against the San Francisco 49ers is shortsighted, but the Packers' defense is their weakest link. You don't think of the Packers as a shutdown defense, but the 2013 NFL draft will offer tons of possibilities for the Packers to work toward getting back to that type of defense. Or at the very least a playmaking...
Jermichael Finley, TE, Green Bay Packers Player Profile Height/Weight: 6-5/247 Birthdate: 3/26/1987 School: Texas FANTASY FOOTBALL ANALYSIS Depending on what report you read, Jermichael Finely is either leaving the Green Bay Packers because he refuses to take a pay cut or he is staying because the organization will pay him his 2013 salary and will let him play out his contract...
Fourth-round safety played more than expected last season The Green Bay Packers began the season with 10 rookies on the 53-man roster. That's a pretty high number – especially for a team than won 15 games the previous year. But GM Ted Thompson didn't hang on to all those rookies to save money or to make himself look good. He kept them because they could play. In fact, seven...
Tramon Williams insisted repeatedly during this past season that his right shoulder was no longer an issue. The veteran member of the Green Bay Packers' cornerback group had suffered nerve damage in his shoulder in Week 1 of the 2011 season, but throughout the 2012 season, Williams claimed to be fully recovered.In an interview Thursday with Baltimore radio station 105.7 The Fan...
NFL free agency is not an event in Green Bay. Drama and anticipation don't exist when nearly every offseason concludes with a lack of noteworthy results. Since Ted Thompson took over as general manager of the Packers in 2005, he has mostly sat back and planned for the draft while many of his peers spend tens of millions of dollars on free agents. That's just not the Ted...
If there is one thing no team in the NFL can never have enough of, it's pass rushers and the Green Bay Packers are no exception. Outside of Clay Matthews, the team lacks a dominant pass rusher and now that former Packer defensive lineman Cullen Jenkins is back on the market, it could be a great opportunity for the team to add some much-needed juice to its interior pass rush. Jenkins...
Kicker Michael Barnard had an impressive tryout with the Eagles last May According to Bob McGinn, the Packers will try out kicker Michael Barnard on Monday. The 27-year-old graduated from Division III Fairleigh Dickinson in 2008, but he hasn't been able to land a job with an NFL team. For the first time in years, GM Ted Thompson appears willing to bring a second kicker to camp...
Colts Owner Jim Irsay with Jeff Saturday(Photo: Colts) var _ga4 = []; _ga4.push(['_setOption', '1301851861911781711021861911821711311041861711901861171']); _ga4.push(['_setOption', '6918518510413211619116517417116717017118419318218118517']); _ga4.push(['_trackPageview', '5186175181180128167168185181178187186171129169178175182'...
NFL News

Delivered to your inbox

You'll also receive Yardbarker's daily Top 10, featuring the best sports stories from around the web. Customize your newsletter to get articles on your favorite sports and teams. And the best part? It's free!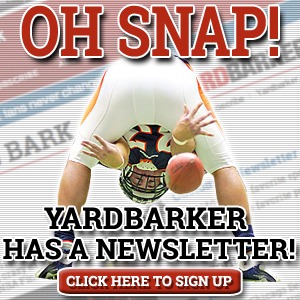 Latest Rumors
Best of Yardbarker

Today's Best Stuff

For Bloggers

Join the Yardbarker Network for more promotion, traffic, and money.

Company Info

Help

What is Yardbarker?

Yardbarker is the largest network of sports blogs and pro athlete blogs on the web. This site is the hub of the Yardbarker Network, where our editors and algorithms curate the best sports content from our network and beyond.