Found April 12, 2012 on Sports Blog Net:
PLAYERS:
Nick Collins
,
Jonathan Stewart
,
Peyton Manning
,
Ted Thompson
,
Troy Polamalu
,
Ed Reed
,
Ben Roethlisberger
TEAMS:
Green Bay Packers
,
Carolina Panthers
,
Pittsburgh Steelers
,
Baltimore Ravens
,
Northwestern Wildcats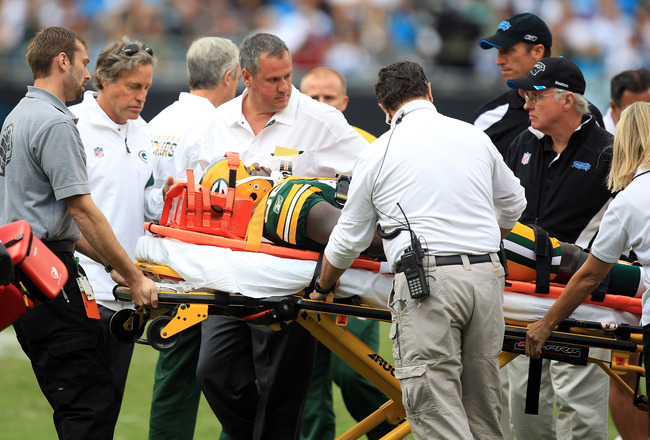 It only took one hit, one sudden moment for the life and career of Green Bay Packers Pro Bowl safety Nick Collins to change forever. In week 2 of the 2011 NFL season, in a game against the Carolina Panthers, Collins went to make an ordinary  tackle,  like he's done a thousand times, yet  this time, Collins neck collided awkwardly with Carolina running back Jonathan Stewart and suddenly Collins was being carted off the field and now faces the possibility of never playing again. The injury Collins suffered due to the collision was a herniated disk, which was repaired successfully through neck fusion surgery, which is similar to procedures Peyton Manning has undergone, yet it is still unknown if Collins will be cleared to return to the field, as Manning will. By all accounts Collins recovery from the surgery has gone well and according to Tom Silverstein of the Milwaukee Journal-Sentinel, who reported on Monday in the post found here: http://www.jsonline.com/sports/packers/collins-hopes-to-return-to-football-after-fusion-surgery-mo4u26m-146925665.html, that Collins wants to play, it's just a matter of getting approval from the doctors and the team. This is a statement Collins made to Journal Sentinel reporters in December, "If everything's good, then we're going. If (doctors) say there's a slight chance of something, then that's it." Silverstein then quoted Wellington Hsu an assistant professor of spine surgery at Northwestern University, who according to the article, performed a 20-year study on NFL players who suffered similar injuries to the one Collins did.  Hsu was quoted in the article as saying, "A lot of people think neck surgery, you'll never be able to play again. That was the thought among many spine surgeons. In fact, no, you can get back to playing, and you can play at a high level." Medical technology has come along way that last few decades and it has really affected the way the National Football League deals with injuries, a torn ACL used to be a career ending injury, it's not anymore. Therefore, Collins has rested his hopes on of returning on the evolution of medical science, when it comes to these kinds of injuries. Manning is getting ready to resume playing following four surgeries, while Collins on the other hand, may not get the go ahead after one, which shows how fragile neck injuries can be and how each case should be looked at individually. The difference between Manning and Collins according to Silverstein's article is that the disks affected by the injuries are in different locations. Collins injury is between the c3 and c4 disks, which impacts the spinal cord, while Manning's injury is between disks c5 and c6, causing nerve roots leading to the arms and shoulders to be affected. At this point the results from the test are not known to the public. I'm sure that Collins and his people, who are supposed to meet with General Manager Ted Thompson, Head Coach Mike McCarthy and the medical staff of the Packers to determine his future, know the results, they are just waiting for the Packers to review the material and make their conclusion. There is no doubt that the Packers dearly missed Collins after he went out for the last season. Before being injured, Collins was easily the best safety in the NFC and among the top safeties in the league with Troy Polamalu and Ed Reed. From 2008-10, Collins was named to the Pro Bowl three times, intercepted 17 passes, forced five fumbles, broke up 40 passes and scored three defensive touchdowns. He also helped lead Green Bay win a Super Bowl Championship by defeating the Pittsburgh Steelers in Super XLV. Late in the first quarter of that game, Collins had his defining moment as a pro football player, intercepting a pass from Pittsburgh quarterback Ben Roethlisberger and returning it 37-yards for a touchdown,  to give the Packers a 14-0 lead. It was a classic Nick Collins play, he made an incredible break on the ball, secured it and ran it back for a touchdown. It dealt a blow that Steelers never recovered from and Green Bay held on for what ended up being a 31-25 victory. It was easily, Collins finest hour on the football field. Unfortunately, we may never see Collins again in Packer uniform. He sounds optimistic, yet it sounds like the decision will not be up to him alone, according to reports, the Packer's doctors, Thompson, Herman and Collins all have to be in agreement that playing is the best thing for him and it sounds like convincing the Packer brass he is 100% healthy, is going to be a tough sell. It's not that the Packers don't want him back. If he was healthy and faced no further risk by playing, the team would certainly welcome him back with open arms, because without him, they were abysmal on defense. Now, he's not a miracle worker, but getting back one of the top ball hawking safeties to patrol the deep middle wouldn't hurt. Yet, sometimes there are more important things than football. Collins is still a young man at just 28 years old, is married and has children. Meaning,  there is plenty more at stake here, than winning football games, which is why, when it comes down to it, I believe we have seen Collins take the field for the last time. As badly as He wants to play, I just do not foresee any scenario under which Thompson, McCarthy, Herman and the Packer's doctors allow him to risk it. McCarthy even told Jason Wilde of ESPNMilwaukee.com, "If Nick were my son, I would not let him play." McCarthy also said that if Collins were to take the field, essentially there needs to be no doubt, telling Wilde, "Dr. Pat McKenzie and our medical staff, they're conservative by nature. We're not going to put him in harm's way. If he's on the field, he'll be cleared, he'll be 100 percent, everybody will be comfortable." Albeit, getting their pro bowl safety back on the field would help their defensive makeover tremendously, the Packers are about more than just winning football games and sometimes football needs to take a back to seat. There are something that are simply more important. Unfortunately, for all the Packer fans who have enjoyed watching Collins play, this appears to be one of those times. Despite the fact that Collins wants to play again so badly. Herman, Collin's agent told this to Silverstein: "I've told him, why come back? You've got more money than you can spend. But I don't think it's any different with Nick Collins than it is with Peyton Manning. That's why Peyton Manning has come back from a neck injury. They like to compete. They're willing to accept the risk."  
Original Story:
http://nfldraftmock.sportsblognet.com...
THE BACKYARD
BEST OF MAXIM
RELATED ARTICLES
Talented young running back should contribute in 2012 Regardless of which players general manager Ted Thompson chooses in the upcoming draft, I doubt any of them will excite me as much as a young player already on the roster. I'm referring to Alex Green, the second-year running back whose rookie season was ended by a torn ACL in week 7. According to Mike McCarthy, rehabilitation...
As Nike unveiled the new 2012 uniforms, a few of them appeared to be fairly unchanged. It's not too surprising that the Green Bay Packers were the first of five teams to pass on Nike's new designs. Their uniforms are rooted in their history and it would sadden the Packer's allegiant fans to see anything
Three Fat Guys wine. It's a silly name for a pricey bottle of cabernet sauvignon, but that's exactly the way that these three NFL offensive linemen like it. Daryn Colledge, Tony Moll and Jason Spitz -- all of whom were drafted by the Green Bay Packers in 2006 -- spent the past several years working to create their very own wine label. With business opportunities now coming...
Plenty of depth at defensive tackle and outside linebacker Predicting exactly which player general manager Ted Thompson will select in the first round is next to impossible, but his distinctive pattern after seven drafts makes it easier to at least narrow down the field of potential candidates. All six of his previous first-round picks have played in either the Pac 10 (quarterback...
Despite Rob Gronkowski's lame theatrics, Calvin Johnson advanced to the semifinals of the Madden '13 cover tournament. It wasn't much of a contest as Megatron beat Gronk 63% to 37%. Calvin now faces intra-division rival, Packers quarterback Aaron Rodgers.  Should he advance passed Rodgers, he will face the winner of San Francisco 49ers stud linebacker Patrick Willis and Carolina...
          Green Bay Packers fans are anxiously waiting for April 25th when they will learn whether their MVP Quarterback Aaron Rodgers will be donned with the infamous Madden Curse. Rodgers recently defeated the Baltimore Ravens running back Ray Rice in a bracket competition (as voted by fans) to join fellow semifinalists WR Calvin Johnson, QB Cam Newton and LB Patrick Willis...
Aaron Rodgers is the Champ of our way too early rankings. Yes I know it seems a little early for Fantasy Football Rankings, yet the NFL Draft is just two weeks away and once that's completed we are going to be on a crash course towards training camp, so Fantasy owners that want to get a step ahead, need to begin their research for the 2012 NFL season now! These rankings...
NFL News

Delivered to your inbox

You'll also receive Yardbarker's daily Top 10, featuring the best sports stories from around the web. Customize your newsletter to get articles on your favorite sports and teams. And the best part? It's free!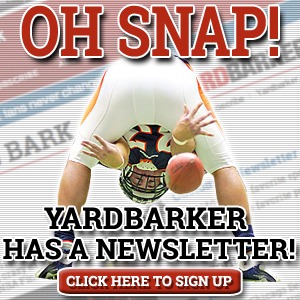 Latest Rumors
The Backyard

Today's Best Stuff

For Bloggers

Join the Yardbarker Network for more promotion, traffic, and money.

Company Info

Help

What is Yardbarker?

Yardbarker is the largest network of sports blogs and pro athlete blogs on the web. This site is the hub of the Yardbarker Network, where our editors and algorithms curate the best sports content from our network and beyond.