Found December 22, 2012 on Packer Update:
PLAYERS:
Charles Woodson
,
Aaron Rodgers
,
Clay Matthews
,
B.J. Raji
,
Ryan Pickett
,
C.J. Wilson
,
Brad Jones
,
Sam Shields
,
Morgan Burnett
,
Ted Thompson
,
Jeff Saturday
,
Jermichael Finley
,
Michael Finley
,
Andrew Quarless
,
Antonio Gates
,
Martellus Bennett
,
A.J. Hawk
,
Mason Crosby
,
John Kuhn
,
Desmond Bishop
,
D.J. Smith
TEAMS:
Green Bay Packers
,
San Diego Chargers
,
New York Giants
,
Ohio State Buckeyes
Defensive back Charles Woodson's great career in Green Bay might be coming to an end The Green Bay Packers will be spending a lot of money in the next 15 months. A lot. That's because the organization will need to extend the contracts of two of the best players in the National Football League (Aaron Rodgers and Clay Matthews) – not to mention re-sign a bunch of other key contributors (i.e. B.J. Raji, Ryan Pickett, C.J. Wilson, Brad Jones, James "TD" Jones, Sam Shields and Morgan Burnett). Considering that the salary cap isn't expected to go up very much in the next couple of years, it's fair to question where the Packers will find the money to keep all of these good players. Fortunately, there is an answer. By cutting the cord to a group of talented but very replaceable veterans, general manager Ted Thompson should be able to extend or re-sign the vast majority of the nine players mentioned above. Here are the veteran players I'd be willing to sacrifice in the coming offseason. The first number in the parentheses is their scheduled base salary for 2013 and the second number is their projected cap hit for 2013): JEFF SATURDAY ($1.35M/$3.75M): Even before the veteran center was benched on Friday, he had no chance of returning for a second season in Green Bay. Thompson probably expected the former All-Pro to play better, but he wasn't a disaster. His shotgun snaps were flawless and he held up OK in pass protection. Unfortunately, his lack of size and athletic ability made him a major liability in the run game. CHARLES WOODSON ($6.5M/$10M): I opined in March that the Packers should release the veteran defensive back, so I obviously feel the same way today. At 37, the future Hall of Famer is no longer able to cover quick receivers without holding them and he's lost the explosiveness that once made him a feared blitzer. Now what the defense is getting for $6.5 million is a great leader who can bait a young QB into a mistake from time to time. To be honest, I'm not thrilled about Woodson returning this season. JERMICHAEL FINLEY ($4.45M/$8.75M): There isn't a suitable replacement on the current roster, but there are a number of good tight ends available in the upcoming draft. And besides, the Packers won a Super Bowl with Andrew Quarless starting at the position. While Finley is playing better of late, the comparisons to Tony Gonzalez and Antonio Gates ended a long time ago. Nowadays, a more suitable comparison would be to Martellus Bennett of the Giants – a nice player who's being paid $2.5M this season. A.J. HAWK ($4.9M/$7.05M): The former Ohio State star has bounced back from arguably the worst season of his career, but that doesn't mean he's worth over $5 million. For that type of money, you would expect a starting inside linebacker to make some impact plays. Unfortunately, Hawk doesn't do impact plays – never has and never will. He is, however, extremely durable and fairly consistent. And while those are two admirable traits, they simply aren't worth the type of money he's set to make in 2013. MASON CROSBY ($2.4M/$3.15M): Based on how the Packers have stood behind the slumping kicker, I'm almost expecting them to give him a raise for 2013. After all, he must have pictures of coach Mike McCarthy, right? Seriously, Crosby needs to go in the offseason. Even before this nightmarish season, his career field goal percentage of 79.3 was 3 points below the league average for the past five years. And be honest, when was the last time you felt confident watching Crosby line up to attempt a big kick? JOHN KUHN ($1.8M/$2.6M): In this case, the money's probably not the biggest issue. I just think it's time for the Packers to upgrade at the fullback position. Kuhn, who will turn 31 next summer, is clearly wearing down. That's obvious both on offense and on special teams. By finding the right replacement, the Packers can get better, younger and cheaper all at the same time. That's the trifecta every GM is looking for. DESMOND BISHOP ($3.5M/$5M): While I don't expect the hard-hitting linebacker to be released, I'm including him on this list for four reasons – his age, his salary, his health and his backups. Bishop is pushing 30, he's set to earn over $4 million (including bonuses), he's coming off a serious hamstring injury and he was adequately replaced by D.J. Smith and then by Brad Jones. Again, I fully expect the former Cal star to be back next season. I'm just saying that he could be sacrificed if money got really tight.
Original Story:
http://packerupdate.net/?p=23472
THE BACKYARD
BEST OF MAXIM
RELATED ARTICLES
The Green Bay Packers have decided to bench veteran center Jeff Saturday in favor of Evan Dietrich-Smith, which shouldn't be a surprise since they're a team that's always looking for younger players to make an impact. At the podium Friday, coach Mike McCarthy said Evan Dietrich-Smith would start at center against the Tennessee Titans. And moments later at his locker, five-time...
GREEN BAY, Wis. -- Defensive coordinator Dom Capers made it sound like injured Packers defensive back Charles Woodson would play in the team's regular-season finale next weekend. Woodson wasn't so sure about that.But one thing is certain: Woodson, an eight-time Pro Bowl selection, will miss his eighth consecutive game Sunday with a collarbone injury."I don't feel...
GREEN BAY, Wis. Green Bay Packers quarterback Aaron Rodgers wants Randall Cobb off special teams. And soon.Cobb, Green Bay's leading receiver this season, was injured midway through the third quarter after fielding a punt during the Packers' 55-7 rout of the Tennessee Titans on Sunday afternoon.After Cobb injured his right ankle, Green Bay's training staff assisted him...
Green Bay Packers head coach Mike McCarthy thinks that RB James Starks will be ready for the postseason, accordng to Tyler Dunne of the Milwaukee Journal-Sentinel. "That's what the medical staff is telling me," McCarthy said. "Starks' situation is to hopefully get him back for the playoffs. That was a decision that was made a few weeks ago." Starks has a bone bruise...
GREEN BAY, Wis. -- It was almost a shutout. It was the most points scored by the Packers since 1983. It was nearly the largest margin of victory for the franchise ever. This was exactly what Green Bay needed with the playoffs approaching.Handing out grades following the Packers' 55-7 win over the Titans:Passing Offense: AQuarterback Aaron Rodgers had good protection in the pocket...
Does center Jeff Saturday regret not following Peyton Manning to Denver now that the Broncos are riding high and he just got benched?  The veteran Pro Bowl center was given the hook on Friday to make way for the emergence of Evan Dietrich-Smith  at that position. Saturday comments on the move came across as diplomatic yet disappointed. Saturday is not the only Packers veteran...
Charles Woodson will miss his ninth consecutive game on Sunday but vows he'll be ready, whether it's next week against Minnesota or the playoffs. That and more as the Packers get ready for Tennessee.
The Packers are in the playoffs, they just need some help to get a better slot. The season is coming to a close and I'm sitting at 142-82.  That's over .600 but I can do better.   Here's a look at week 16 Atlanta at Detroit - The Falcons destroyed the Giants last week and silenced a few critics that say they can't win the big game.  I still want to...
The Week 16 matchup is the fantasy football championship for many league owners, meaning that the entire season all comes down to one single weekend. Many leagues have more than just pride at stake, with a rather large prize payout going to the winner. With that being said, can you feel comfortable going with an old school nostalgic feeling and start Green Bay Packers running back...
The Green Bay Packers will hand the ball off to a familiar face in the Week 16 matchup against the Tennessee Titans, with Ryan Grant being declared as the team's starting running back with Alex Green failing to receive medical clearance to return to action. It was expected that Green would be relegated to the sidelines as a spectator after his concussion suffered from last week...
GREEN BAY, Wis. -- It was the type of dominant performance that showed just how good the Packers can be. A 55-7 win over the Tennessee Titans on Sunday afternoon displayed a balanced offense that couldnt be stopped and an aggressive defense that controlled the game. It was the most points scored by the franchise since 1983. Had it not been for a Tennessee touchdown in the final...
Hot News for QB Green Bay Packers
NFL News

Delivered to your inbox

You'll also receive Yardbarker's daily Top 10, featuring the best sports stories from around the web. Customize your newsletter to get articles on your favorite sports and teams. And the best part? It's free!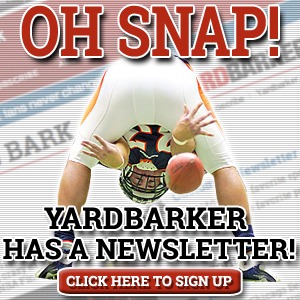 Latest Rumors
The Backyard

Today's Best Stuff

For Bloggers

Join the Yardbarker Network for more promotion, traffic, and money.

Company Info

Help

What is Yardbarker?

Yardbarker is the largest network of sports blogs and pro athlete blogs on the web. This site is the hub of the Yardbarker Network, where our editors and algorithms curate the best sports content from our network and beyond.