Found May 15, 2012 on Fox Sports Wisconsin:
GREEN BAY, Wis. -- Don't call Nick Perry the savior of the Green Bay Packers' defense. Dismissing that notion during rookie minicamp, the first-round pick out of USC does not want to approach his upcoming first NFL season with such high expectations. But even if Perry did want to put that type of pressure on himself, there would be a lot of potential obstacles standing in his way from saving a defense that finished 27th in the NFL in sacks last season. Perry will first have to learn a new position, outside linebacker, a change that was far from his idea. "I know I've got to make the transition," Perry said. "Whatever I can do to help the team, that's what I'm here for." During the Combine two months before the draft, Perry told reporters he would prefer to go to a team that played a 4-3 defense and would use him at defensive end, the position he played in college. But Perry would up being selected by the Packers, who are a strictly a 3-4 team. "It's here now; I can't control it," Perry said the night he was drafted of having to make the switch. At 271 pounds, Perry is bigger than most outside linebackers and 15 pounds heavier than his new pass-rushing bookend, Clay Matthews. But with Perry's terrific performances during the Combine, including a 4.58-second 40-yard dash, a 38 -inch vertical and 35 bench-press repetitions of 225 pounds, he and the entire Packers' organization are not worried about that aspect as he adjusts to a very athletically demanding position. "Weight isn't really a concern," Perry said. "Obviously, I have great athleticism, and I guess they want to use that." For Green Bay to get back to the pass-rushing prowess it had in 2010 on the way to a Super Bowl title, Perry will need to need to provide consistent pressure on the side opposite Matthews. In 2011, while receiving little help from the rest of the Packers' defense, Matthews recorded only six sacks, just one year removed from having 13.5 and finishing as the runner-up for NFL Defensive Player of the Year. "Right now, I know that we need help, obviously, on defense," Perry said. "Obviously, they see something in me that I maybe can help them with." The adjustment for Perry to linebacker may create a slight position change for Matthews, too. During his first weekend with the Packers, Perry played only outside linebacker on the left side, which was the spot most frequently occupied by Matthews in recent seasons. "It's a starting point," coach Mike McCarthy said for Perry lining up on the left. "That will definitely be the starting point for him." Perry conceded he wasn't sure if that will be his permanent position. "They gave me a spot to play, and that's where I'm going to play it," Perry added. "Hopefully all goes well. I may play the left side." With several months left to figure all of the specifics out, McCarthy is optimistic everything will fall into place. "I really think the transition will be seamless," McCarthy said. The night Perry was drafted, defensive coordinator Dom Capers said athletic ability and football instincts would be the two most important factors in Perry's position change. "A football player, you can play him wherever and he normally responds," Capers said. "We'll see where Nick is in that way. Nick's a bit bigger, but his times and testing and all that stuff was right there with any of them, really." Perry did drop back in coverage on occasion in college, but it wasn't one of the better aspects of his game. "I don't think the power part and the physical part of it will be any problem for (Perry)," Capers said. "His greatest learning will probably come in the coverage element and what we ask him to do there. We'll ask him to do more of that than he's done. But that isn't uncommon." Coverage, though, isn't nearly as important for Perry as being a solid tag-team partner for Matthews as a pass rusher, and that's one area in which Capers isn't concerned. "We think he's a guy who has the speed to come off the corner and certainly has the size and the power where he can convert that from speed into power in terms of rushing the passer," Capers said. "We think he'll be able to make the transition for us." So, there are certainly plenty of roadblocks standing between Perry and anything resembling "defensive savior" status early in his career. But, if he fully embraces the position change -- something he does not appear to have done quite yet -- Perry has the physical tools to be an instant difference-maker on a defense that is desperately looking for one. Follow Paul Imig on Twitter.
Original Story:
http://www.foxsportswisconsin.com/05/...
THE BACKYARD
BEST OF MAXIM
RELATED ARTICLES
Six months into a six-year prison sentence, former Green Bay Packers defensive lineman Johnny Jolly has been released from a Texasprison.Jolly applied for -- and was granted shock probation, according to ABC 13-TV in Houston, Texas. Tuesdays ruling allowed Jolly to be released early on probation after experiencing the shock or trauma of being in jail. Jolly, 29, was eligible for...
GREEN BAY, Wis. -- Six months before Jerel Worthy was drafted by the Green Bay Packers, his best friend had a feeling that it was going to happen. Call it intuition, a good guess or just wishful thinking, but in the second round of the draft, Worthy officially became the newest member of Green Bays defense. "He's a huge Packers fan," Worthy said of his friend Adam...
GREEN BAY, Wis. -- Donald Driver has advanced to the final of "Dancing with the Stars."The 37-year-old Green Bay Packers wide receiver is now one of three remaining contestants with an opportunity to win it all in next week's finale.With television host Maria Menounos eliminated Tuesday night, it's down to Driver, singer Katherine Jenkins and actor William Levy...
I'd like to offer a complete rundown of all the happenings at this past weekend's Green Bay Packers rookie orientation camp. But, alas (when was the last time you saw that word in a blog that wasn't dated from the Middle Ages?! Wait, did they have blogs then...?), I find that the best summary around is that offered by -- not surprisingly -- the Green Bay Press Gazette...
It seems that everyone is falling on hard times these days.  According to a report in USA Today, a Green Bay Packers' Super Bowl XLV Ring was pawned at an Grand Shute, Wisconsin pawn shop earlier this week. Before you go getting all worked up about yet another NFL player losing their fortune and resorting [...]
Round 1 1)   Aaron Rodgers- Rodgers should without question be not only the first QB selected in the draft, but the first player overall selected. Last year, Rodgers kept fantasy owners in every game by averaging a gaudy 25.6 fantasy points per game. No matter what other players owners surround Rodgers with, they can expect to win every week. 2)   Arian Foster- After a slow start...
Hot News for DT Johnny Jolly
Jordy Nelson and Charlie Peprah reflect on last season, and the seven VIPs look forward to meeting the fans at tailgate parties in La Crosse, Madison, Kenosha, Cedarburg/Grafton and Sturgeon Bay and other spots in between.
Packers News

Delivered to your inbox

You'll also receive Yardbarker's daily Top 10, featuring the best sports stories from around the web. Customize your newsletter to get articles on your favorite sports and teams. And the best part? It's free!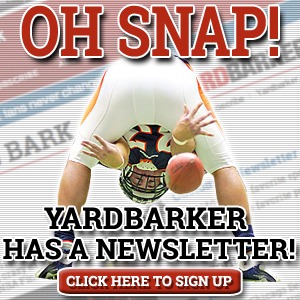 Latest Rumors
The Backyard

Today's Best Stuff

For Bloggers

Join the Yardbarker Network for more promotion, traffic, and money.

Company Info

Help

What is Yardbarker?

Yardbarker is the largest network of sports blogs and pro athlete blogs on the web. This site is the hub of the Yardbarker Network, where our editors and algorithms curate the best sports content from our network and beyond.