Found August 04, 2012 on Fox Sports Wisconsin:
PLAYERS:
Aaron Rodgers
,
Graham Harrell
,
B.J. Raji
,
Clay Matthews
,
Tommie Draheim
,
Don Barclay
,
Diondre Borel
,
Tom Crabtree
,
Dezman Moses
,
Erik Walden
,
Andrew Datko
,
Nick Perry
,
Marshall Newhouse
,
Derek Sherrod
,
Bryan Bulaga
,
Herb Taylor
,
James Starks
TEAMS:
Green Bay Packers
GREEN BAY, Wis. -- It was a glorified practice, but the Packers family night scrimmage gave a glimpse into the progress that the team has made in the past eight days since Green Bay opened training camp.In the 90-minute session in front of 55,605 fans at Lambeau Field, the Packers went through five unique drives, including no-huddle and two-minute situations. The first-team offense never went up against the first-team defense, so there were naturally some mismatches when Aaron Rodgers and company were paired up with a group of backups.But with Green Bay's first preseason game just six days after this, here are five things we learned from their Friday night scrimmage:1. Graham Harrell didn't have much of a chance - Harrell struggled throughout, but the blame can't fall entirely on his right shoulder. As Harrell lined up over center, he had elite defensive players like B.J. Raji and Clay Matthews staring directly at him with inexperienced backup offensive linemen like Tommie Draheim and Don Barclay trying their best at stopping the pass rush.However, Harrell did have the advantage of wearing the magical red jersey, which prevents the defense from doing much more than laying a finger on him in an effort to keep quarterbacks healthy. Given that circumstance, Harrell needed to perform better than he did in this scrimmage. He had too many missed throws, even when he had some time in the pocket. As pressure started to come, Harrell looked shaky and unsure of how to properly handle it. "I think there were some really good things we did as a second unit, and some tough things, Harrell said. Going against the first defense, I think is a great opportunity for us as a second unit to try to get better and go against the best we have and see what we can do.We moved the ball well at times and did some really good things, but we weren't consistent and sputtered out at times. So there are going to be a lot of things that we watch on film and see if we can do better."2. Pre-snap penalties becoming a theme - For two consecutive nights, the Packers have had issues with false starts and offsides penalties. It started Thursday when the team had its first night practice and it continued during the scrimmage. Wide receiver Diondre Borel, offensive lineman Don Barclay and tight end Tom Crabtree were three of the guilty parties on false starts. Rodgers has become a master of drawing the defense offsides, and with him going against the second-string it shouldn't be a big surprise that he got several players to be jumpy at the line of scrimmage.Considering that Green Bay tied for the fewest offensive penalties in the NFL last season, this is not an encouraging start for Coach Mike McCarthy's team."Obviously we're not happy about that, particularly when it's back-to-back nights," McCarthy said. "We had an issue with pre-snap penalties last night. We had 14 last night, seven today, so we've obviously got to get that right. This is the process of training camp. My message to the team was let's get better and improve."3. Dezman Moses is for real - With no pads on during minicamp, Moses was a standout performer. As an undrafted rookie free agent signing, Moses' real test was whether he could sustain it once the hitting began. Moses' performance in the scrimmage was yet another indication that he is, in fact, the real deal. Once Matthews exited the scrimmage for rest, it was Moses who was given the majority of the snaps in that spot. While Erik Walden was also given a chance, Moses took yet another step forward in making it more and more apparent that he should make the final roster this season.Moses ran over rookie offensive tackle Andrew Datko on a couple plays and showed off his tremendous pass-rushing talent. It is very possible that Moses is already the third-best outside linebacker on the roster behind Matthews and first-round pick Nick Perry.4. Marshall Newhouse left with an undisclosed injury - Late in the scrimmage, Newhouse, the Packers' starting left tackle, had to be taken to the locker room by the medical staff. Though McCarthy did not have any information on what happened to Newhouse immediately afterward, even a minor setback could be significant in his development.With 2011 first-round pick Derek Sherrod still recovering from the broken leg he suffered last season, an injury to Newhouse leaves very few options to replace him. McCarthy does not want to move Bryan Bulaga away from right tackle, which would leave 2011 undrafted lineman Herb Taylor as the likely candidate to step in and protect Rodgers' blindside."I think right now we really need to see who that seven, eight, nine lineman are going to be," Rodgers said. "Herb is the only guy I think who's played in an NFL game over there. So we've got to find out who those backups are going to be and get them ready if anything happens."5. An 11-man Lambeau Leap is an unsportsmanlike conduct penalty ... sometimes - On the first drive of the scrimmage, James Starks ran into the end zone from four yards out for a touchdown. Then, just as they had rehearsed, Rodgers got the entire offense to participate in a Lambeau Leap. Unfortunately, the replacement referees didn't like it and flagged them for a 15-yard unsportsmanlike conduct penalty.Later, however, when the first-team offense scored again in the opposite end zone and did the Lambeau Leap as a group, there was no penalty."That was kind of our idea there, we wanted to get that in," Rodgers said. "Obviously during the season that's a 5,000 fine for each of us that jumps in the stands, so we might as well get it in before the real games start."Asked about the penalty, Rodgers said, "Yeah, that's debatable though. I talked to them. They weren't quite sure of that or not."Follow Paul Imig on Twitter
Original Story:
http://www.foxsportswisconsin.com/08/...
THE BACKYARD
BEST OF MAXIM
RELATED ARTICLES
Aaron Rodgers was sharp in limited work and the NFL's replacement officials weren't shy about making calls - even unpopular ones - in the Green Bay Packers' ''Family Night'' scrimmage on Friday. A crowd of 55,605 took in the sights at Lambeau Field, many of them getting their first look at the stadium's major ongoing construction project in the south...
GREEN BAY, Wis. -- It hasn't been an easy transition for Packers rookie Nick Perry to adjust to outside linebacker in the NFL, and the former college defensive end isn't afraid to admit it.But after a full offseason of work at his new position and one week of training camp, Perry, Green Bay's first-round pick, feels like he's starting to get the hang of it."It...
Feel good and not so feel good news out of Packer training camp. On July 31 the Packers teamed up with police and community agencies to give away 500 bike helmets to kids. http://wearegreenbay.com/fulltext/?nxd_id=145572 And it was announced that Linebacker Erik Walden is suspended without pay for one game for violating the personal conduct policy after reaching a deferred judgment...
GREEN BAY, Wis. -- With the Packers' first preseason game just one week away, quarterback Aaron Rodgers on Thursday held his weekly press conference with the media. The NFL's reigning Most Valuable Player talked about watching players he's gotten to know get cut from the team, which wide receivers have impressed him the most and more.Five question-and-answer highlights...
The agent for Tim Masthay says the Green Bay Packers punter has agreed to a contract extension with the team. Agent Jonathan Rabinowitz says the deal is for four years. Multiple media outlets reported the move Friday morning. The team has not confirmed the deal. Masthay originally signed with Indianapolis as an undrafted free agent out of Kentucky in 2009, but was waived in August...
GREEN BAY, Wis. (AP) -- Don't try to tell Green Bay Packers offensive line coach James Campen that his starting five basically was determined before training camp started. Fearing a sense of complacency, Campen doesn't want anyone thinking their job is locked up. "You know, it's funny," Campen said. "Stranger things have happened. Guys can emerge in the...
GREEN BAY, Wis. -- Earning a trip to his first Pro Bowl last season was a meaningful accomplishment for Packers nose tackle B.J. Raji. But while in Hawaii for the game, Raji picked up something that was even more important to his budding career than that recognition.Thanks to Julius Peppers, a seven-time Pro Bowl defensive end from Green Bay's longest-standing division rival...
This ain't Dancing With The Stars Juan… 2011 Recap:  Cobb started the season with a bang as he took back a kickoff for 108 yards and scored on a 32 yard TD.  It was his best work of the season though.  He was buried on the depth chart and never assumed a regular role in the offense as he finished with only 24/369/1 on only 30 targets.  The good news is he had an exceptional...
Who said Donald Driver is over the hill? OK, maybe we said that at one point during the offseason. However, he's had an impressive start to training camp and figures to turn this season into something more than a farewell tour while putting up numbers better than some Hall of Famers.
QB's like Aaron Rodgers are becoming more and more important in Fantasy Football. The landscape of fantasy football is drastically changing. Remember when there was a time it was a crime not to take a running back in the first round of your fantasy football draft? Oh how times have changed. With all the platoon running systems in the league and the amount of injuries we...
It's almost unfair at times. It's third-and-11. There's nobody open, the 2.5-second clock has gone off and Aaron Rodgers is running out of time. Then — zing! We take two slices out of Wednesday's practice to examine Rodgers' greatness. Plus, the rookie spotlight falls on Jerel Worthy.
Packers News

Delivered to your inbox

You'll also receive Yardbarker's daily Top 10, featuring the best sports stories from around the web. Customize your newsletter to get articles on your favorite sports and teams. And the best part? It's free!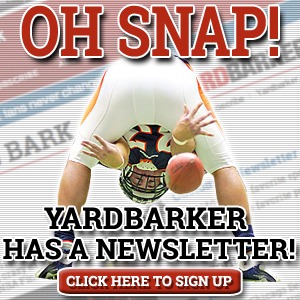 Latest Rumors
The Backyard

Today's Best Stuff

For Bloggers

Join the Yardbarker Network for more promotion, traffic, and money.

Company Info

Help

What is Yardbarker?

Yardbarker is the largest network of sports blogs and pro athlete blogs on the web. This site is the hub of the Yardbarker Network, where our editors and algorithms curate the best sports content from our network and beyond.