Found January 22, 2012 on Packer Update:
Philbin was the offensive coordinator since 2007
With Joe Philbin off to Miami to be the team's eighth head coach in the past 12 years, Mike McCarthy is left with a gaping hole on his staff. So in what has turned out to be a longer offseason than Packers fans had anticipated, how to replace Philbin figures to be the first of many big decisions facing McCarthy and general manager Ted Thompson in the coming months.
Promoting quarterbacks coach Tom Clements would seem to be the most logical move, but is it really the best one? Clements is outstanding at what he's currently doing, and truth be told, his role is more important to this particular team than that of the offensive coordinator. Not to take anything away from Philbin, but this offense is McCarthy's baby. He's the one who brought it to Green Bay; he's the one who taught it to his position coaches; and he's the one who developed it into the second-highest scoring unit in league history. Philbin obviously played a major role behind the scenes, but going into year 7, this offense would be productive with Tom Rossley as its coordinator (I'm exaggerating, but you get the point).
If I were McCarthy, I'd do whatever I could to keep Clements around as the quarterbacks coach. If that means giving him a significant raise and a fancy title (assistant head coach), so be it. Aaron Rodgers has gotten better every year under Clements' tutelage, and even after one of the greatest individual seasons in league history, the 28-year-old still has room to improve. Who knows how Rodgers would get along with a new coach. Would he respect that person as much as he does Clements? Would he be as willing to listen to a new voice on the practice field? Would he trust that person as much during the heat of a game? Maybe, maybe not.
And what about grooming a replacement for unrestricted free agent Matt Flynn, who will almost certainly be gone by the middle of March? If I'm McCarthy, I would want Clements working every day with Graham Harrell, Nick Hill and whatever other young player Thompson brings in between now and the start of OTAs. And while Philbin has received a lot of credit in recent weeks for the development of Rodgers and Flynn, that was overstating things a bit. Sure the coordinator is involved with the quarterbacks and certainly deserves kudos when they do well, but that person is more of an overseer than a hands-on teacher. And when it comes to quarterbacks, nobody is more important than the person who spends every waking moment encouraging, criticizing, cajoling and educating them.
So what would I do? I'd try my best to keep Clements working exclusively with the quarterbacks. If that happens, I'd then make tight ends coach Ben McAdoo the offensive coordinator. Wide receivers coach Edgar Bennett could also do the job, but McAdoo has been with McCarthy longer and he knows the offense better than any other assistant coach. Plus, he's a terrific teacher and a good motivator. Working every day with Jermichael Finley and Andrew Quarless can't be easy, but he's managed to get both young players to grow up significantly in the past few seasons. Anyone who watched those two players practice when they first entered the league and then watched them last summer would know what I'm talking about.
If there's no way to keep Clements other than to make him the offensive coordinator, then I'd reluctantly give him the job. It's better to have him around – even if he's not working specifically with the quarterbacks. I'd then replace him with either McAdoo or Alex Van Pelt. I wrote about the former in the preceding paragraph and the latter a few weeks ago. And while either man would bring a lot to the table, neither has the experience nor track record of Clements when it comes to working with quarterbacks.
Prior to this offseason, McCarthy had been incredibly fortunate with his offensive coaching staff. Despite plenty of wins and plenty of points, only one assistant (Jimmy Robinson) had left since 2007. That's unprecedented continuity for a group of coaches who were part of a team that went to two NFC championship games and won a Super Bowl between 2007 to 2010. It was only a matter of time before other teams began picking from McCarthy's prized fruit. There's no doubt in my mind that McCarthy will find quality coaches to replace the ones who leave – and that includes Clements. But if he doesn't have to replace the best quarterbacks coach in the league, he shouldn't. That's how good Clements is.
Original Story:
http://packerupdate.net/?p=16156
THE BACKYARD
BEST OF MAXIM
RELATED ARTICLES
GREEN BAY, Wis. -- Quarterback Matt Flynn could be given the Packers franchise tag this offseason. He may just be allowed to walk away in free agency. Whatever the case is, Flynn will not be back in Green Bay next season. Flynn was just too good in his record-breaking Week 17 performance to be a backup quarterback any longer. Flynn's teammates don't even expect him back...
With Ryan Grant, Donald Driver, Jermichael Finley, Scott Wells, and Matt Flynn all free agents and the Green Bay Packers needing some drastic upgrades on the defensive side of the football, Pack general manager Ted Thompson has some major decisions to make this off-season. Of the aforementioned names, Finley's is the most intriguing.  He is one of the most dynamic tight ends...
The Miami Dolphins have hooked former Green Bay Packers' Offensive Coordinator Joe Philbin as their new Head Coach. The Dolphins now have an offensive minded coach as they once again look to find that Franchise Quarterback that as been sorely missed since Dan Marino retired in 1999. The Dolphins have had eight different quarterbacks starting for them since Marino retired. Joe Philbin...
Packers coach Mike McCarthy tackles several subjects during a conference call with Dolphins beat reporters. Is Joe Philbin ready to become a head coach? Is Matt Flynn ready to be a starting quarterback?
Matt Flynn, the backup quarterback at Green Bay, has been floated as a potential starter next season for the Seahawks, who are looking to strengthen the position. But with today's reports that Joe Philbin, who was the Packers' offensive coordinator, will be head coach of the Miami Dolphins, the possibility Flynn could end up in Seattle is up in the air. Miami, which finished...
Aaron Rodgers won the 2011 NFC North Positive Impact Factor (what's this?) standings by a landslide. That's not really surprising given the number he put up was outstanding. Here's the 2011 NFC North Positive Impact Factor Standings (PIF with sacks counted as rushes like the NCAA in brackets): 1. Aaron Rodgers, Green Bay Packers, 65.6 (67.2) 2. Matt Stafford, Detroit...
As the Green Bay Packers and Ted Thompson pick up the pieces after the disappointing divisional round loss to the New York Giants last Sunday, it is very apparent what has to be done to improve the football team. The Packers were 15-1 and the top seed in the NFC playoffs because of their outstanding [...]
Joe Philbin is now the former Green Bay Packers offensive coordinator, having accepted the head coaching job with the Miami Dolphins. Raymond T. Rivard photograph With the announcement last night that Green Bay Packers offensive coordinator Joe Philbin will be taking the helm as the head coach of the Miami Dolphins, huge decisions now face Packers coach Mike McCarthy about how to...
The Miami Dolphins announced their hiring of Joe Philbin as their Head Coach tonight.  Philbin was the former OC for the Green Bay Packers, and as many know, had a terrible family tragedy earlier this month.  Philbin has run the Packers offense since 2007, working with both Favre and Aaron Rodgers making them one of the most efficient units in the league. Note: There is a poll...
Packers News

Delivered to your inbox

You'll also receive Yardbarker's daily Top 10, featuring the best sports stories from around the web. Customize your newsletter to get articles on your favorite sports and teams. And the best part? It's free!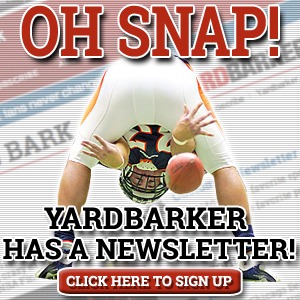 Latest Rumors
Best of Yardbarker

Today's Best Stuff

For Bloggers

Join the Yardbarker Network for more promotion, traffic, and money.

Company Info

Help

What is Yardbarker?

Yardbarker is the largest network of sports blogs and pro athlete blogs on the web. This site is the hub of the Yardbarker Network, where our editors and algorithms curate the best sports content from our network and beyond.