Found September 03, 2012 on Fox Sports Wisconsin:
PLAYERS:
Derek Sherrod
,
Andrew Quarless
,
Frank Zombo
,
Ted Thompson
,
Jarrett Bush
,
Tramon Williams
,
Jerron McMillian
,
M.D. Jennings
,
Jarrett Boykin
,
Diondre Borel
,
James Jones
TEAMS:
Green Bay Packers
,
Jacksonville Jaguars
,
Mississippi State Bulldogs
GREEN BAY, Wis. -- The Packers had high expectations for Derek Sherrod when the team used its first-round pick on the Mississippi State offensive tackle in the 2011 draft. But Sherrod's rookie season began without a starting job and ended with a broken leg. He played 115 total plays at left and right tackle as a backup before the injury in Week 15 ended his season early. Still not fully recovered nearly nine months later, Sherrod is beginning his second NFL season on the Physically Unable to Perform list. However, he's not yet feeling the pressure of having to live up to his status as Green Bay's top draft choice from a year ago. "I just know that whenever I do get out there, I'm just going to play my kind of football, going out there and working as hard as I can," Sherrod told FOXSportsWisconsin.com following Monday's practice. As training camp continued and Sherrod was unable to pass his physical, the Packers held out hope and waited until the final cut-down to place him on the PUP list. Whereas, in the case of tight end Andrew Quarless (knee) and linebacker Frank Zombo (hamstring), they were placed on PUP four days earlier when rosters first had to go from 90 players to 75. "He's a little frustrated," coach Mike McCarthy said of Sherrod on Aug. 26. "He's getting closer. I had a chance to watch him in his rehab the other day. He's hitting the targets that he needs to." And yet, Sherrod wasn't able to be ready in time for the regular season. "I'm very anxious just to get back out there as soon as possible," Sherrod said. "It's just tough not to get the reps that you need to practice and get out there and get back used to things." Sherrod added that he was "very close" to passing his physical, but general manager Ted Thompson ultimately decided that the extra time to heal on the PUP list would be mutually beneficial. "It's a guessing game, but in the end, we felt it was best for Derek and best for the Packers long-term to give him a bit more time," Thompson said. "This ensures I don't get an itchy trigger finger and push him out there too fast. "His rehab is going well. He has a great attitude and is working hard, so all those things will stay in place." The PUP list rule states that Sherrod must now sit out the first six games of the regular season. Then, there is a three-week window for Sherrod to begin practicing. After his first practice, the Packers then have three weeks to decide whether to activate him to the 53-man roster or keep him on PUP for the entire season. "I'm just keeping my head up about things," Sherrod said. "It's tough dealing with any injury. It has been a long transition back to being 100 percent healthy so far. I've been handling that very well." -- No decision at starting cornerback or nickel safety: With just six days before the Packers begin the regular season with a home game against the San Francisco 49ers, McCarthy still isn't revealing all of his starters. Jarrett Bush finished the preseason as the starting cornerback opposite Tramon Williams, but McCarthy never stated that any final decision had been made at that position. The same is true at the nickel safety spot, with rookie Jerron McMillian and second-year player M.D. Jennings both possibilities to play with the starters. "Well we're preparing for the 49ers, and we'll see it then," McCarthy said following Monday's practice when asked specifically about the cornerback and nickel safety starting jobs. "We're going to have a primary way, a secondary way, different combinations of things based on scheme. "Those are the types of things we obviously want our opponent to see on Sunday, not in Wednesday in the paper. Yes, we're working through it. "I'm just making it clear what our plan is. We're making (those decisions). We're preparing." -- Jarrett Boykin becomes Packers' sixth wide receiver: As training camp began, it seemed like the battle was between Tori Gurley and Diondre Borel to determine whether Green Bay would keep six wide receivers this season. With all five of the Packers' receivers from last season returning in 2012, it was going to take a strong, consistent performance from one of them in order to convince McCarthy and Thompson that the team should have six. Yet, it wasn't Gurley or Borel who ended up making Green Bay's 53-man roster. It was Boykin, an undrafted rookie who was originally signed in May by the Jacksonville Jaguars, but released three days earlier. "I started answering questions about six receivers some time ago," McCarthy said. "The decision wasn't made then to keep six because I don't think anybody thought Boykin would be on our team back in May. It's really trusting the evaluation process, trying to keep the best players, the people that earned the positions throughout the offseason and training camp and putting more weight into the preseason games. "That's really where the six receivers came from and still stick with the way we like to play on offense, and that's not going to change." One of the Packers' veteran receivers, James Jones, had been impressed with Boykin for a while. "Oh, man, Boykin has been making plays all training camp," Jones said. "I don't know if he's been getting pub (publicity) or people were talking about him, but we were talking about him in the wide receiver room. He was making plays all training camp, then he made some plays in the game. Well deserved."
Original Story:
http://www.foxsportswisconsin.com/09/...
THE BACKYARD
BEST OF MAXIM
RELATED ARTICLES
Green Bay Packer linebackers Clay Matthews and rookie Nick Perry have revived the team's defensive spirit. Packers fans are excited and opposing NFL quarterbacks better beware.
We all love the games, highlight reels, and fantasy football aspect of the NFL. Truth is the National Football League is a harsh business that can be cold and cruel at times.   Green Bay Packers pro bowl wide receiver Greg Jennings is about to go on that trip down the harsh lane. Jennings recently confessed to the Milwaukee Journal Sentinel that he wouldn't be surprised...
GREEN BAY, Wis. -- Now that Packers general manager Ted Thompson and head coach Mike McCarthy have sorted out their 53-man roster for this season, there are still plenty of strengths from a team that finished 15-1 during the 2011 regular season. However, Green Bay fell short of its goal to become back-to-back Super Bowl champions and have a few areas that could be a concern this...
In their final cuts of the 2012 roster, the Green Bay Packers released 14 offensive players compared to just four from the defensive side of the ball. The final cut list included six players who had NFL experience, two who had five or more years playing in the NFL and now the Green Bay Packers have the roster set for the championship seasons to continue. The Green Bay Packers...
Bart Starr's final game as a Green Bay Packers quarterback took place in 1971, when All in the Family ruled television and the cost of a first-class postage stamp was eight cents. In the 41 years since Starr last walked off Lambeau Field as a player, much has changed in the world. Starr's allegiance to the Packers hasn't. "I follow them uniquely closely, and I always...
GREEN BAY, Wis. -- With eight practice squad spots available for general manager Ted Thompson to fill, the Packers kept seven of their own training camp players and added one other. The new addition to Green Bays roster is former Pittsburgh Steelers offensive lineman, Chris Scott. At 6-foot-5 and 332 pounds, Scott is listed as a combination offensive tackle and guard. Scott, 25...
By Andrew Gruman FOXSportsWisconsin.com NFL defenses have learned fast not to mess with NFL MVP Aaron Rodgers. Now his teammates are learning the same lesson, the hard way. Just over a week ago, while meeting the media at his locker, Rodgers was attacked by Pro Bowl fullback John Kuhn, who pied Rodgers in the face. It was later revealed that Kuhn didn't work alone and was...
Don Barclay and Evan Dietrich-Smith are the only backup offensive linemen on the roster GM Ted Thompson's decision to keep only seven offensive linemen is highly unusual, but the number itself really isn't a big deal. Remember, the Packers dressed only seven offensive linemen throughout last season. So the problem isn't keeping only two backups. The problem is who the two backups...
With the addition of Cedric Benson, Green Bay collected five of 12 first-place votes to rank No. 1 in the AP's Pro32 rankings
Tom Brady or Aaron Rodgers? NFL insiders answer 20 questions - NFL.com: Lots of great Pats stuff in...
NFL News

Delivered to your inbox

You'll also receive Yardbarker's daily Top 10, featuring the best sports stories from around the web. Customize your newsletter to get articles on your favorite sports and teams. And the best part? It's free!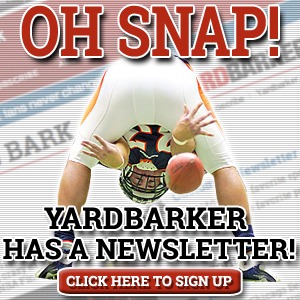 Latest Rumors
The Backyard

Today's Best Stuff

For Bloggers

Join the Yardbarker Network for more promotion, traffic, and money.

Company Info

Help

What is Yardbarker?

Yardbarker is the largest network of sports blogs and pro athlete blogs on the web. This site is the hub of the Yardbarker Network, where our editors and algorithms curate the best sports content from our network and beyond.