Found October 28, 2012 on Fox Sports Wisconsin:
GREEN BAY, Wis. It wasn't just an ugly win for the Packers. No, this was something far more concerning for a team with seemingly legitimate Super Bowl aspirations. Green Bay's 24-15 victory over the lowly Jacksonville Jaguars in front of 70,000 cheeseheads at Lambeau Field was an unimpressive performance against an inferior opponent. And the Packers knew it, too. "It's not ugly, it's nasty," tight end Jermichael Finley said. "It's a real nasty win. We need to come out and put teams like this away. Of course it's disappointing. With the ability we got and with the guys we got on this team, it kills us. If the defense is looking at us, that's why they're mad at us if we go three-and-out, because they know what we can do. "And we're pissed off at them when teams like Jacksonville drive the ball down the field." The Jaguars outgained Green Bay in yards, 341-238. Jacksonville's second-year quarterback Blaine Gabbert even outperformed reigning NFL MVP Aaron Rodgers in several areas. Gabbert set a new career-high with 303 yards while Rodgers had a season-low 186 yards passing. "I thought they were excited to play us," Finley said. "That's why they came out shooting every bullet they had. We've got to put teams like this away early." But the Packers let them hang around all game. Gabbert even had a chance to lead Jacksonville on a potential game-winning drive late in the fourth quarter, down by only six. Rodgers was chased out of the pocket often by a Jaguars defense that had only five sacks all season leading into this game. Rodgers was sacked twice, but he looked far more rattled and uncomfortable than he usually does, even when facing immense pressure. "You get a guy like (Rodgers) on his back several times, it distracts him," Finley said of his quarterback. "He's looking behind his back, in front of him, beside him. It can throw us off in the passing game, too. "I'm not blaming a soul on the team, but we have to keep '12' (Rodgers) off his back." Finley complimented Rodgers extensively for continually getting up, even as the hits kept coming. "I don't see how he do it, I don't know how he do it, but he's a soldier," Finley said. "He's a warrior, I'll tell ya that." The only team this season to allow more sacks than Green Bay is the Arizona Cardinals, a group that has gotten both of its quarterbacks -- John Skelton and Kevin Kolb -- injured in the first eight games. The Packers were playing without both of their top receivers, Greg Jennings (groin) and Jordy Nelson (hamstring). But no player in the locker room allowed that to be an excuse for the offense's lackluster outing. "It ain't nothing to do with the wideouts," Finley said. "If you keep '12' upright, it doesn't matter who we got out there. If Nelson's gone, if Jennings is gone, whoever's gone, we got athletes where we can make plays all over the field. "We got guys on the shelf right now that can play ball. But whoever is on the field, I think we can still get the W's and get this thing going. Because we're slow right now. "We just played to (Jacksonville's) level. When we do that, it's not a good turnout." Last year, as Green Bay went 15-1 in the regular season, games against lesser opponents weren't typically this close. The Packers won by 26 against the pre-Tim-Tebow-led Broncos, easily knocked off the Rams by 21 and dominated the Vikings in a 38-point rout. But, with Green Bay improving to 5-3 and winning its third consecutive game, Rodgers wasn't overly discouraged by Sunday's mediocre victory. "I don't see it as a setback at all," Rodgers said. "It's good to be on this side of an ugly win. It's tough to win in this league. I think the expectations that we set around here, and the way we played on offense, especially the last couple weeks, the expectations were we were going to come out and maybe blow them out. "But we didn't start fast, we didn't have enough juice early on and didn't play well enough on offense to get that done. Offensively we're going to be very critical as we watch the film tomorrow and move forward." Coach Mike McCarthy also tried to spin it into a positive. "It was definitely a grind-it-out type victory today," he said. "We're pleased to be at 5-3. I felt the victory was obviously important, but there was a little bit of a roller-coaster throughout our play. These games are always hard-fought. Today was a tough contest." Though the Packers' offense struggled, their special teams made up for it, blocking a punt that was recovered in the end zone for a touchdown. Without that play, Green Bay's nasty win may have been a much nastier loss. "It's important when you don't play your best you can still come out with W's," Rodgers said. Follow Paul Imig on Twitter.
Original Story:
http://www.foxsportswisconsin.com/10/...
THE BACKYARD
BEST OF MAXIM
RELATED ARTICLES
Aaron Rodgers has an ongoing tradition that he carries out shortly before Packers game begins, and he upped his game on Sunday before Green Bay took on the Jacksonville Jaguars. The Packers quarterback likes to find his way into the weekly photo of captains. The reigning MVP goes out of his way to photobomb the picture of the captains on the sideline before the game...
In honor of Halloween the Green Bay Packers decided to do their own rendition of The Walking Dead. Thanks in part to all of Green Bay's injury's, the Packers offense looked more like a shambling horde of zombies instead of the well-tuned machine it has been the last couple of weeks.  But the Packers did just enough to get the win against the Jacksonville Jaguars. Aaron Rodgers...
GREEN BAY, Wis. Aaron Rodgers didn't like the NFL's tuck rule when it first came into play 10 years ago. And after not getting the benefit of that call Sunday, the Packers' quarterback isn't about to change his mind on it. With one minute to go in the first half of Green Bay's 24-15 win over Jacksonville, Rodgers was sacked by Jaguars rookie defensive end Andre...
Aaron Rodgers performed quite possibly one of the best photobombs we have seen in quite sometime.  Chck out the lovely below photo of Green Bay Packers' James Jones, Erik Walden and Bret Goode lined up with some very serious faces.  Then check out the background for some perfect photobombing, with an eye-patch nonetheless. via Jason Wilde Article found on: Cosby Sweaters
Aaron Rodgers went back to an old favorite, connecting with Donald Driver on a 4-yard touchdown in the fourth quarter to seal Green Bay's 24-15 victory over the Jacksonville Jaguars on Sunday. Rodgers threw two touchdowns, passing Bart Starr for second place on Green Bay's all-time list, and Dezman Moses gave the Packers their first touchdown on a blocked punt in almost...
A win is a win -- unless it's in Green Bay. While most teams would be happy to thump a visiting team 24-15 and call it a week, the Packers' Jermichael Finley isn't so pleased with Green Bay's outing this Sunday (even though the 5-3 Packers need all the wins they can get after that -- ahem -- loss to Seattle). "It's not ugly. It's nasty...
GREEN BAY, Wis. (AP) -- Aaron Rodgers went back to an old favorite, connecting with Donald Driver on a 4-yard touchdown in the fourth quarter to seal Green Bay's 24-15 victory over the Jacksonville Jaguars on Sunday. Rodgers threw two touchdowns, passing Bart Starr for second place on Green Bay's all-time list, and Dezman Moses gave the Packers their first touchdown on a...
In what can only be described as one of their ugliest performances of the season -- and there have admittedly been more than a few this year -- the Green Bay Packers somehow managed to beat a woeful 1-5 Jacksonville Jaguars team that the Pack made look like Super Bowl contenders.Yes, it was that bad.Installed as prohibitive 15-point favorites, the Packers hung on to win by five points...
Why does this exist? 10) Do Bank of America users have issues in counting?9) Did Greg Jennings set up his injury filled year with foolish stunts for Old Spice?8) Why does State Farm have younger versions of its illiterate fat loser to scream at Aaron Rodgers?7) Can't you kill yourself stupidly on old roads without driving a new Cadillac?6) Do Nissan owners routinely collect...
The quarterback position is an important one because they are seen as the team's leadership on the field, and when teams fail to win the quarterback is usually the first position that is blamed and changed. Therefore it is important for a starting quarterback to always do their best and win football games.Week 8 was an interesting one in the NFL for the quarterback position because...
Blaine Gabbert, the least productive quarterback in the NFL, threw for more yards in the first half than Aaron Rodgers did for the entire game. Nonetheless, an energized defense shut the door on the Jaguars in the second half.
NFL News

Delivered to your inbox

You'll also receive Yardbarker's daily Top 10, featuring the best sports stories from around the web. Customize your newsletter to get articles on your favorite sports and teams. And the best part? It's free!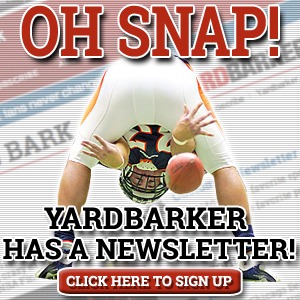 Latest Rumors
The Backyard

Today's Best Stuff

For Bloggers

Join the Yardbarker Network for more promotion, traffic, and money.

Company Info

Help

What is Yardbarker?

Yardbarker is the largest network of sports blogs and pro athlete blogs on the web. This site is the hub of the Yardbarker Network, where our editors and algorithms curate the best sports content from our network and beyond.