Found January 09, 2013 on Fox Sports Wisconsin:
GREEN BAY, Wis. -- It seemed like it should have been a great day for the Packers' healthy group of wide receivers in the playoff win over the Minnesota Vikings. For the first time since Week 4, quarterback Aaron Rodgers had all of his playmakers on the field together for longer than one drive. But it wasn't Randall Cobb or Greg Jennings or Jordy Nelson or James Jones or tight end Jermichael Finley who led Green Bay in receptions in the opening week of the postseason. It was new starting running back DuJuan Harris, grabbing a team-high five catches. The wide receivers certainly weren't ignored by Rodgers, but it wasn't the game-changing production that the group, when healthy, has proven capable of. "We were open; We were definitely open," Jennings told FOXSportsWisconsin.com Wednesday in the locker room. "But (Rodgers) was taking what they were giving him, which was what was right in front of his face. You've got guys dropping out and they're just leaving the running backs standing right in front of the quarterback and he sees that guy right there, why not just take it and get five, six yards every pop? "That was obviously the approach that was taken." It was the first time since Oct. 10, 2010 that a Packers running back led the team in receptions in any game. Rodgers spread the ball around against the Vikings, completing passes to 10 different receivers, tying the NFL playoff record and setting a franchise playoff record. Jennings and Jones each had four catches, Nelson had three receptions, fullback John Kuhn had two and several others had one. "It's a tribute to the kind of guys we got," Rodgers said this week. "It's not often you have 10 skill guys active like that, but we have a lot of different guys who can do things for us. It's hard to keep them all happy. But I think at this point in the season everybody has a common goal and that's winning a championship and knowing you kind of have to be selfless and realize it's all about that championship. "Whoever's getting the throws that week, make the most of them (and) the other guys block for them. They know I'm going to go through my progressions and try and find the open guy." The six passes thrown to Harris were mostly check-down throws. On a few of those plays, receivers had space downfield, but the Vikings seemed content with allowing underneath routes rather than giving up a big play. "When the ball came to us on Saturday, we made plays," Jones said. "We didn't have any dropped balls. So we did our job when the ball came our way. But we've just got to be ourselves. Nothing special. Go out there and be the Green Bay Packers. "If you have zero catches, it doesn't matter as long as you win." For the Packers to advance further in the postseason, starting with Saturday night's game against the San Francisco 49ers, the receivers will need more catches and overall higher statistical production. "When I look at the perimeter players, I think of points," coach Mike McCarthy said. "It's important for us to get points from our perimeter players, and you can put the running backs included there. Our receivers probably are going to have some opportunities come Saturday." Wide receivers coach Edgar Bennett didn't have any issue with his group's production or the high number of check-down passes. "You have to take what the defense gives you," said Bennett, a former Packers running back who once caught 78 passes in a season. "When we get our opportunities for the big gains, then we have to make the most of those opportunities when they play one-high. At times, you'll see it's more about the yards after the catch, creating an explosive gain that way. All of those things factor into it. "It's definitely more about taking what the defense gives you and then we have to make the most of it." Rodgers is known for completing difficult passes -- in Saturday's win over Minnesota, he rolled right and found Nelson along the sideline in tight coverage near the goal line. But Rodgers also got sacked more than any quarterback in the NFL this season, partially because of his preference to take a hit instead of throwing into traffic for a potential interception. When there is time to throw, though, Rodgers has one of the deepest group of receivers in the league. "So many weapons," Finley said. "You have to take advantage of the opportunity when it comes around. You don't know when the ball will come back around. It's crazy. It's almost I don't even know how to say it. We talk about it all the time around here. "I just stay out of the conversation because, whatever you can come up with, it doesn't sound right, just because we have so many weapons around here. There's no solution to it (for defenses to stop)." If Finley and the receivers can get open against the 49ers this weekend and Rodgers can find them -- the Packers have a chance for the road win and a spot in the NFC Championship Game. Follow Paul Imig on Twitter
Original Story:
http://www.foxsportswisconsin.com/01/...
THE BACKYARD
BEST OF MAXIM
RELATED ARTICLES
Rodgers throws a pass against the 49ers in the week one matchup. (Getty Images/Andy Lyons) The Green Bay Packers head out west to take on the San Francisco 49ers with a trip to the NFC Championship game on the line. These two teams faced off in week one with the 49er's winning 30-22 in Lambeau.  Both teams have changed since that game, which will make this game completely different...
GREEN BAY, Wis. -- Aaron Rodgers is capable of making throws under pressure at an elite level. His combination of speed, scrambling ability and arm strength all make it look easy when defenses start caving in the pocket and yet he still rockets a completed pass downfield to a tightly covered receiver. But even a quarterback with Rodgers talent needs time to throw to be most effective...
The anxiety-filled green room and draft day seem so long ago now to Aaron Rodgers. Still, on this weekend, any lingering feelings of frustration about how far he dropped will be directed right at the team that passed him up with the No. 1 pick nearly eight years ago. Rodgers brings the high-scoring Green Bay Packers (12-5) to Candlestick Park on Saturday to face No. 2 seed San...
GREEN BAY, Wis. -- Aaron Rodgers knows the Packers aren't going to advance to the NFC Championship Game without him performing at the elite level he's capable of. That's fine by him. In fact, the star quarterback and league's reigning Most Valuable Player embraces that role. "Guys are counting on me to play well," Rodgers said this week. "I take that...
There is no shortage of hype surrounding Saturday Night's NFC Divisional playoff game at Candlestick between the Green Bay Packers and the San Francisco 49ers. The breakdowns and the analysis of this game seems never ending. Yet the only analysis you need is this - if the Packers are to escape with a win, it will be because Aaron Rodgers is special. Period. End of discussion...
Hot News for QB Aaron Rodgers
From Aaron Rodgers and Clay Matthews to Frank Gore and Aldon Smith, you know all the big names who will have key roles in the divisional playoff showdown. Here are six players who will be key performers on Saturday night that were not when these teams met in Week 1.
Here's a video from the tailgating scene at last week's Green Bay win over Minnesota courtesy of Coors Light, and now the Packers head to San Francisco where the weather should be a little warmer. You've got to love playoff football! Aaron Rodgers seems to be in top form, while the QB situation for the 49ers is much more muddled with a rookie taking over the reins. I like Green...
As we head into the weekend of Divisional round play in the NFL, most fans and pundits are focusing their attention, and rightly so, on the four matchups that will take place this Saturday and Sunday. At the same time, there is an awful lot of focus on the coaching merry-go-round; determining who is to blame for the knee injury suffered by Redskins' quarterback RGIII; and which...
How different a team are the Packers now than when the 49ers beat them in September? What makes QB Aaron Rodgers so good, and will he be extra-hyped emotionally playing before Bay Area fans? Can the 49ers follow the same blueprint to stop Rodgers they designed in season opener? How has Green Bay's defense changed since Frank Gore ran over it? PackerReport publisher Bill Huber has the answers.
In Part 1 of our five-part series previewing Saturday night's NFC divisional playoff game, beat writers Bill Huber of PackerReport.com and Craig Massei of NinersDigest.com break down the matchups when the Packers hand the ball to Aaron Rodgers and the passing game.
The San Francisco 49ers welcome the Green Bay Packers in a rematch of their week one battle during the 2012 NFL regular season. Aaron Rodgers and the Packers will look to avenge the 30-22 loss at Lambeau Field, while the 49ers, backed by the young Colin Kaepernick, will try to vault themselves to their second NFC Championship game in as many years. This is obviously a huge game in...
NFL News

Delivered to your inbox

You'll also receive Yardbarker's daily Top 10, featuring the best sports stories from around the web. Customize your newsletter to get articles on your favorite sports and teams. And the best part? It's free!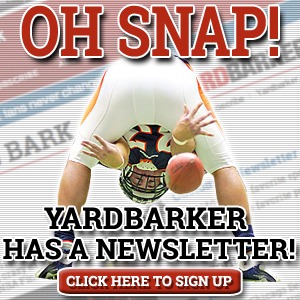 Latest Rumors
The Backyard

Today's Best Stuff

For Bloggers

Join the Yardbarker Network for more promotion, traffic, and money.

Company Info

Help

What is Yardbarker?

Yardbarker is the largest network of sports blogs and pro athlete blogs on the web. This site is the hub of the Yardbarker Network, where our editors and algorithms curate the best sports content from our network and beyond.