Found May 16, 2012 on Fox Sports Wisconsin:
GREEN BAY, Wis. -- Mike Daniels remembers his pre-draft interview with the Packers quite well. After all, it was his only pre-draft interview. Unable to participate in any of the testing at the combine due to shoulder surgery, Daniels was far from a hot commodity as the draft was approaching. So, when Daniels' phone began ringing late in the fourth round, it made sense when it was the Packers on the other end. "I wasn't surprised," Daniels said. "I did have an inkling." It is not uncommon for general manager Ted Thompson to draft a player that very few other teams seem to covet. Daniels, a 290-pound defensive lineman out of Iowa, fits that billing. In this case, one of the biggest concerns with Daniels was his surgically repaired shoulders. But Thompson overlooked it, not believing it to be a big enough deterrent. "They had to repair my labrum," Daniels said. "I have no idea where I hurt it. I think it was just from a lot of wear and tear." Now in the NFL, Daniels will be experiencing a lot more wear and tear on his shoulders. It's a gamble on the part of Thompson and the Packers that Daniels will fully recover and be healthy enough to compete by training camp. Because at the moment, Daniels' shoulder injury is preventing him from getting on the field for rookie mini camp. While the rest of the draft picks, undrafted free agent signings and tryout players are working in drills, Daniels is watching from the sideline. "Just being smart, that's all it is," Daniels said. "That's the only way I can put it." Hours after being drafted, Daniels explained that he had been cleared to participate in all football activities in mid-April. However, as the rookies received their physicals in mid-May, the team doctors disagreed with Daniels' injury assessment. "They obviously know more than me," Daniels said. "That was coming from me, in terms of being cleared. The NFL doctors, they know more than some kid. I'm just doing whatever's part of our rehabilitation plan here. "I wasn't given any timeline, but I'm just doing what they tell me to do until they let me back on the field full-go." Coach Mike McCarthy is hoping to see Daniels in at least some form of drill work in the coming weeks. With "Phase Two" of the offseason coming up, which for the Packers is individual position work, Daniels may be able to take advantage of the no-contact drills. "We'll probably re-evaluate him when we have the physicals the following Monday (May 21) and see if he's ready for the first OTA on Tuesday (May 22)," McCarthy said. Prior to organized team activities beginning, though, the coaching staff won't be able to evaluate Daniels and see the "energy, good quickness, good motor" and hard-work attitude that defensive coordinator Dom Capers raved about during draft weekend. Not being able to show off that skill set has been the most frustrating aspect for Daniels in his disappointing first week as an NFL player. "If you tell a fish not to swim, it's going to be hard to keep that fish from swimming," Daniels said. "So it's hard to keep a football player from playing football. But you've got to be smart about these (injury) things. You have to take things slowly. "Obviously, they're the Green Bay Packers. Who's going to argue with them? They've had guys with these setbacks, so to speak, before, and they know that they're talking about. I have my full faith and trust in them." However, Daniels did try to find some positives to take from the experience. "I actually found it beneficial to be able to sit back and just take it all in, do a lot of observing, a lot of studying, film work," Daniels said. "Be on the sidelines asking coaches questions, discussing it amongst the other players. So I'm making the most of this." One of Thompson's other recent defensive lineman selections, Justin Harrell, also had injuries heading into the draft that scared off a lot of teams. Like Daniels, Harrell was unable to participate in Combine activities and early offseason work due to a prior injury suffered in college. Though Harrell was a first-round pick and therefore had far greater expectations than Daniels to produce sooner rather than later, it's a notable example of how Thompson sometimes goes against traditional thinking. In the case of Harrell, that way of thinking didn't work, as constant injuries were finally enough for the Packers to cut Harrell loose just four years after making him the 16th overall pick. "We did our research with that (Harrell) pick (and) the fact that it didn't work out is my responsibility," Thompson said before this year's draft. But Thompson quickly dismissed a question at the conclusion of the draft about how serious and potentially long-lasting Daniels' shoulder issues will be. "We've seen him at the Combine and all that, so we're good," Thompson said. The Packers will need plenty of help along the defensive line this season, especially early in the year when Mike Neal (four games) and Anthony Hargrove (eight games) are both suspended. Getting Daniels healthy and ready to compete could be key in helping Green Bay's defense overcome a disappointing 2011 season and stay afloat in 2012 until Neal and Hargrove can return. "We feel like we have a good chance to have success with Mike," Thompson said. Daniels just has to be able to get on the field first. Follow Paul Imig on Twitter.
Original Story:
http://www.foxsportswisconsin.com/05/...
THE BACKYARD
BEST OF MAXIM
RELATED ARTICLES
GREEN BAY, Wis. -- Don't call Nick Perry the savior of the Green Bay Packers' defense. Dismissing that notion during rookie minicamp, the first-round pick out of USC does not want to approach his upcoming first NFL season with such high expectations. But even if Perry did want to put that type of pressure on himself, there would be a lot of potential obstacles standing in...
GREEN BAY, Wis. -- It seems that Donald Driver may be returning to the Green Bay Packers for a 14th season.Driver, the franchise's all-time leading receiver, posted a message on Twitter that indicates he'll again be catching passes from NFL MVP Aaron Rodgers next season and continue adding to his record numbers in Green Bay."Hello everyone: I'm a packer for life...
GREEN BAY, Wis. -- Donald Driver has advanced to the final of "Dancing with the Stars."The 37-year-old Green Bay Packers wide receiver is now one of three remaining contestants with an opportunity to win it all in next week's finale.With television host Maria Menounos eliminated Tuesday night, it's down to Driver, singer Katherine Jenkins and actor William Levy...
Click here to view the embedded video. Thank to my extra-innings package, I came across this commercial while watching the Brew-Crew the other day. As football season is still in hiatus, Brewer and Packer fans alike hail Rodgers at every opportunity. I would actually be curious to get Rodgers on the mound to see how fast he could sling it. Watch the snippet above great great great...
In a conversation that must have felt totally natural and heterosexual to him, Aaron Rodgers went on a Canadian podcast this last week called "Cabbie Presents: Softcore Gay Porn Talk The Podcast" and just talked about how much he loves dude's butts. Well, at least dude's butts that belong to his former and current centers. No joke: "There's two main...
Packer Fans, this IS the Year of the Take Over.....2012 NFL Season.   Often times my articles contain me complaining or ranting about the failure of a Wisconsin team or a player on said team. Today I am going to go a different route. On my personal Twitter account I follow Jermichael Finley. Mr. Finley has been a lightning rod for the Packers most recent playoff loss and for his...
Ahman Green hasn't played in the NFL since the 2009 season, but the former Green Bay Packers running back wants to make a comeback. The 35-year-old Green has kicked around in the UFL and CFL the past two seasons but apparently feels rejuvenated. "I've got at least five years left in me to play football," Green told FoxSportsWisconsin.com. Green remains the Packers'...
It seems that everyone is falling on hard times these days.  According to a report in USA Today, a Green Bay Packers' Super Bowl XLV Ring was pawned at an Grand Shute, Wisconsin pawn shop earlier this week. Before you go getting all worked up about yet another NFL player losing their fortune and resorting [...]
Round 1 1)   Aaron Rodgers- Rodgers should without question be not only the first QB selected in the draft, but the first player overall selected. Last year, Rodgers kept fantasy owners in every game by averaging a gaudy 25.6 fantasy points per game. No matter what other players owners surround Rodgers with, they can expect to win every week. 2)   Arian Foster- After a slow start...
Hot News for DT Johnny Jolly
Packers News

Delivered to your inbox

You'll also receive Yardbarker's daily Top 10, featuring the best sports stories from around the web. Customize your newsletter to get articles on your favorite sports and teams. And the best part? It's free!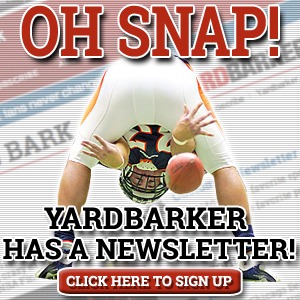 Latest Rumors
The Backyard

Today's Best Stuff

For Bloggers

Join the Yardbarker Network for more promotion, traffic, and money.

Company Info

Help

What is Yardbarker?

Yardbarker is the largest network of sports blogs and pro athlete blogs on the web. This site is the hub of the Yardbarker Network, where our editors and algorithms curate the best sports content from our network and beyond.