Found October 10, 2012 on Fox Sports Wisconsin:
GREEN BAY, Wis. -- There's a reason it had been 55 years since the last time the Packers lost a game after leading by 18 points at halftime. For any NFL franchise, that's a large enough margin for even the poorest of second-half performances to still sneak by with a win. But Sunday against the Indianapolis Colts, Green Bay lost despite its 21-3 halftime lead and showed just how different things have been so far this season. Last year, the 15-1 Packers won eight games by double digits. When they pulled ahead by more than 10 points, it was over. In seven games won by nine points or fewer last season, Green Bay always found a way to make the necessary plays to come out with a victory.As Sunday's loss demonstrated, this year's Packers have a lot of work to do in order to get even close to the dominance they displayed in 2011."Those are games we would blow guys out last year when we would get up like that," offensive lineman Josh Sitton said Wednesday. "That's something we have to get back to. We're growing right now as an offense and molding and jelling to who we're going to be this year."Through five games, Green Bay's offensive identity is that of a below-average team. The Packers are ranked 21st in the NFL in total yards and 18th in scoring. With a 2-3 record, there are 17 teams that sit above them in the league standings.But for some players in Green Bay's locker room, the confidence from last year hasn't been lost, even if the statistics no longer back up the boast."We feel like we're still one of the best teams in this league," wide receiver James Jones said. "We've got a lot more to give, and we'll be all right."With a matchup approaching Sunday in Houston against the undefeated Texans, even a well-played game may not be enough to get Green Bay a win. That's why, even though the halfway point of the season is still a few weeks away, this game may be about more than just having a strong performance."I think it's a must-win for us," tight end Jermichael Finley said. "It's not a must-win for our record, but it's a must-win for us just to get us on board."Not every player looks at this game with quite the same urgency, though."I really don't want to just sit here and say we need to go out there and it's a must win and all that stuff," Jones said. "We just need to go out there and play well, stack success and go on to the next game and play well. We've got too many ups and downs right now where, at times, we play well and then we're inconsistent."We just need to go out there and play a complete game and look up at the scoreboard when it's all said and done."Sitton agreed."We'll start talking about must-wins when we get into December," he said.After showing the rest of the NFL that an 18-point lead is not impossible to overcome against the Packers, it's also possible that the fear factor of playing Green Bay is dissipating."We've got to bury them coming out of the half, and having the ball, it should have been 28-3," Finley said. "We've got to check ourselves on that one. It's not the coaches, it's not the game plan. Obviously, the game plan was going well if it's 21-3 at half."It hasn't been the same problems in each game, either. The Packers allowed seven first-half sacks against the Seahawks in Week 3, then gave up only one sack in the next eight quarters of football. That included allowing zero sacks to the Saints in Week 4 and keeping the Colts from sacking Rodgers at all in the first half of Week 5.The Green Bay defense also has lacked consistency. Facing Jay Cutler and the Chicago Bears in Week 2, the Packers had four interceptions and looked dominant. But in the other four games combined, rookie cornerback Casey Hayward's interception of Andrew Luck in Week 5 represents the only takeaway. The Packers are the only team in the league to not force and recover a fumble this season."We talked about it last week going into Indianapolis and that's to play a complete football game," coach Mike McCarthy said Wednesday. "We have not accomplished that yet. That part hasn't changed. You knuckle down in practice and just heighten the urgency and awareness. You don't overreact."I'm not a panicker. I think it's a punk mentality, frankly. I think it's a loser mentality. It's time to increase the urgency."Follow Paul Imig on Twitter
Original Story:
http://www.foxsportswisconsin.com/10/...
THE BACKYARD
BEST OF MAXIM
RELATED ARTICLES
Steve Wyche of the NFL Network reported Monday night that Green Bay Packers RB Cedric Benson will be out approximately eight weeks with the dreaded Lisfranc injury. If he needs surgery, he'll be done for the rest of the season. Benson currently leads the team with 248 yards on 71 carries. After him at RB, not much to note. Alex Green follows way ebhind with 57 yards. With...
According to the Green Bay Press-Gazette via Rotoworld.com, the Packers will likely consider starting James Starks at running back with Cedric Benson out for at least the next eight weeks.Starks looked very unimpressive during the preseason and hasn't played yet in the regular season because of a turf toe injury.  Alex Green will also likely get some carries this Sunday against the Texans.
MEA CULPA
The Packers haven't started off the season as well as the team expected and quarterback Aaron Rodgers concedes that he's not playing his best football.
Packers RB Cedric Benson Could Miss Rest Of The Season With Injury -Green Bay Packers running back Cedric Benson is expected to be out at least eight weeks and possibly more with a Lisfranc foot injury, ESPN's Adam Schefter reported via Twitter Monday night. The Packers had already ruled out Benson for Sunday's game against the Houston Texans, one day after he was carted off...
GREEN BAY, Wis. -- Now that the Packers have a 2-3 record and are struggling this season, the questions to quarterback Aaron Rodgers during his weekly meeting with the media were a bit more direct than usual. Rodgers addressed the offense's issues, his interceptions, playing the undefeated Houston Texans this weekend and much more.Five question-and-answer highlights:1. Why do...
Former USC linebackers Clay Matthews and Brian Cushing were supposed to be leading their respective NFL defenses against each other when the Green Bay Packers visit the Houston Texans on Sunday night, and Matthews is upset that likely won't happen due to what he views as a hole in the NFL rulebook.Cushing left the Texans' Monday night win against the New York Jets in the...
Packers receiver Greg Jennings hasn't completely ruled himself out for Sunday against Houston but the Milwaukee Journal-Sentinel said it sounds like "shutdown mode" will continue.Fantasy Spin:Jennings has not tried running at full speed yet. The receiver has maintained that he will not return until he's able to get to open up in his stride and get separation, so...
The Packers head into week 6 (2-3) facing debatably the NFL's best team in the Houston Texans. Last year the Packers only lost once in the regular season and to the shock of many 2-4 might be staring at them right in the face. That being said let's not right off the Packers this week just yet.  Vegas currently have the Packers as 3 point underdogs against the hot Texans...
GREEN BAY, Wis. -- The relationship between Packers quarterback Aaron Rodgers and tight end Jermichael Finley frequently boils down to one word: chemistry. In Finley's mind, chemistry between the two is often directly related to his personal statistics and those of the offense as a whole. With Green Bay's 2-3 record and an offense ranked 21st in the NFL in total yards and...
If Cedric Benson's foot sprain heals quickly enough, he could be back in action for the final four games.
Top receiver Greg Jennings said more than once Thursday that "time will tell" how soon he can get back on the field after coping with a nagging groin injury the last two weeks. Coach Mike McCarthy is hoping the timing of the Packers' next game, Sunday night at the unbeaten Houston Texans, will work to the benefit of his injury-plagued team. McCarthy stressed Thursday...
So far this season it doesn't matter if it's the replacement officials or the regular officials, but the Green Bay Packers have been forced to deal with a lot of tough calls this season."It's definitely on us as players," one Packer told Lori Nickel of the Milwaukee Journal-Sentinel. "But I think the refs are out to get us this year."Even though the Packers have had...
NFL News

Delivered to your inbox

You'll also receive Yardbarker's daily Top 10, featuring the best sports stories from around the web. Customize your newsletter to get articles on your favorite sports and teams. And the best part? It's free!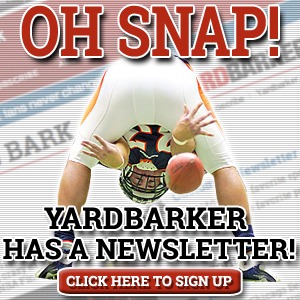 Latest Rumors
The Backyard

Today's Best Stuff

For Bloggers

Join the Yardbarker Network for more promotion, traffic, and money.

Company Info

Help

What is Yardbarker?

Yardbarker is the largest network of sports blogs and pro athlete blogs on the web. This site is the hub of the Yardbarker Network, where our editors and algorithms curate the best sports content from our network and beyond.