Training Camp begins with a lot of optimism and apprehension. Optimism in the fact that the season has begun once again and the Packers are looking to make another run at a Super Bowl Championship. The apprehension comes from the bad news that happens at seemingly every team's training camp. A player has either come in out of shape and failed his physical, or they have suffered a serious injury and practice and will not be able to play during the season. Enter Mike Neal. Neal is a player that has teased Packers fans over the years. He has shown tantalizing potential, but has what Coach Mike McCarthy famously calls availability issues. Those issues have caused the fans to become impatient with Neal. Those issues were brought to the forefront once again when news broke that he would begin training camp on the physically unable to perform list. Neal has had a long list of injuries that have kept him off the field since he was drafted by the Packers in 2010. In his rookie season he recorded a sack and a forced fumble against the Detroit Lions, but he suffered an injury that allowed him to appear in only two games his rookie season. The potential he flashed however, was enough for Ted Thompson to bet on letting Cullen Jenkins walk in free agency.  Neal disappointed once again, was injured the majority of the season, as a Packers defense that was ranked number two in the league in 2010 plummeted all the way to 32 in terms of yards given up. 2012 was a bit of a breakout year for Neal. After a four-game suspension for violating the league's substance abuse policy Neal emerged as the Packers best pass rusher aside from Clay Matthews. Neal was second on the team with 4.5 sacks last year and consistently pressured the quarterback in a way that the Packers organization hoped he would when they spent such a high draft choice on him. The optimism for Neal was high going into the off-season and with him going into a contract year it appeared maybe he was ready to emerge as a starting defensive lineman. News came out of OTA's that Neal's role was going to be expanded. He was lining up at outside linebacker opposite Clay Matthews, giving an indication that the coaching staff had more faith and bigger plans in the former second-round pick. It was a statement that the Packers were going to find as many different ways to get Neal on the field. Then training camp hit, and the availability issues crept up again. Neal was placed on the PUP list with an abdominal injury. Normally this would not be a serious concern going forward, in fact McCarthy said that he was not concerned as Neal was likely only a week or two away from starting. With Neal however, there is always a concern when he is injured. If Neal is unable to stay on the field, the Packers have a deep defensive line rotation and he will likely lose reps to the likes of Datone Jones, Mike Daniels, among others who the Packers have along their defensive front. With Neal being in a contract year it is paramount for him that he stays healthy if he wants any chance of remaining on the Packers roster beyond the 2013 season. If he can stay healthy he is another weapon for the Packers to use on their defense and their nickel package with a combination of Neal, Raji, and Jones on the defensive line with a healthy Nick Perry and Clay Matthews on the outside. That combination could be lethal to opposing quarterbacks, but with Neal there is always the big if.   Training Camp News and Notes: Star of the day: Micah Hyde: Hyde had an impressive first day of camp, he was always around the ball and it took until the last play of practice, a Rodgers touchdown pass to James Jones for him to be noticeably beat on a play. Hyde was even singled out by coach Mike McCarthy. McCarthy said he thought that Hyde was the player with the best start to camp. With Casey Hayward and Davon House remaining cautious at the start of training camp Hyde will have plenty of opportunities to continue to impress the coaching staff. Goat of the day: Mason Crosby: As the kicking competition turns. Last season Mason Crosby was absolutely dreadful and forced the Packers to go out and find another kicker to give Crosby some competition. It has been speculated that it would simply be an attempt to get Crosby's head on straight and ultimately Crosby would be the kicker. Today however Crosby was out performed by Giorgio Tavecchio. Crosby was 4 of 6 kicking field goals today missing from 50 and 53 while Tavecchio only missed from 53. It appears that the kicking competition is a legitimate one, and that Crosby has to start making field goals in order to remain on the roster. What's on tap: Tomorrow, much like today will just be shorts and shells, and Sunday is where the real fun begins. The pads go on for the first time Sunday which will allow the Packers to see what they have in some of their rookies. I am mostly looking forward to the running back competition once the pads go on, because that is when the competition for that position will really begin. --------------------- Jacob Westendorf is a writer at PackersTalk.com. You can follow Jacob on twitter at ---------------------
Original Story:
http://packerstalk.com/2013/07/26/tra...
MORE FROM YARDBARKER
NFL News

Delivered to your inbox

You'll also receive Yardbarker's daily Top 10, featuring the best sports stories from around the web. Customize your newsletter to get articles on your favorite sports and teams. And the best part? It's free!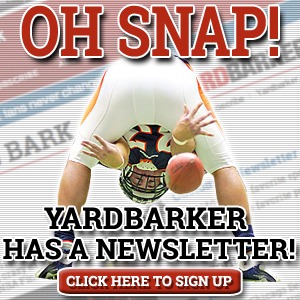 Latest Rumors
Best of Yardbarker

Today's Best Stuff

For Bloggers

Join the Yardbarker Network for more promotion, traffic, and money.

Company Info

Help

What is Yardbarker?

Yardbarker is the largest network of sports blogs and pro athlete blogs on the web. This site is the hub of the Yardbarker Network, where our editors and algorithms curate the best sports content from our network and beyond.