Found June 11, 2012 on Sports Blog Net:
Green Bay Packers wide receiver Jordy Nelson began last season with little attention or recognition from fantasy football owners. In fact, in many leagues he even went undrafted. However, after a breakout season in 2011, fantasy footballers are definitely aware of Nelson know because whether he is well known or not, he is an elite fantasy option. Despite being considered the no.2 option on his own team due the immense talents of fellow Packers receiver Greg Jennings, Nelson dominated in fantasy point per reception leagues, finishing the season
284.3 fantasy points
, an average of 17.4 points per game. While most fans and prognosticators would not classify Nelson as an elite receiver, fantasy football owners know different and his 
advanced metrics
 shows beyond the shadow of a doubt, that he was by far the most by efficient receiver in the NFL last season. Nelson's aforementioned 2011 numbers qualify as a great season by any standard of measurement. Yet, digging just a little deeper, reveals that on a per target basis, Nelson was not only elite, he was in a class by himself. The astounding part of  Nelson's 2011 season is that he produced eye-popping statistics on just 96 targets (40th in the NFL). Despite the relatively low number of targets he received, he was still elite because he did more with his targets than any other receiver in the league, catching over 70 percent of the passes thrown his way for 1,263 yards, which equates to an average of 13.2 yards per target, by far the best total in the NFL last season. To put that into context, consider that Calvin Johnson, the consensus choice as the best receiver in football, averaged 10.6 yards per target. The only players that even come close to approaching Nelson were  Chargers receiver Malcom Floyd, who averaged 12.2 yards per target and the Giants' Victor Cruz, who averaged 11.7 yards. Even though he was targeted only 96 times, Nelson still managed to finish seventh in receiving yards and was the only receiver to eclipse 1,000 yards with fewer than 100 targets and every other receiver that finished in the top ten for receiving yards had at least 114. Nelson's yards per target numbers are extremely impressive, but his touchdown per target numbers are equally if not more impressive. Once again let us compare Nelson to Johnson. Johnson, who was targeted 158 times last season led all receivers with 16 touchdown receptions, meaning he caught a touchdown once every 9.8 targets. Nelson, on the other hand, had 15 touchdowns in 62 fewer targets, which equated to a touchdown every 6.4 targets. Outside of Johnson, only one other player even came close to Nelson in touchdowns per target, as Laurent Robinson caught 11 touchdowns 0n just 80 targets for the Cowboys, which works out to be a touchdown every 7.2 targets. So not only did Nelson produce more yards than receiver in the league, he also had the lowest number of targets per touchdown receptions in the league. Thus, in every major statistical category that matters for fantasy football, Nelson excelled. With that in mind, the fact that Nelson was left off the 2011 NFC Pro Bowl roster is unthinkable. And even though some may suggest it, his production last year was no fluke. In 2010, Nelson caught 70.4 percent of the passes thrown his way for an average of 9.3 yards per target, not great but it would have placed him in the top 15 this year. Also in 2009, Nelson caught 71 percent of his targets and had an average of 10.3 yards per target. The only difference between 2011 and the previous two season was the amount of targets he received, getting 65 in 2010 and just 31 in 2009. For his career, Nelson has averaged 10.3 yards per target and a touchdown every 11.6 attempts. So he should continue along this path as long as the Packers keep feeding him the ball. So while many fantasy football owners were able to acquire Nelson mid-season on the waiver wire or late in the league's draft, it will not happen again this year. Nelson is a bona fide fantasy stud and his services are going to be in high demand in 2012. Yet, for some reason, he still does not get the respect he deserves and in some leagues may even be available as late as the fourth-round, which would be a tremendous get in a point per reception league. It may be hard for Nelson to continue the torrid pace of productivity he maintained all last season but as his career numbers suggest, Nelson should be a very good receiver again in 2012 and at FantasyPPR.com we will be projecting him for 71 catches 1,100 yards and nine touchdowns in 2012. Therefore, if you get the chance to draft Nelson in your league, especially after the third round, do not pass it up because Nelson may be the least expensive WR1 in fantasy football this season.
Original Story:
http://winyourleague.sportsblognet.co...
THE BACKYARD
BEST OF MAXIM
RELATED ARTICLES
GREEN BAY, Wis. While Jarius Wynn is battling for a regular spot on the Packers' defensive line during mini-camp, he is also battling with an off-the-field health issue: Bell's palsy. "It came on about two weeks ago," Wynn said Tuesday. "It's a real mild case, so it wasn't that bad. It's just my left eye. It wouldn't close." Wynn explained...
GREEN BAY, Wis. On the first day of Packers minicamp, quarterback and reigning NFL MVP Aaron Rodgers talked about a variety of topics. Five question-and-answer highlights: 1. How have the new coaches and coaching adjustments on offense been? RODGERS: I think they're doing a great job, I really do. It's been fun working with (new quarterbacks coach) Ben (McAdoo). (New offensive...
Alex Green was a 3rd round pick of the Packers' in 2011, but managed just 3 carries last year before tearing his ACL. When asked today, Green was noncommittal about Training Camp saying that he's "not sure." This report comes on the same day that Mike McCarthy called Brandon Saine the team's most consistent back. Saine will compete Green will compete with for the #2 back...
GREEN BAY, Wis. The first Packers minicamp session wasn't necessarily a good practice, but it's the best coach Mike McCarthy was able to have given the circumstances of the NFL's new collective bargaining agreement. "I think that this transition into the new CBA environment that we're in, just riding up in the car with (packers PR staffer) Jason (Wahlers)....
MADISON, Wis. When Green Bay Packers coach Mike McCarthy visited a local children's hospital at this time last year, he was fresh off leading his team to a victory in Super Bowl XLV. As a special treat that day, McCarthy brought along the Lombardi Trophy for show and tell. The Packers did not repeat as NFL champions this year, so McCarthy didn't have another Lombardi Trophy...
At this point, a full-time move to safety doesn't appear to be in the works for Charles Woodson. As the Green Bay Packers sort through their options to replace former Pro Bowl safety Nick Collins, though, coaches are acknowledging the possibility that the versatile veteran will spend more time at the position than he has in previous seasons. Packers coach Mike McCarthy said...
The Green Bay Packers were Super Bowl favorites for most of the 2011 season, but they still had some glaring holes to fill this offseason. 1st-round pick Nick Perry will be expected to start from day one at outside linebacker opposite Clay Matthews. He takes the starting job over from Erik Walden, who struggled throughout the 2011 season, recording just three sacks and proving to...
Green Bay Packers coach Mike McCarthy knows teams can get in trouble for violating a league-wide ban on live contact during offseason workouts. But as the Packers completed the first day of their three-day mandatory minicamp Tuesday, McCarthy acknowledged that he still isn't sure what level of contact can trigger a violation. ''Frankly, I don't know what the line...
Hot News for CB Charles Woodson
Hot News for QB Green Bay Packers
Even with the third worst team in the league last season, the NFC North Division is fairly stacked with talent. With a record of 36-28, only the AFC North had more victories last year, and it's a virtual lock that at least one (if not both) playoff wildcard team will be coming from the NFC North. In a division with so much talent, it's challenging to list the top ten overall...
NFL News

Delivered to your inbox

You'll also receive Yardbarker's daily Top 10, featuring the best sports stories from around the web. Customize your newsletter to get articles on your favorite sports and teams. And the best part? It's free!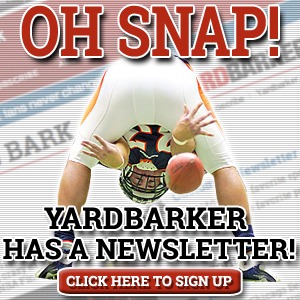 Latest Rumors
The Backyard

Today's Best Stuff

For Bloggers

Join the Yardbarker Network for more promotion, traffic, and money.

Company Info

Help

What is Yardbarker?

Yardbarker is the largest network of sports blogs and pro athlete blogs on the web. This site is the hub of the Yardbarker Network, where our editors and algorithms curate the best sports content from our network and beyond.