Found September 20, 2013 on Fox Sports Carolinas:
PLAYERS:
Greg Hardy
,
Charles Johnson
,
Dwan Edwards
,
Star Lotulelei
,
Kawann Short
,
Frank Alexander
,
Frank Kearse
,
Mario Addison
,
Colin Cole
,
Steve Smith
,
Jon Beason
,
Drew Rosenhaus
,
Travelle Wharton
,
Cam Newton
TEAMS:
Carolina Panthers
The transformation happens on Fridays. Hes Greg Hardy Monday through Thursday of game weeks. Hes the Kraken come Friday. The signature face paint resembling a pro wrestler wont come until Sunday neither will the pre-game name tag he displays on the back of his jersey. But the beast appears on Friday. You get into predator mode and its time to go kill, Hardy said. Everything else is natural. Hardys always had an appetite for quarterbacks but doesnt remember the exact game the Kraken alter ego was created. He remembers seeing the nickname on a Panthers message board two years ago and it all developed from there. It was one game in a losing season just got pissed and my big thing was just going to war. I was just like this is not a game anymore. We get paid for this. You can get fired tomorrow. You can get killed out here. This is war. Theres no guns, but its war, Hardy said. So I just painted up my war face, do my thing, rally the troops, and get the crowd going. He may have found his nickname on a message board, but he takes all the credit for the nickname he assigned for the Panthers defensive line this offseason MonStrz, Inc., a play off of the Disney film. Charles Johnson (Loch Ness), Dwan Edwards (Phoenix), Star Lotulelei (Hydra), KaWann Short (Minotaur), Frank Alexander (Leviathan), Frank Kearse (Big Foot), Mario Addison (Gargoyle) and Colin Cole (Big Predator) each got assigned their own persona in a unit that appears to be closer than any other on the team. Its a fun little thing, the fans like it," Lotulelei said. Its what I tell Greg its his world and us rookies just live in it." Veteran teammate Steve Smith, who seems to have Hardys gameday edge at all times, isnt as much of a fan of the nicknames. I dont believe in mythical creatures and Im not playing that game, Smith said. Im 34 years old, I dont have time for that. But even Smith recognizes the difference on the field. Its the ability to separate his off-the-field personality from the attitude that he needs on the field that allows him to "dominate." Theres always a certain aura of confidence about Hardy. His talk of destroying people and dominating dont come off as much egotistical as they do matter of fact. On the field, he uses his play rather than his mouth as his leadership style, letting a constant motor and intensity create followers. Thats why the jovial guy in the locker room, cracking jokes on his teammates, shuts it off come Friday. I like to have fun. Its definitely work time when its work time, Hardy said. Some people consider that bipolar or shifty, but I feel like thats talented. If you can shift from having a great time in life in general and enjoying your downtime and then get to learning like I do in the meeting rooms. Then, when its out on the field, I gotta be a field general and put my mean face on and go to work. Lifes rather simple, according to Hardy. He fell off a motorcycle after his rookie year that injured his foot and left him hobbled heading into training camp. Lesson learned: Dont fall! Zero sacks through the first two games of the season: Play even harder. Its the same mindset hes used heading into a contract year with offseason talk swirling around a potential contract extension that never got done before the season. Talks with Steve Smith and Jon Beason about it in the preseason all yielded the same theme: Play well and the rest takes care of itself. Thats the same thing hes told his agent, Drew Rosenhaus: You do your job, and Im just gonna ball. He wont deny he wants a big deal the type that could set up his family for life and where he wouldnt ever have to worry about getting a job after his career's final snap. Its the type of freedom that would allow him to play without being conscience of injury, where he can just play balls to the wall completely. Still, at 1.1 million in 2013, hes not complaining. Its still a heckuva lot of money and a long ways from his days growing up in Millington, Tenn, a northern suburb of Memphis. The work is hard but the life is better, and thats why you wont find him worrying at all whether a new contract gets done or not. In the grand scheme of things if you can just look at the overview, its not like Im hurting or my bills aint paid like back in the day when Im hustling for food, Hardy said. Im fed. Im just trying to secure my familys security for life. What about the risk of injury or a down year, though? Should a fourth-year player like Hardy worry about those risks heading into a contract year when an extension didnt get complete before the season? Not if I was him, especially with as good of player as he is, veteran Dwan Edwards said. Hes going to come out and work his butt off and have a fantastic year and I think all that stuff will take care of itself. As black and white as things are for Hardy on the field and off, the one mystery hes never been able to solve is how he fell from a projected top-10 pick heading into his senior season to a sixth rounder. There were injury concerns a broken foot in the offseason and a broken wrist to end the season. There were motor concerns and work ethic whispers, too. Still, the guy who always has a simple answer on hand has yet to come up with one concerning his draft-day freefall. He knows hes better than the story his selection told. Honestly, I would never know. Im better than that, Hardy said about his late selection. I didnt get five or 10 DUIs, didnt fail no drug tests. Honestly, its a mystery. Coulda been my injuries, but I was healthy. Its a mystery to me still. My only response is its some bull, but Im glad the Panthers saw through that bull and gave me a shot. Theres an edge to Hardy when he talks about slipping to the sixth round, the type every great competitor has when they feel their abilitys been slighted. Thats part of where the relentlessness comes from, and offensive guard Travelle Wharton can only laugh at the idea of concerns with Hardys motor or work ethic. Hes relentless. He goes after it. He dont stop. You may stop him on a move and hes got another one. You stop him on that one, and he keeps going that changes the way you play. You want to take something away, Wharton said. Hes strong and hes fast and with those combinations that makes a great pass rusher. You see that sentiment even in the preseason when a back gets loose on the edge and Hardy ends up chasing him all the way across the field to make the tackle on the opposite sideline. You see it in the season opener when he continually got in the pocket to pressure Seattle's Russell Wilson. Those hurries dont always show up in the stat sheet but their impact cannot be understated on a team with a shaky secondary. And thats why Hardys not worried that he hasnt registered a sack yet after 11 a year ago. If I have 16 sacks and were 0-16, no ones going to give a (crap) about my 16 sacks, he said. While Hardys emphatic the numbers dont tell the tale, he publicly stated an offseason goal of 50 sacks. He still thinks its possible and believes hes put in the offseason work to achieve it, dropping 15 pounds down to 275 pounds that he said has made a night and day difference in his speed. Last years 11 was just a stepping stone. Its all about getting back there," he said. "Eventually theyre gonna come and when they come, its gonna start raining and pouring." Video: Throwback Thursday: Cam Newton
Original Story:
http://www.foxsportscarolinas.com/nfl...
THE BACKYARD
BEST OF MAXIM
RELATED ARTICLES
NFL Films guru Greg Cosell doesn't quite like what he sees in Carolina Panthers quarterback Cam Newton this season so far. After his top target Steve Smith said he felt Newton was "pressing", Cosell said he still sees Cam as a young passer still learning to play the position, writes Marc Sessler of NFL.com. "He does not throw the ball with consistency. There...
The Panthers announced they've re-signed free agent cornerback Drayton Florence to help out an injury-plagued secondary. Florence, a 10-year NFL veteran who has played in 143 career games and started 99, attended training camp with the Panthers and has worked primarily with the starters during the preseason before being released in final roster cuts. At the time, Panthers coach...
The Carolina Panthers have announced that starting cornerback Josh Thomas will not play Sunday against the New York Giants. Thomas had been listed as questionable on the team's initial injury report distributed on Friday, but after meeting with independent physicians later in the afternoon it was determined he's yet ready to play. Thomas said on Twitter he is being held...
Last week: 5 The Panthers are now 2-14 since 2011 in games decided by a touchdown or less. Part of my reasoning for them having a big season was that their record in close games would even out, as it always does in the long run, but it's very possible that won't happen this year. They need to fire Ron Rivera. They should have done it last off-season (can you imagine how good...
Panthers rookie running back Kenjon Barner, who had been impressive in training camp, is still dealing with a foot injury will miss Week 3.Fantasy Spin:With Jonathan Stewart also sidelined, Mike Tolbert will be the backup to DeAngelo Williams, but the starter should ge the majority of the workload since Tolbert is also less than 100 percent.
New York Giants (0-2) at Carolina Panthers (0-2) The Panthers are now 2-14 since 2011 in games decided by a touchdown or less. Part of my reasoning for them having a big season was that their record in close games would even out, as it always does in the long run, but it's very possible that won't happen this year. They need to fire Ron Rivera. They should have done it last off...
New York Giants at Carolina PanthersSunday September 22nd 1:00 PM (EST)Line: Panthers by 2.5Hecker's Record: (3-4)When the New York Giants march into Bank of America Stadium to take on the Carolina Panthers, you can expect to see a battle of two very pissed off 0-2 teams.The Panthers put up an admirable effort in Week 1 against the Seattle Seahawks, whom many experts consider...
– This week's issue of ESPN The Magazine has an article on the many masks of Rey Mysterio. Carolina Panthers quarterback Cam Newton is on the cover. – Ricky Morton turns 57 years old today. – Former WCW announcer Scott Hudson is 49 today. – Former Tough Enough and TNA Gut Check contestant Ivelisse Velez is 25 today. – To promote Battleground (October 6 at the First Niagara...
The New York Giants crushed the Carolina Panthers when the two sides met in 2012, but quarterback Cam Newton is determined not to let history repeat itself.
Panthers News

Delivered to your inbox

You'll also receive Yardbarker's daily Top 10, featuring the best sports stories from around the web. Customize your newsletter to get articles on your favorite sports and teams. And the best part? It's free!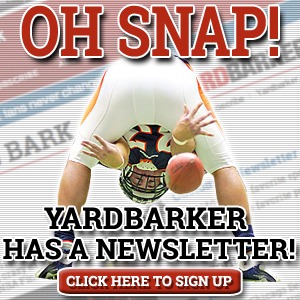 Latest Rumors
The Backyard

Today's Best Stuff

For Bloggers

Join the Yardbarker Network for more promotion, traffic, and money.

Company Info

Help

What is Yardbarker?

Yardbarker is the largest network of sports blogs and pro athlete blogs on the web. This site is the hub of the Yardbarker Network, where our editors and algorithms curate the best sports content from our network and beyond.