Found November 20, 2012 on Fox Sports Carolinas:
The Carolina Panthers must win four of their final six games to equal a 6-10 mark last season that generated some excitement in the Queen City. But repeating last years record isnt on anyones mind around the franchise. Rumors swirling on radio shows and elsewhere suggest many of the Panthers are playing for their jobs because the team will be blown up after the season and Carolina will start from scratch, again. That, of course would mean a regime change. With former general manager of 11 years Marty Hurney canned last month, that may not bode well for second-year head coach Ron Rivera. Im not concerned about me, Im really not, Rivera said following Sundays home loss to the Tampa Bay Buccaneers. No matter what happens, Ill be OK. Whether Im here next year or not, I will be A-OK. But Riveras face has increasingly told a different tale. You can see the stress, and he doesnt wear it well. Hes not a rah-rah coach, so theres no camouflaging it there. He isnt a demonstratively dictatorial man, so hes not covering up any insecurities. I dont know whats going to happen, and I wont know until after the season, I know that much, he said. From my conversations with (owner) Mr. (Jerry) Richardson, thats my approach. Thats the way I look at it. The Panthers are 2-8 and coming off perhaps the most discouraging loss of the season, and maybe the two-year Rivera and Cam Newton era. They led Tampa 21-10 with six minutes left in the fourth quarter Sunday in at that point was their most complete effort of the season. But the defense fell apart and the teams increasingly fragile psyche collapsed under a stream of short pass plays and a questionable personal foul call. Carolina didnt recover and lost in overtime, never getting the ball in the extra period. The teams body language following the defeat told a tale that hadnt yet surfaced despite the losing. It was as if reality was finally beginning to settle in: Not only are preseason claims of a Super Bowl appearance and even a spot in the playoffs long out of the picture, but this franchise that was so excited just a few months ago could be on the verge of imploding. The Panthers play lends reason to believe this trek is their destiny. Newtons sophomore slump and the criticism extending beyond his play has become an anchor of negativity for the franchise. Injuries along the offensive line and its awful play has limited his chances at breaking out. And as the close losses piled up, speckled with a pair of blowouts courtesy of the Manning brothers, Sundays breakdown may have been the steel beam breaking. As each day passes and the players struggle clearing their minds to focus on the immediate task at hand visiting the Philadelphia Eagles next Monday night they are further from being able to shake the tree and make a push at last seasons final record. Its just a matter of finishing, defensive tackle Dwan Edwards said. Were going to watch the tape, and obviously were going to be mad at ourselves at a couple of plays. So many of the Panthers said Sunday they have to learn how to finish games, how to make that extra play to lift them to a victory or simply close the deal on a team they are leading. Finishing. It may have been the speed bump keeping this team from having a very different tenor about the season. But after all they have dealt with, starting may now be the teams biggest key moving forward.
Original Story:
http://www.foxsportscarolinas.com/11/...
THE BACKYARD
BEST OF MAXIM
RELATED ARTICLES
Ron Rivera says based on recent conversations with team owner Jerry Richardson he doesn't know if he'll remain the Carolina Panthers head coach beyond this season. Rivera says ''I know that nothing is going to happen until after the season.'' Rivera's coaching seat got a little hotter after the Panthers (2-8) surrendered yet another fourth quarter lead...
CHARLOTTE, N.C. -- The Carolina Panthers made yet another change at kicker. The Panthers on Tuesday waived the slumping Justin Medlock and replaced him with Graham Gano. Carolina (2-8) signed Gano, a free agent, to a two-year deal after Medlock missed his last three field goals. Gano spent 2009-11 with the Washington Redskins, playing in 36 games and converting 59 of 80 field...
Image via USA Today Andy Reid's job as head coach of the Philadelphia Eagles is safe at least through Monday night, per a report in the Daily News. And if you're hoping that Reid will show mercy and throw himself on the sword of unemployment, you're out of luck. It ain't happening. Reid was asked whether his own leadership has been rendered ineffective in trying to motivate...
You're Fired! Even though I unclear as to the reason why… A strange story out of the Novacare seems to point to a Philadelphia Eagles organization that, both on and off the field, simply doesn't have a clue. News of a firing by the Eagles broke overnight. If you're wondering why there's no hubbub over it, it's because it was of someone who has nothing to do with the mess...
Tampa Bay made enough plays to lose Sunday's game against Carolina. But as this teams has shown time and time again, they will not stop until the final whistle blows. The Bucs would finally gets things together at the end of regulation to force overtime and pull out the victory over the Panthers 27-21. With a 10-0 lead in the first quarter, Bucs quarterback Josh Freeman would...
Going into yesterday's Panthers game, it was easy to be a little overconfident. The Bucs had a 5-4 record, and had won four of their last five games. Running back Doug Martin was all over national sportscasts, with talking heads who usually seem to forget the Bucs exist ("Wait, you mean that team with the orange uniforms? Vinny Testeverde's team?") proclaiming the newbie...
TAMPA BAY (27) d CAROLINA (21) The Headline: Buccaneers cap amazing comeback with an overtime win The Story: It just goes from bad to worse for the Carolina Panthers, having played well for 57 minutes and looking on course to win their third game of the year (while keeping their already minute playoff hopes alive) the Panthers got an ugly punch in the guts from their division rival...
CHARLOTTE, NC -- What more can the Carolina Panthers endure? Once again, a defense that was panned a year ago came up big for 54 minutes Sunday and allowed a struggling offense to do enough to notch a victory. But it didn't exactly work out that way in the 27-21 overtime loss to the Tampa Bay Buccaneers. Call them what you want -- snake bit, unlucky, just not good enough and...
NFL News

Delivered to your inbox

You'll also receive Yardbarker's daily Top 10, featuring the best sports stories from around the web. Customize your newsletter to get articles on your favorite sports and teams. And the best part? It's free!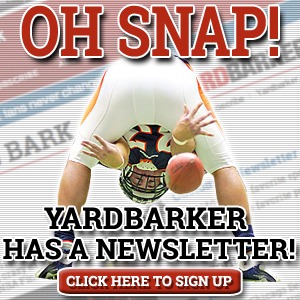 Latest Rumors
The Backyard

Today's Best Stuff

For Bloggers

Join the Yardbarker Network for more promotion, traffic, and money.

Company Info

Help

What is Yardbarker?

Yardbarker is the largest network of sports blogs and pro athlete blogs on the web. This site is the hub of the Yardbarker Network, where our editors and algorithms curate the best sports content from our network and beyond.