Julian Edleman dropped this second quarter pass
Honestly, when the fourth quarter came around, I don't think either teams fan base wanted to win the football game. They really just wanted to find head referee Bruce Hermanson's car and throw chicken-milk stink bombs at it. In the end, it was the Ravens who came out victors over the New England Patriots, after a little bit more controversy of course when Ravens kicker Justin Tucker just snuck in a game winning field goal past the right upright, or maybe he didn't. Honestly, nobody knows at this time. There are Patriots fans who think it went in and Ravens fans who just want to go home and rub their lucky rabbits feet and pretend that they didn't see it. It's really gotten to that point.
It's a shame that it's going to dominate the topic of conversation about this football game because it was really a great football game. It was old school from the onset with both teams wanting to set a physical edge to this game and get under the oppositions skin. Players were flying into plays, flashing first down signals in front of opposing players faces and giving the affectionate "Let's 'effing go" faces to their teammates after they made spectacular play after spectacular play. In reality, if the referees put away their whistles during plays and blew them more during the post-play shenanigans, there really wouldn't be anything for either side to ***** about. All it would have been is an extremely physical football game that reminds fans why we love the NFL. It was two teams that clearly hate each others guts and wanted to do whatever they could do to win the game.
Instead, this football game quickly morphed into something resembling an NHL playoff game with one key difference. At no point tonight could the players drop the gloves, settle their differences, and go spend five minutes feeling shame in the penalty box before getting back to playing hockey. In tonight's game, the referees lost all control over what was going on in the game and because football is not a sport that tolerates fighting on the field, there was no where for the players to remove the tension from the game and get back to playing the game of football. Instead, they were more focused on what penalties they could get away with and trying to draw calls. When Jacoby Jones celebrated drawing the pass interference to put the Ravens in range for the game winning field goal, it was exactly the opposite of what should be going on with football. Players should celebrate creating great plays and not that some guy they pulled off a Division II game in Southern Nebraska decided that something that many referees would let go saw fit to reward something seemingly without warning.
The New England Patriots and the Baltimore Ravens put on a show that the National Football league should applaud and tout as two teams playing at the top of their games; two teams that show that rivalry and physicality is still welcome in this violent and dangerous game if done the right way. They should be showing the courageous play of Torrey Smith who came onto the field hours after learning of his brother dying in a motorcycle accident to play quite possibly the game of his life in front of the hometown fans or Patriots quarterback Tom Brady who directed the Patriots offense at times with an efficiency we as fans haven't seen from one of the all time greats in a long time.
Instead, the National Football League has to answer to the fans and the media and the bloggers about what they all watched on the field on Sunday night. A few years ago, NBC took the Sunday Night reigns hoping to make Sunday night the premier spectacle of one of the worlds greatest sports. It was a spectacular all right; a spectacular crash and burn of the NFL product that could be the start of a road football fans don't want to go down.
Original Story:
http://www.bostonsbettah.com/?p=5128
MORE FROM YARDBARKER
NFL News

Delivered to your inbox

You'll also receive Yardbarker's daily Top 10, featuring the best sports stories from around the web. Customize your newsletter to get articles on your favorite sports and teams. And the best part? It's free!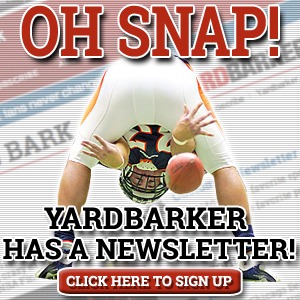 Latest Rumors
Best of Yardbarker

Today's Best Stuff

For Bloggers

Join the Yardbarker Network for more promotion, traffic, and money.

Company Info

Help

What is Yardbarker?

Yardbarker is the largest network of sports blogs and pro athlete blogs on the web. This site is the hub of the Yardbarker Network, where our editors and algorithms curate the best sports content from our network and beyond.