PITTSBURGH - NOVEMBER 14: Rob Gronkowski of the New England Patriots celebrates scoring a touchdown against the Pittsburgh Steelers on November 14, 2010 at Heinz Field in Pittsburgh, Pennsylvania. (Photo by Chris McGrath/Getty Images)
The Patriots lost Rob Gronkowski when he rebroke his arm on this play Sunday Patriots tight end Rob Gronkowski has been one of Tom Brady's favorite targets since he came into the league three years ago. Gronkowski's deadly combination of size and speed (along with having the best quarterback in the game throwing him passes) has turned him into the league's best tight end (when healthy). Not only is Gronkowski a great weapon for Brady, he is also a great blocking tight end. With the help of Aaron Hernandez and Gronk, Bill Belicheck has been able to instill a dominating two-tight end set that the Patriots use more often than not. So why does Tom Brady sound so calm when he says he has his offense ready to move on without Gronk? Well, for starters, the Patriots went 4-1 in the last five games of the regular season without Gronk after he broke his forearm against the Colts on November 18th. If it wasn't for the Patriots' worst played half of the year against San Francisco, they could have easily run the table without Gronk. That being said, the Pats were still able to average 34 points per game without Gronk, only .8 points less than their season average. They have learned to win without him, and Brady has been able to spread the ball around much better than in the Super Bowl last year (sigh). On WEEI's weekly interview with Brady Monday, Brady described the situation that the Patriots are currently in, compared with last year, when Gronkowski broke his ankle in the AFC Championship. He was quoted saying, "Sure. I think we put much more time in this year [preparing for life without Gronk] than we — for example, like last year, when we played the Super Bowl, it was our first game without him in two years." Brady and the Patriots understand that although Gronk is one of their best weapons, they have a great team, and know that this is not an individual sport. Brady went on to say, "Well we know now, we know the types of packages we'll use and what we'll do and the different ways we'll try to find some weakness in the defense based on our groups and so forth." The Patriots were able to do this twice against the NFC South Champion Texans, and although they lost to the 49ers, they were able to put up a lot of points quickly after Brady and company figured out some of the 9ers defensive schemes. The Patriots were able to win without Gronk this season while also working on packages without him. They started with using Daniel Fells as the second tight end in the two tight end sets, but a sudden change of mind gave Michael Hoomanawanui the chance he had been waiting for. According to Mike Reiss of ESPN Boston, of Hoomanawanui's 283 snaps he's been on the field for this season, 179 of them came in the last 4 games of the season. Although he only caught 5 passes this season, Hoomanawanui is an excellent blocking tight end, and it has shown. He was able to come in and step up, and the run game hasn't skipped a beat. Hoomanawanui has also allowed the Patriots to stick with their two tight end sets, something they were not able to do in the Super Bowl last year after basically losing Gronk (Giants were calling him a decoy by the third quarter). The offseason addition of Brandon Lloyd could also be huge in terms of the loss of Gronkowski. After a very quiet season, Lloyd was able to perform well without Gronk when it mattered, having two of his best three games of the regular season against the Texans and 49ers. Although Lloyd hasn't been the deep threat the Patriots had hoped for, he still helps spread the field out and gives Brady that option outside the numbers. Teams still have to prepare for Lloyd, and can't focus all their energy on stopping the Patriots passing game inside the numbers. I'm looking for Lloyd to have an impact against the Ravens Sunday night. The Patriots have been able to pick up character players throughout the years, and have called upon those players to step up when necessary. Whether it be Danny Woodhead, Rob Ninkovich, or Michael Hoomanawanui, the result is always the same. The Patriots are so well coached that, although injuries take a toll on all teams, the Patriots have been able to overcome injuries time and time again. "Whatever they need me to do to be successful, that's why I'm here," said Hoomanawanui after the Patriots win on Sunday. The Patriot way, indeed.
Original Story:
http://www.bostonsbettah.com/?p=5616
MORE FROM YARDBARKER
Patriots News

Delivered to your inbox

You'll also receive Yardbarker's daily Top 10, featuring the best sports stories from around the web. Customize your newsletter to get articles on your favorite sports and teams. And the best part? It's free!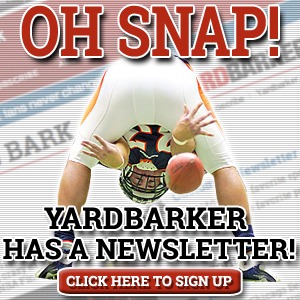 Latest Rumors
Best of Yardbarker

Today's Best Stuff

For Bloggers

Join the Yardbarker Network for more promotion, traffic, and money.

Company Info

Help

What is Yardbarker?

Yardbarker is the largest network of sports blogs and pro athlete blogs on the web. This site is the hub of the Yardbarker Network, where our editors and algorithms curate the best sports content from our network and beyond.