Julian Edleman and the New England Patriots' pummeled the Jets on Thanksgiving night 5:15- Happy Thanksgiving everyone and welcome to my living room! It's the New England Patriots and the New York Jets in a Thanksgiving clash to end all Thanksgiving clashes. The quick backstory here is that my father is a born and raised Jets fan and I am, of course, a Patriots fan. This is the first time that we have been in the same room during one of these games since the playoff game two years ago. With that in mind, this could end poorly. 5:20- If I hear my dad yell "Tebow!" one more time, I swear to god I'm blacking out. 5:22- John Madden is replacing Faith Hill for the opening of this game on NBC. I greatly appreciate this. Also, for someone that is eighty something, he looks pretty good, no? Like at least he doesn't look like he's choking on a Turkey leg today. 5:30- My guess is that the lack of Gronk is going to turn the Patriots into one of those old 2007 style Patriots teams where they spread the field and work horizontally with occasional looks down the field. Remember, Gronk's blocking is a huge help in the running game. 5:33- On the very first play from scrimmage, the Jets attack Donald Thomas the left-guard replacing Logan Mankins tonight. This works and forces the Patriots into second and long. If you know anything about this football team, you should know how this drive turned out. 5:37- Because it's NBC, the starters announce themselves and where they are from and…wait…what the hell did Aqib Talib just say? And what kind of hat was he wearing? I'm so lost right now. 5:42- Aaron Hernandez marks his return to the line-up with a pretty one-handed catch and run. This sets up big things for the Patriots who proceed to have a nice drive stall in Jets' territory and a missed field-goal. This better not be one of those games. 5:48- Even though the Jets second drive has been pretty nice thus far, I am thankfully reminded of two things. They are the New York Jets. That right there is the kicker. If the Jets were to score on this drive, Pats' fans have to just look to last week to see when the Patriots gave up the first score and won. That game turned out nicely. 5:50- Almost on cue, Mark Sanchez throws an interception to Steven Gregory. I would love to make comparisons between the Patriots defense this year and the Saints won in 2010 because they both force a ton of turnovers. The difference between the two is that those Saints forced a ton of pressure and that is the Patriots' Achilles heel. 5:55- The Patriots are in a n0-huddle assault, but they are keeping it balanced. I was totally unprepared for this. I thought they would just sling the ball all over the field but instead, they are keeping the running game going. I personally love it. They are dictating to the Jets how this game is going to be. 6:02- First quarter ends during a really long Patriots' drive. We'll talk more about this after the upcoming third down play. It's 0-0 by the way. Sully sends a text message that says "Big play here". It may be early in this game, but I agree with him here. 6:05- Brady rolls out to his right and finds a wide-open Wes Welker in the back of the end-zone for the touchdown. Balance was the key to everything on that drive for all the reasons made at the 5:55 mark of the diary. It was encouraging. Maybe the Patriots' will just roll. 6:08- I always love the shots of New York during games that are taking place in New Jersey. It's like how I love the banners in the Verizon center celebrating the Capitals regular season Eastern Conference Championship banners. To NBC's credit, New York is only eight miles from the stadium and it's better than showing shots of where Little Vinnie was killed by the Mafioso. 6:10- Wow, does NBC's 1600 Penn look awful. 6:12- Our first Tim Tebow reference of the game. Bottoms up everyone. 6:15- My mom asks me why I talk to the television during the game. She thinks it's to help me think. I tell her "It's to vent". This time, it's about our continuing streak of terrible pass rush. 6:19- The Patriots stop the Jets on a fourth and one an I go to the kitchen to get desert. Just as this happens, Brady finds Shane Vareen down the sidelines for an 83 yard catch and run touchdown. I should go get pumpkin pie more often. Sadly, if this became a superstition, I would gain 50 pounds. 6:21- I have no idea what I wrote here so let's just all point and laugh at me for having terrible hand-writing. It's okay though, if I was the Jets and I tried to write a running diary, I would skip times and put things out of order. 6:23- The most Jets play just happened. Somehow, Mark Sanchez just ran into the back of his right-tackle, laid himself out, and Steven Gregory recovered the fumble for a touchdown. My dad yells for Tim Tebow. Seriously, I don't think even he could make that play happen. 6:27- On the next kickoff, the Jets fumble away the football right into the hands of Julian Edleman for another touchdown. It's like their entire franchise is being summed up on National Television. Wait, I don't feel bad for the Jets. They are the Jets. All I can do is laugh. 6:31- Seriously though, what do the Jets have to lose at this point for putting in Tebow? Give us what we want! 6:33- Jets fans are chanting for Tebow my dad is starting to chant for Tebow, hell, I secretly want Tebow just so I can have something to laugh at. Everyone wants Tebow. By the way, NBC and myself have just made enough Tebow references to send Bristol into an orgasmic frenzy. If you haven't blacked out, you're playing the game wrong. 6:39- Fireman Ed looks all sad and stuff. Ha. Ha. 6:40- Julian Edleman catches a little post-corner route for a touchdown. We have started playing a family game of "Apples to Apples' over here. We just pulled the adjective card "Unreal". If only I could pull the noun card "This game". 6:41- I'm sorry that was a Rick Riley joke. I hate myself too. In other news, NBC shows one of the Brady start overlays with a…err…questionable picture of Tom Brady. You think he lost a bet or something? Those pictures are horrible. GRR! TOM BRADY IS TOUGH! 6:49- My only complaint? No pass rush. Seriously, that's my only complaint. 6:55- Oh wow, the Jets scored before the end of the half. Their fans still are booing. I actually don't blame them. 7:01- Tony Dungy says the Jets should put in Tebow. This, of course, excites my dad. 7:04- ARE YOU GOING TO GO MY WAY? I'm just happy we got to avoid the Jonas Brothers this year. 7:10- The only person I know that watches "Revolution" has a reputation for watching terrible television. How NBC hasn't completely gone under as a network yet is beyond me. Oh that's right, the NFL and "The Office". 7:13- To everyone's sadness, Mark Sanchez is coming out. 7:22- Edleman comes around on a reverse and Laron Landry head-hunts him into next week. If Edleman is hurt, I want Landry's head UPS'd to me before I get home on Saturday. 7:25- Everytime the Patriots are on National TV, someone always has to mention how underrated Vince Wilfork is. This seems counterintuitive, but it highlights the fact that Vince Wilfork consistently makes a huge difference in almost every game. 7:37- Oh look, a safety. Well the Jets have that. Of course, the announcers have to bring up the Super Bowl again for no good reason if only to remind us Patriots' fans of that random safety in the Super Bowl. God dammit. 7:43- After the safety, the Jets drive down the field and suddenly it is a 35-12 game. My thinking is that the Patriots defense has let off the gas pedal just a little bit. 7:52- The Patriots have answered the Jets score with a long drive of their own. If you're wondering, I started typing in the running diary into my computer. It's been that kind of game. 35-12 at the end of the fourth quarter. Yes, the Patriots are winning. 8:00- Brady sneaks into the end-zone. He might be the best QB sneak quarterback in football and I'm not even joking. 42-12 Patriots. 8:07- Jets fumble, Pats score. This is writing itself at this point. Let's play "Who gets to eat John Madden's turkey leg" Julian Edleman- Scored on both offense and special-teams and played pretty damn well on both of them. Left with a concussion meaning he likely would try to eat the bone of the turkey leg. Tom Brady- Spectacular as always, but the questionable pictures during every single NBC stat-overlay will likely bring him down a few pegs. Steven Gregory- Almost literally forced every Jets turnover. Will get points deducted because he has a stupid name. Seriously, he has two first names. Shavan Varidley- This dude was a monster tonight. Mark Sanchez- Easily the Game MVP for the New England Patriots Vince Wilfork- My pick. Anchored the entire Patriots defense and every time the Jets looked like they might break through and get something going, Wilfork was there to make the play. On both the goal-line stand and the fourth and one play, Wilfork was involved and making a big impact. Plus, he will probably eat the entire turkey on national television. That right there is a ratings bonanza for NBC, and god knows they need them. 8:23- Good god. That's a mutated six legged turkey! The Mayans were right! Sanchez takes a hit and comes up limping. My dad gets up from his coma and says "Here he comes!" in reference to Tebow. He doesn't come in. Everyone gets sad again. 8:27- While the Jets just scored a touchdown, I still believe that Rex Ryan is fully prepared to eat Mark Sanchez's leg for his thanksgiving dinner. 8:33- Final score, 49-19 Patriots. Probably the best 60 minute effort from the entire Patriots team all season long. Offense, defense and special teams. Everything was on full display tonight. Plus, beating the Jets always makes me happy as it should you. 8:37- NBC cops out and gives the Turkey legs to Brady, Gregory and Wilfork. Vince looks like the happiest man in America right now. Brady tells Michelle Tafoya "I'm going to go give this turkey to Rodney". More than any other franchise I can think of, they love everyone who has come through the organization like their brothers. That more than anything is why I have love this team. I can't think of a better way to sum up Thanksgiving. Now let's go buy televisions for $100! (Not really, if you go to Black Friday, you are a damn fool)
Original Story:
http://www.bostonsbettah.com/?p=5415
MORE FROM YARDBARKER
Patriots News

Delivered to your inbox

You'll also receive Yardbarker's daily Top 10, featuring the best sports stories from around the web. Customize your newsletter to get articles on your favorite sports and teams. And the best part? It's free!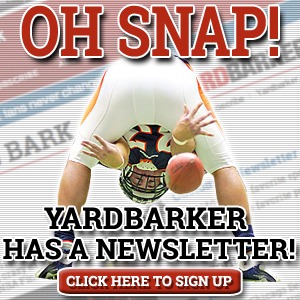 Latest Rumors
Best of Yardbarker

Today's Best Stuff

For Bloggers

Join the Yardbarker Network for more promotion, traffic, and money.

Company Info

Help

What is Yardbarker?

Yardbarker is the largest network of sports blogs and pro athlete blogs on the web. This site is the hub of the Yardbarker Network, where our editors and algorithms curate the best sports content from our network and beyond.