Found October 27, 2011 on Patriots Daily:
PLAYERS:
Tom Brady
,
Aaron Hernandez
,
Chad Ochocinco
,
Brandon Deaderick
,
Ron Brace
,
Kevin Faulk
,
Danny Woodhead
,
Shane Vereen
,
Marcus Cannon
,
Brian Waters
,
Mike Wallace
,
Jerod Mayo
,
Brandon Spikes
,
Malcolm Williams
TEAMS:
New England Patriots
,
Pittsburgh Steelers
by Chris Warner, Patriots Daily Staff
After a Sunday without Patriots football (spent rooting against the Jets, to no avail), it's back to the grind for your Fightin' Foxboroites. The gang travels to Pittsburgh, where they've had some success in recent years.
This and other thoughts before the game…
The Tom Before The Storm: Could be a big day for quarterback Tom Brady, who typically beats the Steelers' defense like a birthday piñata. With the improved health of tight end Aaron Hernandez and their most robust running game in a while, the Patriots have a chance to put up solid numbers at Heinz Field.
Chad Eat-your-ginko: Maybe receiver Chad Ochocinco is just forgetting his routes and responsibilities. Maybe he needs some brain food to help him remember, like ginko boloba, or salmon, or blueberries. (I don't know. I just bought a pound of Swedish fish on sale. I'm not exactly a nutritionist.)
At this point, it's hard to care anymore.
Deaderick On Arrival? Interesting to see whether or not defensive tackles Brandon Deaderick and Ron Brace get summoned off the Player Unable to Perform (PUP) list. Both have made small contributions in the past, each working with the ol' "potential" label. Will both make the roster this year? Does this have any impact on current defensive linemen?
Speaking of the PUP list…
Faulk In "A" Condition: Running back and Pete-Carroll-era relic Kevin Faulk has said that he's 100 percent, maybe not the best thing to announce if there's a chance your team will put you on IR. Danny Woodhead and Shane Vereen have taken on the third-down role; however, Faulk is the most experienced, best pass-blocking back the Patriots have, so that should be worth something.
Marcus Oh Really Yes: All hail the potential return of offensive lineman/monolith Marcus Cannon, in uniform after battling non-Hodgkin's lymphoma earlier this year. The 358-pounder adds depth to the O-line. He played tackle in college and could rotate at right guard with veteran Brian Waters.
A great story no matter what, but an even better story if we get to see him pound the living dung out of opposing linebackers.
Up Against The Wallace: Pittsburgh receiver Mike Wallace (drafted one spot after the Pats picked Brandon Tate? Oy) can stretch the field for the Steelers and cause New England's defensive backfield serious problems. Have recent games pointed the way to defensive improvement, or have NE's DBs just gotten lucky? This will be a good game to find out.
The Side Of Mayo: While many fans have said that the defense seems more dynamic without linebacker Jerod Mayo, it's hard to ignore his production and his ability to stay on the field every down. If he returns, look for him to partner with Brandon Spikes, allowing Spikes to wreak more havoc.
Really, Mayo returning can't be a bad thing. Can it?
Malcolm In The Mid-Term: Happy to see rookie Malcolm Williams back in Foxboro on the practice squad halfway through the season. For a closer look at the seventh-rounder, here's a link to our exclusive PD interview with him back in May.
Email Chris Warner at chris.warner@patriotsdaily.com

Original Story:
http://feedproxy.google.com/~r/Patrio...
THE BACKYARD
BEST OF MAXIM
RELATED ARTICLES
Tom Brady has played some outstanding games against the Pittsburgh Steelers. His next chance comes Sunday at Heinz Field. The Patriots quarterback is 6-1 against them and has completed at least two-thirds of his passes in six of those games. Last year, he led New England to a 39-26 win at Pittsburgh in which he completed 30 of 43 passes for 350 yards and three touchdowns. Brady...
Ian Rapoport said on NFL Network yesterday that before the season started a Patriots offensive player told him that Tom Brady said "Against the Steelers, don't worry, I got it." You can see the report here as Brady insinuates he owns Dick LeBeau. The pregame release for the Patriots game is up in PDF format and it tells us the Steelers look to open the season 4-0 at Heinz...
Patriots QB Tom Brady was back in the states this morning after spending his bye week in the Bahamas. Naturally, he woke up nice and early to do his regular interview on WEEI Radio's Dennis & Callahan, talking a little bit about football and a lot about random stuff. That made for an entertaining half hour. On Sunday, he watched football like the rest of it. "It's always...
Tom Brady is thankful that teammate Rob Gronkowski posed for a (tasteful) photograph with an adult film star because it means he won't bear the brunt of mocking amongst New England Patriots players. Speaking to Boston's WEEI radio, the two-time Super Bowl MVP expressed gratitude for Gronkowski's public relations nightmare. "I'm just glad I'm no longer the...
Share: Juicy matchup in Steel City Associated Press Copyright 2011 Associated Press. All rights reserved. This material may not be published, broadcast, rewritten or redistributed. Published 09:45 a.m., Wednesday, October 26, 2011 div<div class="entry-summary>If the Patriots are the NFL's team of the last decade, the Steelers...
I've always been a big fan of the "If you could start an NFL franchise with one player, who would that player be?" argument, mostly because the answer is unknowable and you can spend hours quarreling over it, even getting into physical altercations as a result. It's a boatload of fun, especially if you're full of Natty Ice when you're in the middle of...
It is Patriot week.  The third biggest week of the year.  They still do not compare to either of the Ravens weeks of the year.  Now I could go through 20 different key match ups in this game.  There are so many people who will be going up against one another that will be huge match ups for the Steelers in this game.  Here are a couple of them. Lawrence Timmons vs. Rob Gronkowski...
  Once again, it's time for our weekly Q&A session with a blogger who covers the Patriots' upcoming opponent.  Up this week is Bam from Blitzburgh Blog.  Here's what Bam had to say about the Steelers and Pats leading up to Sunday's game. 1. The Steelers are 5-2, but are not really on anyone's radar. Why do you think that is and where do they stack...
NFL News

Delivered to your inbox

You'll also receive Yardbarker's daily Top 10, featuring the best sports stories from around the web. Customize your newsletter to get articles on your favorite sports and teams. And the best part? It's free!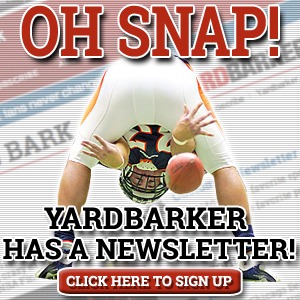 Latest Rumors
The Backyard

Today's Best Stuff

For Bloggers

Join the Yardbarker Network for more promotion, traffic, and money.

Company Info

Help

What is Yardbarker?

Yardbarker is the largest network of sports blogs and pro athlete blogs on the web. This site is the hub of the Yardbarker Network, where our editors and algorithms curate the best sports content from our network and beyond.