Found February 11, 2013 on Down and Distance:
Percy Harvin has been the subject of a lot of talk around the Minnesota Vikings lately. His future with the team is questionable, and now it looks as though the team will actively seek to trade him.  Sources tell WCCO's Mike Max that the main reason that Harvin left the team this season was not his injury, but instead it a blowup he had with Vikings head coach Leslie Frazier that caused him to miss the rest of the season. It started in that game at Seattle, where TV cameras caught Harvin waving his arms and screaming at Frazier on the sideline over his frustration with the Vikings' struggling offense. According to 1500espn.com, the injury to Harvin's ankle WAS legitimate, but that was just one of many problems. Harvin and Frazier had another heated exchange weeks later in front of some players and staff members, fueling speculation about a deteriorating relationship that could spell the end of Harvin's four seasons in Minnesota. This isn't the first time Harvin has had a problem with a head coach, as he had a similar meltdown with former head coach Brad Childress a few years ago. In November 2010, Childress accused Harvin of not giving his best and "dogging it" on another ankle injury and threw him out of practice. The two had to be separated and the altercation carried over to the weight room, where a witness said Harvin hurled a weight in Childress' direction. Harvin's injured ankle very likely fueled his frustration, as the injury wasn't healing as properly and as quickly as he and the staff had hoped.  Harvin played through the pain against Seattle the day he was injured, but he missed the following week's game against Detroit. Harvin never made it through a full practice again and was placed on IR two weeks later. Sources say teammates were disappointed in Harvin's actions and the organization has moved toward less tolerance for that behavior. Harvin does have trade value on the market, but if a team is to take a chance on him it is a legitimate risk. They would be trading for a player with a history of ankle injuries, problems in the past with migraines (he once passed out on the practice field due to a reaction to medication) and now a well known history of issues with authority. Harvin is a good wide receiever and could be a dynamic threat on field, but as with many other wide receivers, not only will a team be inheriting his playmaking abilities but it seems as though they'll inherit his "diva" attitude too. The post Percy Harvin Reportedly on Vikings Trade Block appeared first on DOWN & DISTANCE.
Original Story:
http://sports-kings.com/downanddistan...
THE BACKYARD
BEST OF MAXIM
RELATED ARTICLES
Here it is one week after the last game of the NFL season was played and Minnesota wide receiver Percy Harvin is at the top of the headlines again like he was before the season started.Think about it, with all the noise and hype Harvin likes to raise in the offseason, his lackluster play on the field and injury-prone seasons have trumped all the racket the media makes about him.Over...
Percy Harvin may be on his way out of Minnesota. The Vikings will try to trade their star receiver this offseason, according to CBS Minnesota. Harvin was placed on injured reserve prior to Week 13, but that may have had to do with his attitude more than a sprained ankle he suffered in Week 9. According to the report, Harvin "had an embarrassing tirade directed toward [Vikings head...
Ian Rapoport of the NFL Network says he spoke with two NFL executives and one told  him that he would be shocked if the Minnesota Vikings received more than a third round pick in return for Percy Harvin. Heard from 2 NFL execs on possible Harvin trade: 1 spoke of how complex finding value is. Another said he'd be shocked at better than a 3rd — Ian Rapoport (@RapSheet) February...
The Minnesota Vikings will attempt to trade wide receiver Percy Harvin this offseason following an "embarrassing tirade" directed at head coach Leslie Frazier, according to Mike Max of CBS Minnesota. Harvin left the Vikings last season, and many believed this was mainly due to the wide receiver's injury. However, Harvin's exit had more to do with his blowup with Frazier...
General manager Rick Spielman and the key members of the Minnesota Vikings will head to the annual scouting combine in Indianapolis later this month after weeks of evaluating the current roster. Judging the annual crop of college players auditioning for the draft will be just a part of the agenda for Minnesota. Spielman will be making the rounds as he usually does, meeting with agents...
You'll have to excuse the sub-par level of reporting that this site is usually known for when dealing with this story. Admittedly, I've brushed off following this "Vikings trading Percy Harvin" news bit for so long because I thought it was just some big joke that people were discussing online the past couple days. Ha ha, funny one guys! Yeah, Percy should be traded...
Filed under "Topics I Can't Believe I Still Have to Slow-Talk to your Morons About," people are apparently still discussing whether or not the Minnesota Vikings should trade wide receiver Percy Harvin. I know. It's god damn ludicrous. You know what someone asked me the other day in regards to this? They asked, "But if we sign Percy long term, how are we going...
Evidently, the Minnesota Vikings feel electrifying slot receivers, who are just as dangerous in the return game, grow on tree. Sources for CBS Sports confirm that Percy Harvin is now on the trading block.During four abbreviated seasons in the Great White (NFC) North, Harvin has racked up 29 all-purpose touchdowns (20 receiving, 5 returning and 4 rushing) for the Minnesota Vikings...
The Minnesota Vikings are reportedly going to pursue a trade of wide receiver Percy Harvin this offseason, but this wouldn't happen if running back Adrian Peterson was in charge. Peterson told Paul Allen of KFAN yesterday that, if it were up to him, he wouldn't trade Harvin. "To be honest with you, I don't know if we will or not," Peterson said.  "But me, individually...
Vikings News

Delivered to your inbox

You'll also receive Yardbarker's daily Top 10, featuring the best sports stories from around the web. Customize your newsletter to get articles on your favorite sports and teams. And the best part? It's free!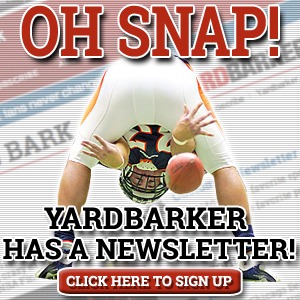 Latest Rumors
Best of Yardbarker

Today's Best Stuff

For Bloggers

Join the Yardbarker Network for more promotion, traffic, and money.

Company Info

Help

What is Yardbarker?

Yardbarker is the largest network of sports blogs and pro athlete blogs on the web. This site is the hub of the Yardbarker Network, where our editors and algorithms curate the best sports content from our network and beyond.