GREEN BAY, Wis. Nick Perry is not a prototypical defensive player. The former USC standout is a lot of things: fast, athletic, quick and big with a knack for bringing down opposing quarterbacks in college at an elite rate. But it's the combination of those traits that makes Perry a difficult projection in the NFL. When Perry was selected by the Green Bay Packers with the 28th overall pick in the first round of the draft, general manager Ted Thompson and defensive coordinator Dom Capers made it clear that they expect the 6-foot-2, 271-pound Perry to step in and compete immediately as an outside linebacker in their 3-4 defense. However, Perry, by NFL standards, is a bit large to play outside linebacker in a 3-4 defense. It doesn't mean that it can't happen, but it's that type of uncertainty that leads to players falling down draft boards. It's that same type of unfamiliarity with recent NFL success stories that will keep quarterback Russell Wilson from being drafted as high as his talent would indicate he should be. Most teams like fitting players into the norm. Clay Matthews, for example, is 255 pounds. That is more along the lines of what a typical pass-rushing outside linebacker in a 3-4 defense weighs. Many others across the league whose role it is to get after quarterbacks, such as Dallas' DeMarcus Ware and Broncos standout rookie Von Miller, are also in that 250-260-pound range. While Thompson, Capers and Perry all dismissed the 271 pounds as an issue, it's for that very reason that this will be a hit-or-miss pick. Even before the draft started, the knock on Perry was that he was too light to play defensive end in a 4-3 and too big to play outside linebacker in a 3-4. Basically, he's a tweener who may not have a natural every-down position in the NFL. But don't be too quick to judge the Packers' selection of Perry. After all, Green Bay's defense was horrific throughout the 2011 season. The Packers team that was second-best in the league in sacks on their way to winning a Super Bowl in 2010 had seemingly forgotten how to pressure quarterbacks last season, dropping to 27th in the NFL. Plus, their defense set an all-time record for most passing yards allowed in a single season. That is why Thompson couldn't just go for a steady, average, low-ceiling player with his first-round pick. No, Thompson needs a playmaking superstar. He needs another Clay Matthews. While many believed that Alabama's Courtney Upshaw was going to be the pick once he slid to No. 28, Thompson preferred the gamble of drafting Perry than the relative safeness of going with Upshaw. While it won't be known for a couple years if the choice was a good one, just know that Perry could be a pass-rushing monster. He and Matthews could combine to be one of the NFL's most-feared outside threats. He could single-handedly help Green Bay's defense return to its 2010 ways. And there are plenty of reasons to believe that could happen. Yes, his size is not common for the position he'll be playing with the Packers, but it's not very often that someone with Perry's body type also runs a 4.58-second time in the 40-yard dash, has a 38-12-inch vertical jump and can bench-press 225 pounds 35 times. Perry is unique in that way. He's not a prototype, and that can be worrisome. If he doesn't win the starting job this upcoming season against the likes of Erik Walden, Frank Zombo and Brad Jones, and in three years is on his way out of Green Bay, there will be plenty of reasons to say that this was a mistake by Thompson and that the Packers should have used conventional standards and gone with Upshaw, or even a massive defensive lineman like Michigan State's Jerel Worthy. But, if Perry does work out and is able to transition well to a position that many are speculating he won't be able to switch to, he could be the player that turns the Packers' defense back into Super Bowl-ready status. Follow Paul Imig on Twitter.
Original Story:
http://www.foxsportswisconsin.com/04/...
MORE FROM YARDBARKER
NFL News

Delivered to your inbox

You'll also receive Yardbarker's daily Top 10, featuring the best sports stories from around the web. Customize your newsletter to get articles on your favorite sports and teams. And the best part? It's free!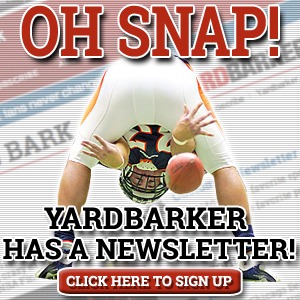 Latest Rumors
Best of Yardbarker

Today's Best Stuff

For Bloggers

Join the Yardbarker Network for more promotion, traffic, and money.

Company Info

Help

What is Yardbarker?

Yardbarker is the largest network of sports blogs and pro athlete blogs on the web. This site is the hub of the Yardbarker Network, where our editors and algorithms curate the best sports content from our network and beyond.